The YWCA El Paso Del Norte had good reason to name a young woman's award for Dr. Azuri Gonzalez, Director of the Center for Community Engagement at UTEP.
"Azuri started at such a young age. She has never said I need to wait until I'm older," UTEP professor Ann Horak says. "If she sees something that needs doing, she does it. She's such a great role model."
Long-time friend and mentor Jeanne Foskett calls Gonzalez her "other daughter."
"Azuri works together with people to make whatever needs to happen, happen," says Foskett, a retired EPCC English professor and Assistant to the President. "She's astonishing and does such wide-ranging work. She's totally committed to our community."
To Gonzalez, it's simply what she believes in.
"We have a responsibility to our community. We work collaboratively with organizations and businesses, all with intent to support our community. In higher education, some schools see themselves in an Ivory tower," Gonzalez says. "UTEP's intention is not only to have high research capabilities, but also a high level of engagement with community."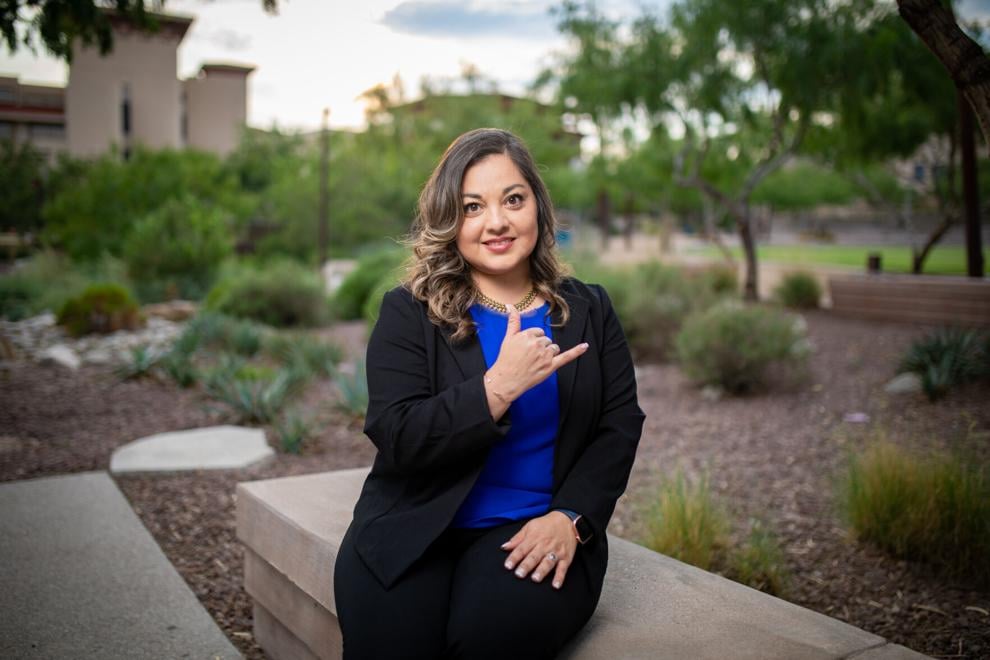 Since she's been at UTEP, Gonzalez lead the effort for UTEP to be named a Carnegie Community Engaged Institution, grew community business partners from 30 to 40 to 150, and has integrated community partnerships and engagement as part of 480 courses. UTEP students document between 1.1 million to 1.5 million hours of service to El Paso every year.
"It's embedded in a course so engagement and the learning that comes with it are course objectives. Students learn leadership skills, and about things like diverse populations, mental health, and women's domestic violence," Gonzalez says.
Gonzalez also lectures for the Women's Studies Program and Political Science Department, teaching what she preaches to another generation of students. Because of her work, she was one of 30 staff members throughout the UT System chosen among the inaugural UT Regents Outstanding Employees in 2015.
Her commitment to El Paso doesn't stop at UTEP's doors. She was one of the founding members of Women's Fund of El Paso, and has served on the boards of Executive Forum, YWCA regional and national, and the Nonprofit Enterprise Center, just to name a few. As such she was often the youngest and usually the only female Hispanic on the boards.
"Walking into a room of affluent white women, I often wanted to crawl under a rock. But I had to stay. I realized that if I didn't say something, it wouldn't be said. I knew that my perspective would not be viewed."
She says she wanted to work collaboratively to help people without anyone losing their dignity.
Her experiences as an 8-year-old immigrant trying to learn English helped form her passion.
"I call myself a child of the region," she says.
Gonzalez soon learned that young people, especially young Latina women, were not heard.
"The young are too easily dismissed," Gonzalez says. "It made me passionate to make sure young women were involved without a tone of condescension. But you have to bring something to table, otherwise why are you there?"