If you haven't been to the El Paso Public Library in a while, boy are you going to be surprised during your next visit.
Sure, its stilled filled with books to check out, but in a library of today, you can also take citizenship and GED classes; get important papers scanned and added to a disc for safe keeping; download more than 60 magazines from around the world and, even, have access to a vast database that can be used for any reports or just fun reading. 
"We have come a long way," said Norma Martinez, interim director of the El Paso Public Library System.
"The times call for this. We are going with what our partners have or want. We have evolved with the times. We get a lot of people come visit our library."
El Pasoans have discovered their usefulness and take advantage of what's available. There are 13 library branches, plus a bookmobile and a literacy center in the city.
The libraries offer story times, host book clubs and have even opened up a passport office where people can apply and turn in their application.  There are free e-books, audiobooks and videos to download.
"That little library card allows you to do so many things," Martinez said.
Nancy Jimenez, mother of three, has used libraries since her now 20, 16 and 12 year olds were children.
"It was an essential part of their lives," Jimenez said. "They still checkout books and use the variety of things they offer. It's something they will do for the rest of their lives."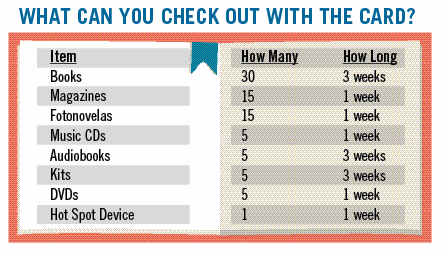 What else can a library card do?
It will allow you to download free e-books, magazines, audiobooks and video from our website, www.elpasolibrary.org. You can also use it tao access thousands of full text database articles.
Computers
All branches have computers for free public use.