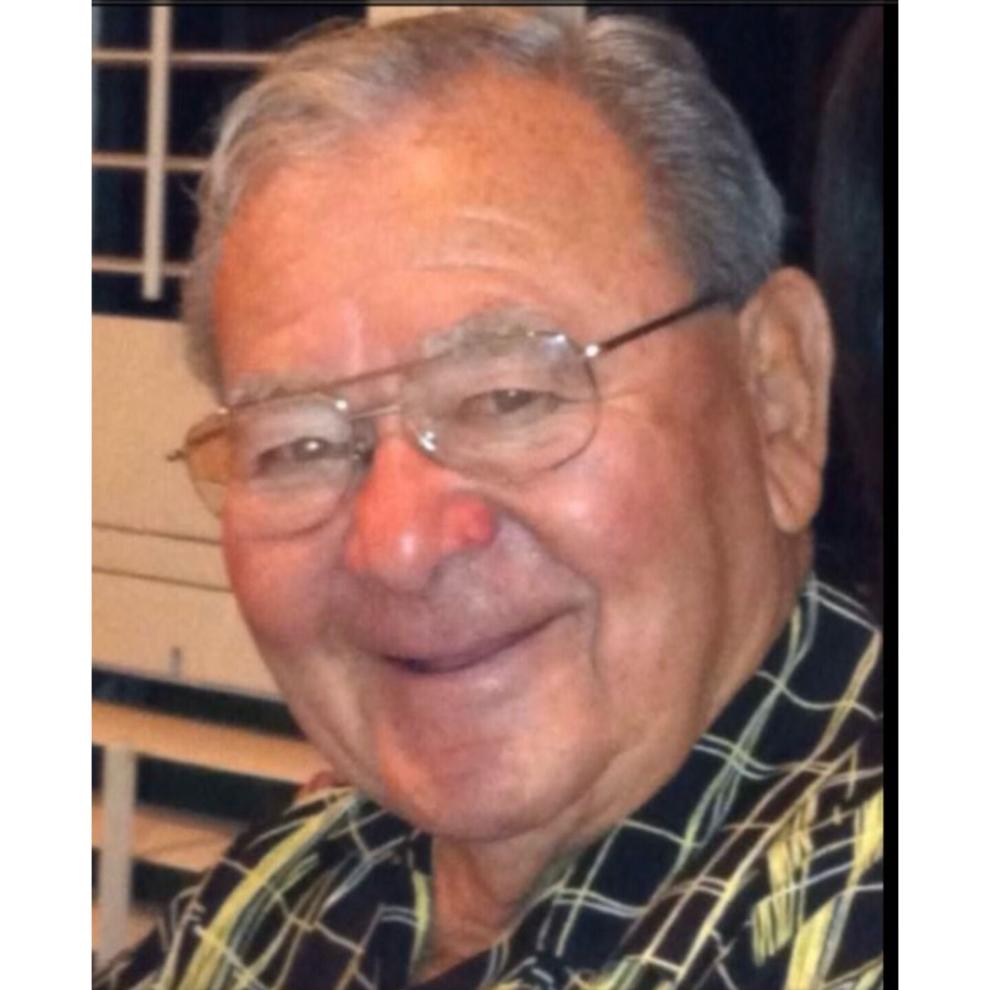 Jack Eisenberg, loving father, grandfather, great grandfather, and brother passed away on Thursday April 1, 2021, at the age of 93.
He had a fun-loving personality, a great sense of humor, and carried a deep sense of honor and respect for America.
Jack, a retired businessman and CEO of American Finance Investment Corporation, lived a life of optimism and conviction.
He was born on August 15, 1927, in Tampico, Mexico, son of Oscar and Dina Eisenberg of Vienna, Austria.
After his parents moved to El Paso in 1941 and coming over to the United States as a young boy, he entered Lamar School in the 3rd grade and in a matter of five years graduated high school from El Paso High School.
As an offensive and defensive guard football player there, he gained his love for football and it became his favorite sport of all-time, supporting UTEP basketball and football for the rest of his life.
His first job was delivering groceries on his bike for Fred Hervey's first "Circle K" store on North El Paso Street and worked as a stock boy at the Popular Dry Goods and Kress's store in Downtown El Paso.
After graduation, when he got his notice to be drafted into the Army, he enlisted in the Marine Corp much to his parent's objection.
A proud former Marine, he lived his life with the ideals and inspiration he received while being admitted to the Force Recon division and served honorably in the Philippines.
After serving in the Marines, he came home to El Paso and met the love of his life, Doris Friedman, and they were married on June 11, 1950.
In 1949, while dating his soon to be wife, he asked his father-in-law Ernest Friedman if he could take over and build up his floundering finance company located on San Francisco Street downtown.
Jack took the bull by the horns, and with his hard work and dedication he built American Finance Investment Company into a successful business, purchasing real estate, second lien mortgages, and financing property and loans.
During his life as CEO of the company, he along with his son, Cliff and others, built Interstate Capital Corporation into a national company that was recently sold to Triumph Capital of Dallas.
One of Jack's lifelong passions was pursuing volunteer work and giving back to his community through worthy institutions.
During his life, he served as President of Congregation B'nai Zion and the Downtown Kiwanis Club of El Paso. He served as an officer of the City of El Paso Boys and Recreation Association, the Metropolitan YMCA of El Paso, the United Fund, B'nai Brith, the El Paso Republican Party, the host committee of the Sun Bowl Association, the Touchdown Club, and the Hinder Club.
He also served on the board of directors of the El Paso National Bank, the Make a Wish Foundation, the Jewish Community Council, the El Paso Community Foundation, and the State of Texas Finance Conference.
For many decades he volunteered to perform religious burial rituals for deceased members of his congregation.
An avid handball and golf enthusiast, he received many awards and athletic trophies, including a Hole in One from the El Paso Country Club, Outstanding YMCA Volunteer, and was the first honoree at the YMCA benefit roast in 2005.
He was honored by the Better Business Bureau as a 50-year member, he established a scholarship fund at UTEP's Business School for a student in the
Department of Finance and the Athletics Department, endowed a portion of the library at Texas Tech Medical School, and had the weight room named after him at the Westside YMCA.
Most of all, Jack was devoted to his family and a cheerleader for all of them.
He is fondly remembered for his constant joking, needling, and storytelling about his time in the Marine Corp.
Some of his favorite phrases included "If it is to be, it's up to me", "Semper Fi", and "It's better to be 10 minutes early than 10 seconds late." An avid Frank Sinatra fan, his favorite song was "My Way" and he lived his life with strength, determination, and character.
He was preceded in death by his loving wife of 51 years, Doris Friedman Eisenberg; and is survived by his companion, Valerie Barnett; his sister, Rose Kupfer; his four children, Cliff (Martha), Susan (Ron), Cindy (Louis), and Ellen (Danny); his 11 grandchildren, Jenna, Lauren, Ernest, Elliot, Alana, Josh, Aaron, Bryan, Ashley, Drew and Amanda; and his 14 great grandchildren.
Special thanks go to Gladys his dedicated caregiver and the staff of Envision Hospice and AM Healthcare for their loving care and devotion.
Jack's family held a private funeral service at the graveside of B'nai Zion Cemetery on Monday, April 5.
Pallbearers included his six grandsons, Ernest Eisenberg, Elliot Berg, Josh Cohen, Bryan Cohen, Aaron Cohen, Drew Goldberg, Richard Friedman, and Mike Jaffee. Honorary pallbearers included Sam Ellowitz, Bernard Lauterbach, Ron Wolff, Paul Dipp, Mike Dipp Jr., George Dipp and his grandsons-in-law, Haim Magriso, Adam Rosenfield, Ivan Dugandzic, Eddie Ponce, Chris Higbee, and Matt Gillis.
Memorial contributions can be made in his memory to the UTEP School of Business Jack Eisenberg Scholarship Fund, the UTEP Jack Eisenberg Athletic Scholarship Fund, Congregation B'nai Zion, the El Paso Community Foundation, or the charity of your choice.