WASHINGTON — Vice President Kamala Harris on Friday made her first visit to the southern border since she took office, hitting back at Republican criticism and meeting with advocates who pushed her on why the Biden administration had not yet ended restrictive Trump-era policies on migration.
"We can take all of these perspectives into account and have meaningful good public policy if we just stop the rhetoric," Harris told reporters after a four-hour visit to El Paso, Texas. "You can't just react to a problem without solving it at its roots. Let's just agree to that."
During her trip, she confronted an issue that has bedeviled the administration for months and is now tied to her own political future after President Joe Biden put her in charge of addressing the root causes of migration. But for all of the questions she took from reporters, immigration advocates and even a group of detained migrant children — whom she met behind closed doors — the vice president had few answers.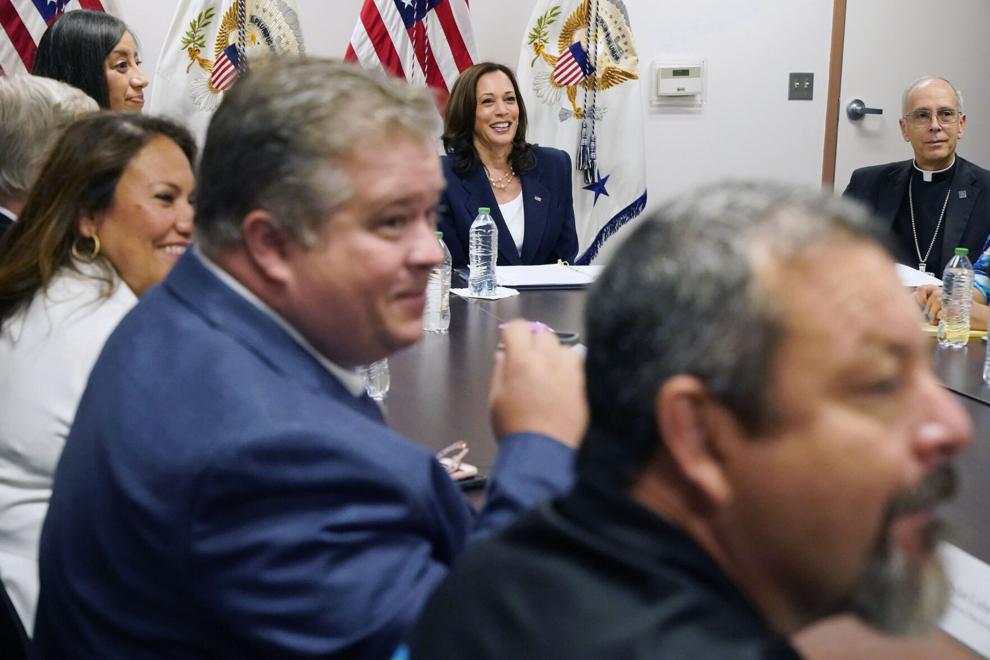 In one private meeting, she heard from immigration advocates who said they did not understand why the Biden administration had yet to deliver on promises to roll back Trump-era policies like Title 42. Several pressed Harris to end that rule, which allows the government to expel migrants, including asylum-seekers, for public health reasons.
"We were very forceful about that," Fernando García, executive director of the Border Network for Human Rights, who attended the meeting, said in an interview. "She asked how we think it could happen. She was looking for some answers."
The Biden administration is working to phase out Title 42, but on Friday, Alejandro Mayorkas, the secretary of homeland security, who accompanied Harris to El Paso, told reporters that the Centers for Disease Control and Prevention would ultimately decide.
"It's a public health decision," Mayorkas said. "It's based on the well-being of the American public."
The agency, however, has directed questions about the policy to the White House.
In some ways, the trip was notable for what Harris did not do: visit a tent complex at nearby Fort Bliss, where migrant children are being held. (As she traveled to Texas, the Biden administration announced that Xavier Becerra, the secretary of health and human services, would head there this week.)
"She'll check off the box of going down to the border," Rep. Henry Cuellar, D-Texas, who wrote a letter to the vice president last week urging her to visit the border, said in an interview. Cuellar said his letter went unanswered.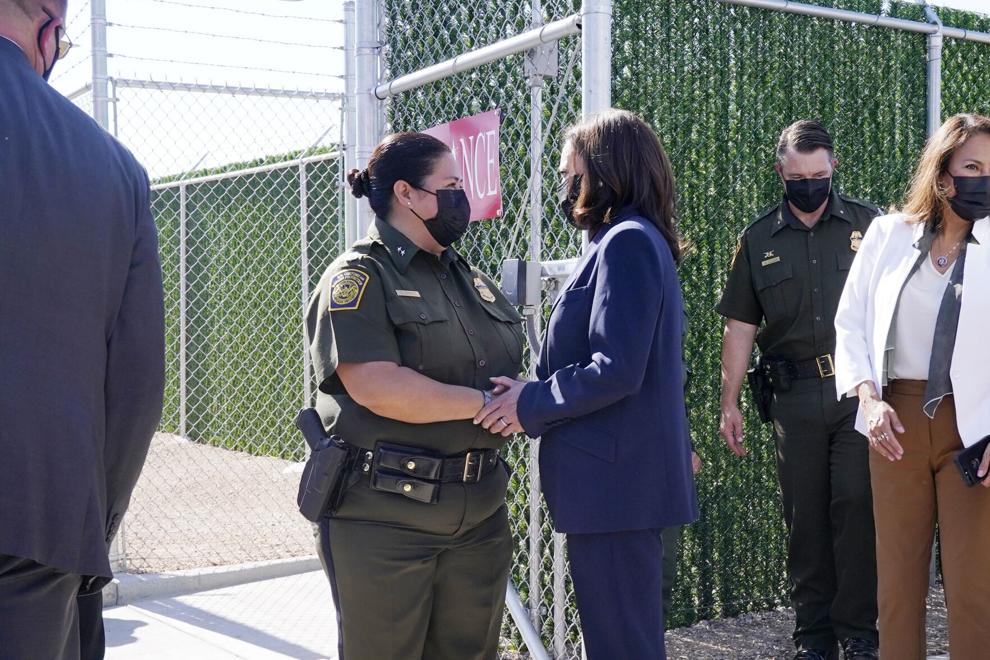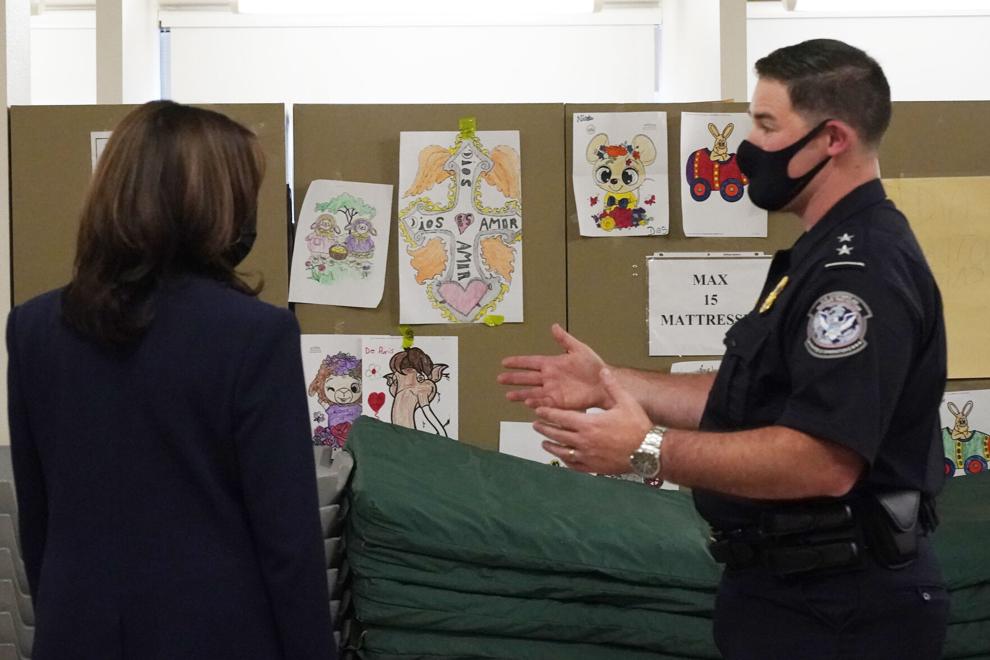 Harris stopped at Customs and Border Protection's processing center, where she received a briefing from officials and asked questions about the technology used to process people who cross the border illegally.
She also said she had met with young girls detained at the Paso del Norte port of entry, a meeting that had not been announced and was kept private. Harris said the girls reminded her that the issue should not be reduced to partisan politics.
"They were asking me questions: 'How do you become the first woman vice president?'" Harris said. "It also reminds me of the fact that this issue cannot be reduced to a political issue. We're talking about children, we're talking about families, we are talking about suffering."
Human rights and immigration advocates have assailed the Biden administration for not doing enough in its first six months to reopen the border to asylum-seekers, reunite unaccompanied children with families and provide the appropriate facilities to hold detained migrants. In a report released last week, the human rights group Amnesty International said that the Biden administration had failed to fulfill some of its early pledges.
"Rebuilding an immigration system takes time, but nearly half a year in, the administration still needs to deliver promised change," the report read. "No matter the situation or who heads the administration, the government cannot get out of its human rights obligations."
Still, some Democrats praised Harris, saying her trip showed a dedication to finding solutions, including a push for bipartisan immigration overhaul, an effort that has eluded modern presidents.
"Her attendance today in El Paso is an indication of her caring and commitment to meaningful immigration reform," said Sen. Dick Durbin, D-Ill., chair of the Judiciary Committee, who stood next to her on the tarmac in El Paso. "And I want to join her in saying that Congress needs to do its part."
The visit came together quickly after Harris was criticized on her trip to Mexico City and Guatemala, where Lester Holt of NBC grilled her about why she had not been to the border. She responded by calling the visit a "grand gesture" and pointed out that she had not been to Europe yet, either — answers that confounded her critics and members of the administration.
Although her office denied politics played a part, the El Paso stop does carry some significance. The city is a major port of entry and has complicated ties to former President Donald Trump, who will travel to the border with Gov. Greg Abbott of Texas days after Harris.
As president, Trump called El Paso "one of our nation's most dangerous cities," castigating it as overrun by immigrants and crime. It typically ranks among the safest cities in the United States. In 2019, after 22 people were killed at a Walmart and the white suspect warned of a "Hispanic invasion," Trump was greeted with protests when he met with the victims' families.
On Wednesday, a group of House Republicans said they would join Abbott and Trump on their trip, a move intended to add more pressure on the Biden administration, which has struggled to chip away at Trump's "zero tolerance" immigration policies while warning migrants not to make the journey to the United States.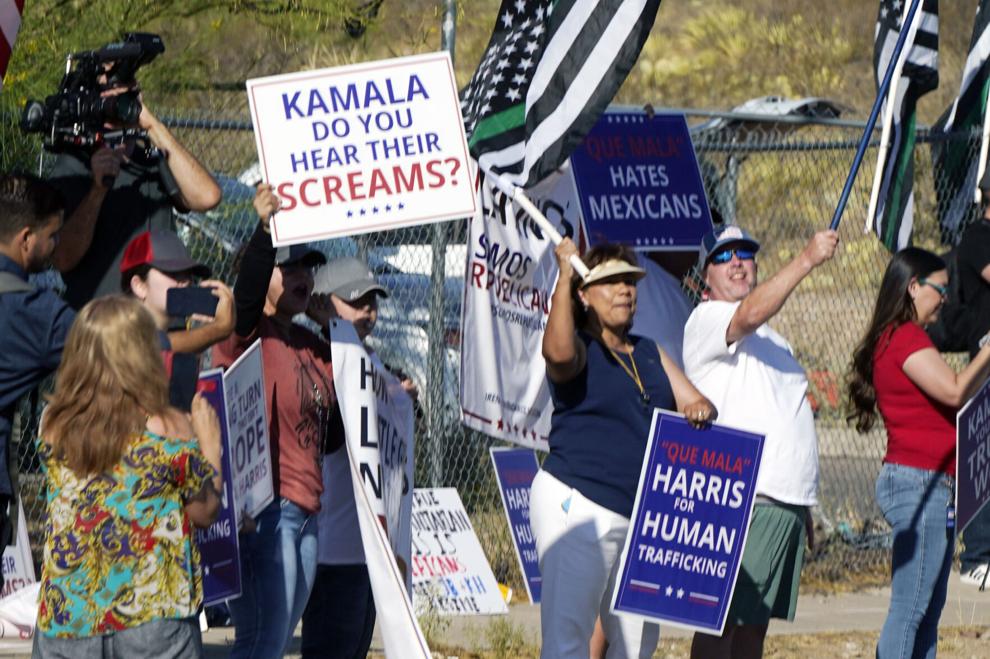 The number of unaccompanied minors crossing the border has hit a record high under the Biden administration, and officials have struggled to quickly move them out of cramped facilities and into the care of family members. A surge in the apprehensions of single adults — some 121,000 last month — has offset a small decline in the number of unaccompanied minors and families traveling north, according to Customs and Border Protection data.
As she prepared to leave El Paso, Harris was asked about criticism that she had stopped by El Paso instead of the lower Rio Grande Valley, which is considered the center of the current surge in migration. The vice president, who spent her visit pleading for partisan politics to be omitted from the conversation about immigration, pointed to Trump to make her case.
"It is here in El Paso that the previous administration's child separation policy was implemented," she said. "We've seen the disastrous effects of that right here in this region."