Tomas Treviño has been the district engineer for the Texas Department of Transportation in El Paso for a little over a year and says it's been about that long since he paid close attention to weather forecasts.
Now 52, he came from Corpus Christi, a city that's a lot like El Paso except that it's on the coast where the weather is a lot more interesting.
While he is not the first Mexican-American to hold the El Paso district engineer position in the five-county district, he is the second. The first was Chuck Berry, who retired in 2012 after 32 years with the TxDOT's El Paso district.
Treviño said he likes not having to worry about tornados, heavy rains, bad humidity and hurricanes anymore.
Like everybody else, he's not spending much time in the office these days. Nor are many of the district's 303 employees.
What Treviño says he really likes about El Paso is having two great universities in the region, UTEP and NMSU, churning out quality engineers that make up the bulk of TxDOT's roster in the El Paso district.
"They're actually doing a lot of research for TxDOT," he said. "I can't tell you what a luxury it is to have them here, because in Corpus, we had essentially one school nearby and it was hard to attract A&M and UT grads."
UTEP engineering graduates who have a hard time finding a good job in El Paso should keep an eye out for TxDOT postings, because those jobs pay $40,000 to $50,000 for starting engineers.
TxDOT's sprawling white headquarters building is at Interstate 10 and Eastlake Boulevard, next door to the site of what will be a huge Amazon fulfillment center now under construction.
All that's there now is a concrete slab. But when finished next year, the Amazon warehouse will be getting a lot of heavy tractor-trailers coming and going on I-10, portions of which are on their last legs.
So far, TxDOT's Reimaging I-10 project is only on paper and videos showing what it might look like one of these days. But after a lot of traffic misery and $700 million to $800 million, it will bring the interstate up to modern standards through El Paso.
"It's a big priority," Treviño said, but the National Environmental Protection Act study required for such a project is only getting started.
Treviño wore a mask to sit down with El Paso Inc. in his office, removing it briefly for photos. He talked about his history with TxDOT, the perils of discontinuous frontage roads and how many hundreds of millions they'll be spending in El Paso.
---
Q: You've been with TxDOT for 27 years and you were the deputy district engineer in Corpus Christi, what was your biggest surprise about El Paso?
I came out here in 2017 to do what they call a peer review, so there wasn't much of a surprise. You know, everybody has been extremely friendly and nice, and the roadways themselves are in good condition. You can get a lot of big profile mobility jobs. But, you know, we do need to get after some of the basics.
Q: Any significant differences between El Paso and Corpus Christi?
Q: Yes. Ours is hot and dry and theirs is hot and wet.
You know, I haven't looked at a weather forecast in about 12 months. There, this time of year, I'd be glued to the TV for anything that developed. But that's not a concern here.
Q: You've been with TxDOT for 27 years. Tell us about your experience and how it might differ from your predecessors here.
I worked at an area office for nine years doing construction, design and maintenance in a small town called Sinton, near Corpus Christi. Then, I did nine years, essentially as the district design engineer and then became an area engineer for three years in Alice and Jim Wells County and then I did operations in Corpus Christi since 2013.
I left there as the Harbor Bridge design-build manager deputy district engineer. So my last arena was in maintenance and preservation.
Q: How has all that experience affected the way you look at the state highways and roads here.
I tend to look at a network as a whole. We've got roughly 5,000 lane miles here. Twenty-five percent of those are rigid pavement – concrete, just like I-10 – and the rate of decline or rated deterioration on rigid pavement is a lot less than flexible asphalt payment.
But when it goes bad, it's extremely expensive to repair. So that's what we're seeing on I-10. It's been out there since the 60s. It has exceeded its life capacity, and we're at the point where we need to fix it.
Q: Is there another major city in Texas that has had to go through rebuilding an interstate highway through the city? It'd be like Austin having to redo I-35 through its Downtown.
Austin has flexible pavement. The one city you can look at when you look at rigid pavement is Dallas. They've got an extensive network of rigid pavements, and they've traditionally been the worst riding pavements in the state.
And when you look at our rigid pavements, they were built about the same time. So it's time to fix it.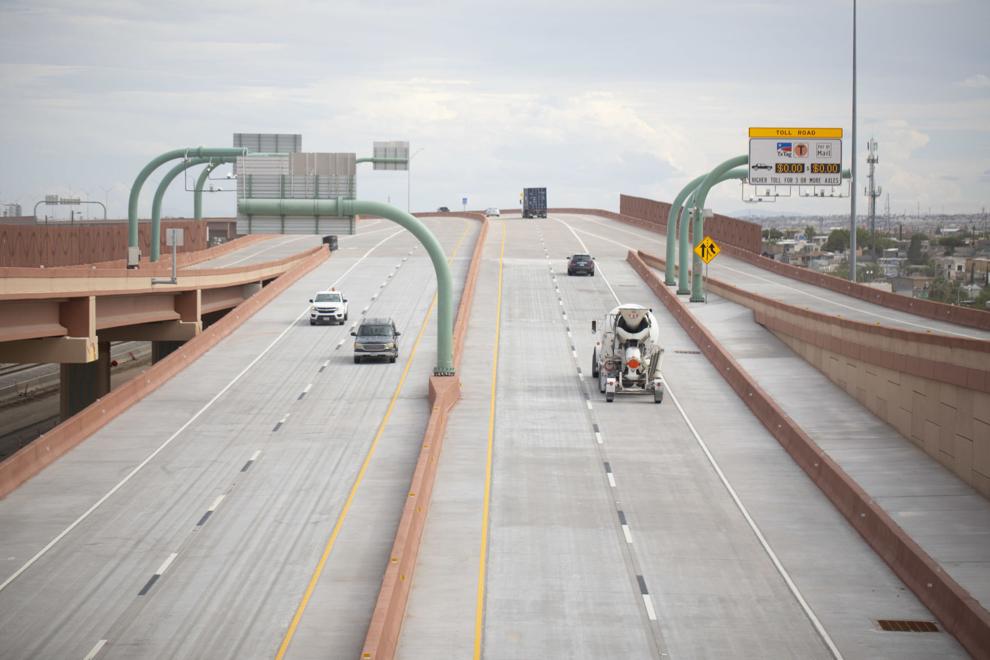 Q: I have to ask you what's the latest with Border West Expressway. I imagine the Regional Mobility Authority would be disappointed if it's not tolled because, I understand, it would generate additional money for local projects. Where is that decision now?
Conversations continue with the CRRMA and TxDOT regarding the tolling of Border West Expressway, and we will thoroughly communicate with the public before tolling begins.
Q: I understand that a significant number of TxDOT employees here have degrees in engineering. How many are there on the roster and what percentage of highway workers and others in the agency have college degrees, particularly engineering degrees?
We probably have 30-plus engineers here, just on campus. But there's a number of engineers in our remote offices. We've got the east area office, the west area office and down in Alpine, we've got the office there, too.
We have graduate engineers that are in technical positions because we didn't have an opening, say, in the engineering branch. But they took on technical jobs and they're acting as project managers right now.
They're graduate engineers, and it's really a luxury to have two Division 1 schools that offer engineering so close together – UTEP and New Mexico State. It gives us an abundance of engineers.
Q: If I'm an engineering graduate and want to work for TxDOT, what might I make here?
Q: UTEP engineering graduates have a hard time finding good positions in El Paso so they leave town in droves.
It might be the engineering market here locally. But the graduates we get from UTEP are very extremely qualified. I've toured the Civil Engineering Department here at UTEP, and it is very impressive – the amount of research they're doing.
I can't tell you what a luxury it is to have them available because in Corpus, we had essentially one school nearby, and it was real hard to attract A&M and UT grads, and even UT San Antonio grads.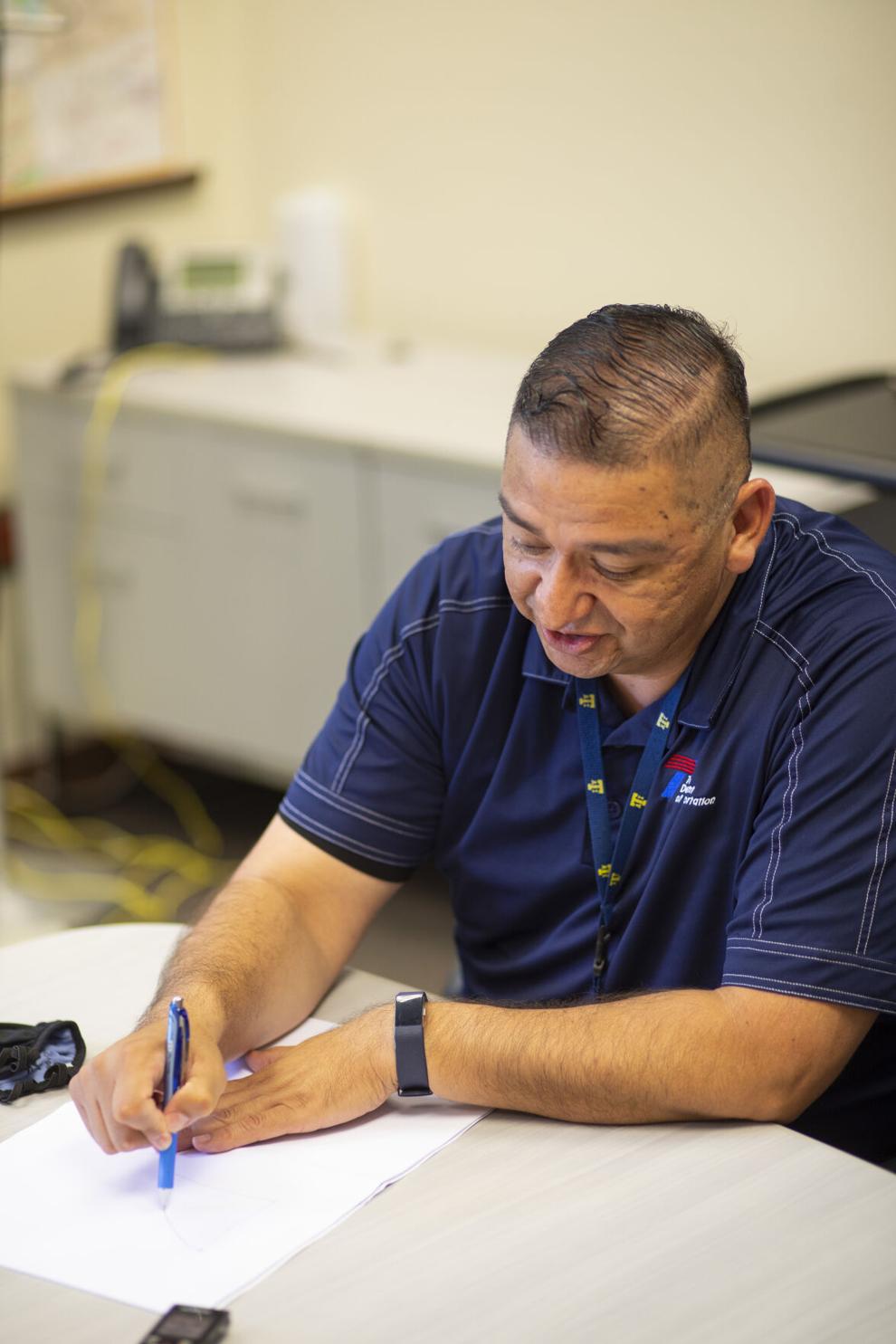 Q: I was going to ask you if your biggest surprise when you got here was the condition of I-10 through Downtown. Your predecessor, Bob Bielek, used to say we're just one severe rainstorm away from a disastrous failure on the freeway through Downtown.
Well, it's our job to prevent something like that. But, you know, I was surprised by the condition of some of our major routes.
Q: How bad is it, and what kind of a priority is there in beginning to get I-10 taken care of?
It's a big priority, not only the condition but the capacity issues. We definitely need increased capacity. There are certain areas of I-10 that have discontinuous frontage roads, which makes incident management more difficult.
Q: Discontinuous frontage roads?
That means they don't run parallel to the main lane, which makes it harder when you have a major accident. In every other major city, you can get traffic off to the frontage road, and first responders can work on the main lanes, take care of the incident and clear it.
But when you have discontinuous frontage roads, it just makes that job a lot harder. You got a lot of people stuck in traffic. And, then, a lot of times, you end up routing them through city streets, and they weren't meant for that.
Q: Can you say when you might start breaking concrete on the Downtown segment of I-10?
No, right now we're in the National Environmental Protection Act process, and what that entails is looking at the different ways of getting where we want to be. Our job is to develop alternatives that work for everybody in the region.
So it depends on how long it takes us to get through the NEPA process and through our different alternatives and coming down with the preferred route.
Q: What kind of price tag would we be talking about for these I-10 projects, especially the Downtown segment?
Just based on our corridor study, we're probably looking at about $750 million to $800 million. But it depends on what alternative is ultimately selected.
Q: Any chances of El Paso getting that much out of Austin?
It's just like any other major project. I just came from Corpus, and we had an $800 million project – the Harbor Bridge.
Q: El Paso's population isn't growing much, if at all, but that's probably not really true for traffic, especially from Long Beach to Austin, Houston and points east. How does traffic compare to a decade ago, and what are you expecting in the future?
We gained about 40,000 vehicles a day on I-10 roughly from 2000 to 2016.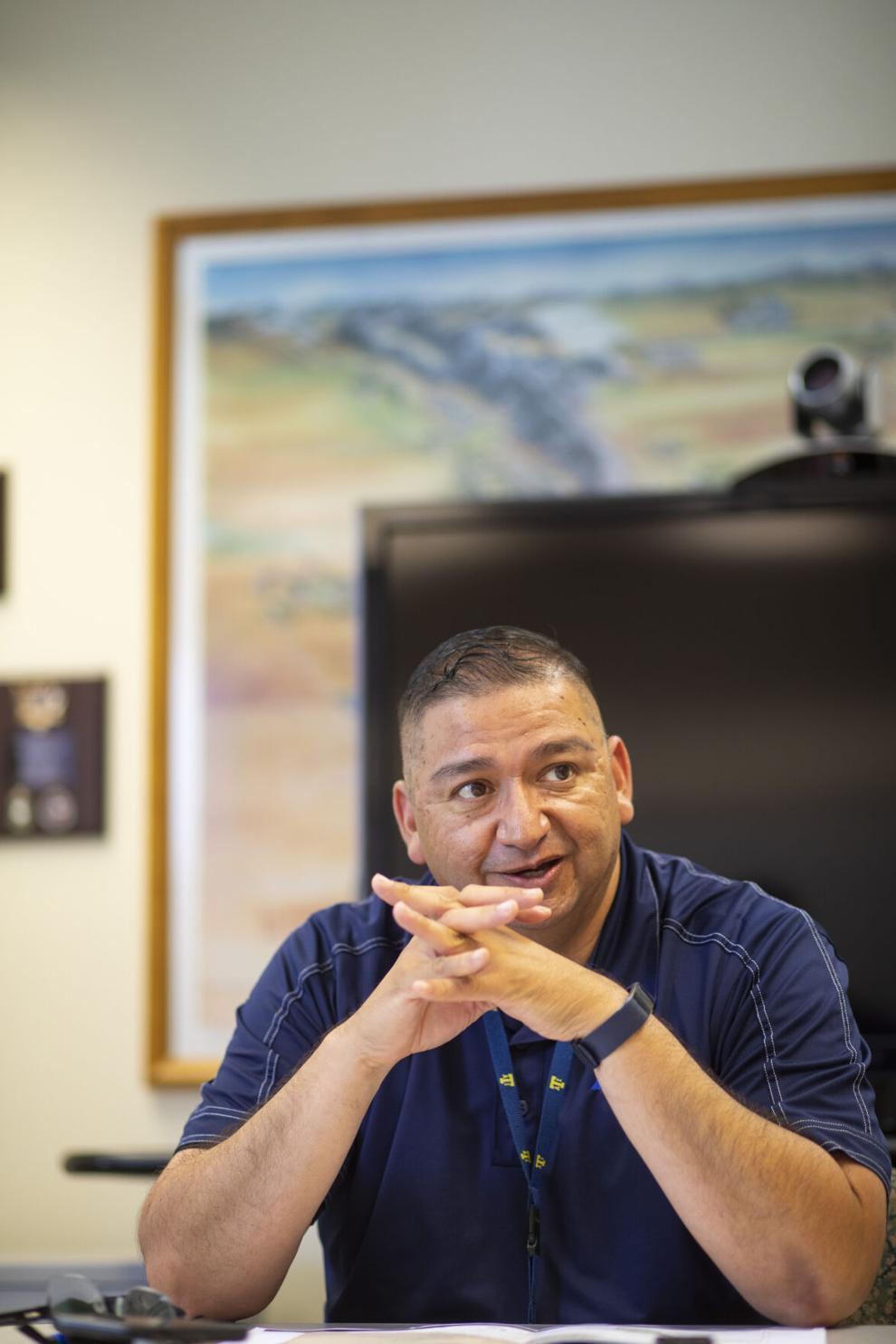 Q: That's a pretty good increase. How much was truck traffic?
A lot of it's through traffic, but the area is growing. I passed through here a long time ago on my way to Seattle, and the first El Paso road I encountered was Lee Treviño.
Q: Oh, yes, indeed it has. The weird thing is that we actually had a decline in population last year. And if you look at the population charts from the census bureau, you see the actual growth of El Paso is tiny. The big issue, generally, is the fact that young people, particularly college grads, leave because they can't earn here what they can make elsewhere in Texas.
It's funny you say that because that was the same thing we were saying in Corpus, and I think it's like anything else. If you give them the opportunity to stay home, they will stay home.
The cost of living here is very favorable compared to some other cities, like Austin and San Antonio.
Q: What other major highway projects are underway or soon to start?
Montana's underway right now. We've got a number of bigger projects that are going to tee up here next year. The big one of course is adding additional capacity to I-10 from New Mexico going south. New Mexico traffic is coming at us with six lanes now, and we're at four. That's about a $170 million job.
And then we got the Artcraft job that is the following year to accommodate some of the imports we're seeing at the Santa Teresa port of entry. Artcraft widening is roughly $200 million for the interchange at I-10 and Artcraft.
Q: Is that to accommodate those great big electric wind-turbine blades they're bringing from Mexico and crossing at Santa Teresa?
And a number of other things that they could be bringing in there later. Our fiscal year's about to end, and we have let contracts for about $208 million in 2020. In 2021, we're looking at about $440 million. And then in 2022, we're about $125 million, right now.
Q: What about the Northeast Parkway, now known as the Borderland Expressway?
That project is unfunded. We're looking at about a $300 million price tag on that, and, again, we're working toward project development, schematic development.
Q: Isn't it kind of an outer loop to let traffic, especially truck traffic, take NM 404 at Anthony Gap to avoid going through Downtown or having to take Transmountain Road?
Q: Montana widening, where is it at this point?
What you really can't see driving Montana is the fact that they've got an entire frontage road on the other side of that embankment. So they're coming along, and they're not far away from actually switching traffic on to that new section they just built.
I think here pretty soon, the traveling public will see some noticeable differences as far as their traffic patterns are concerned there.
Then they'll be able to work on the stretch that people are driving on now and finish the rest of those overpasses.
Q: And it's going to be a raised roadway, like I-35 through Downtown Austin?
Yes, a controlled access.
Q: What about completion?
February 2022 for Phase 1.
Q: And, finally, how are things going with the El Paso Metropolitan Planning Organization? I understand everyone from TxDOT and the city of El Paso to the other local governments are now at the same page. Are there some particularly important projects that are going to arise from that?
Just the fact that we have a regional mobility strategy is, first and foremost, a big win for the region because it is a unified approach to secure transportation dollars.
We've identified our top four highway projects. We also have some projects that are needed for the local community.
The fact that we were able to do that gives us a focused document that we can take to Transportation Commission, or whoever else we need to, to say these are the needs as identified by the MPO and TxDOT for the region. It was a big win.