In June, Sylvia Borunda Firth will be sworn in as the first El Paso attorney and the first Latina to be elected president of the 105,000-member State Bar of Texas.
"This is absolutely a big deal," said attorney Janet Monteros, president of the El Paso Bar Association and a leader of the ongoing effort to establish a law school in El Paso. "Her election puts El Paso on the map with other large metropolitan areas."
She added that this is a good time for El Paso and its law school aspirations because El Paso state Sen. César Blanco has filed a bill to establish a law school that has now been referred to the Texas Senate's Committee on Higher Education.
"It's moving along, and we're being persistent," Monteros said.
Now serving her one-year stint as the Texas Bar's president-elect, Firth may not be able to become directly involved in the law school effort, but having her as president of the association can only help, Monteros said.
The last El Pasoan to run for president of the Texas Bar was Cezy Collins, who ran in 2019-2020 and came within five percentage points of winning.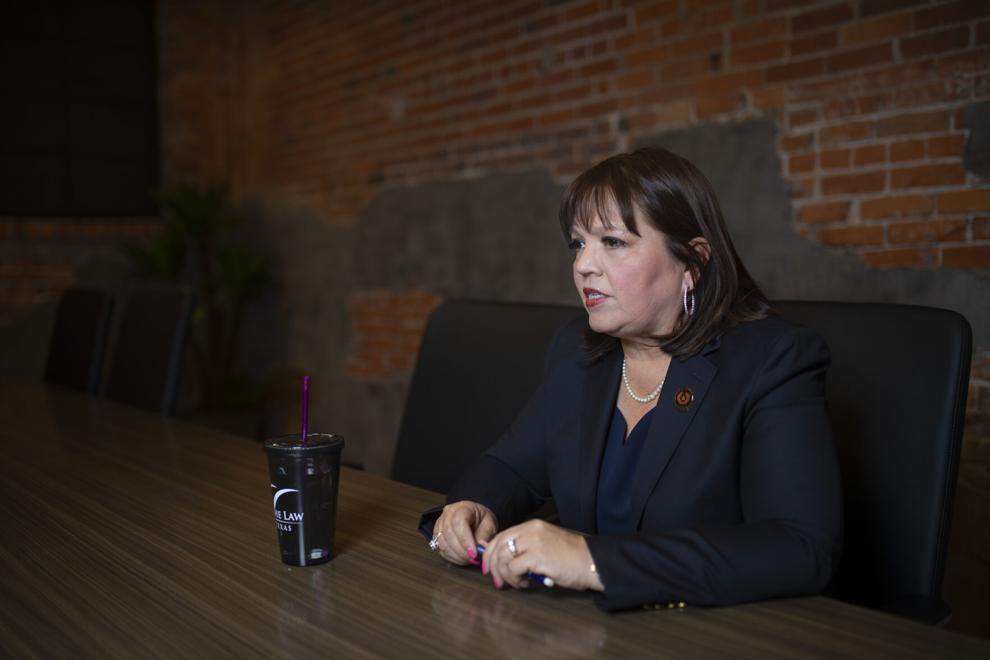 Firth graduated from Loretto Academy High School in 1977 and went on to St. Mary's University where she earned a business degree before heading to the UT Law School in Austin from which she graduated in 1984.
She was hired as general counsel for American Garment Finishers in 1989 and then landed an assistant city attorney position with the city of El Paso in 2001, rising through the ranks until she was named city attorney in 2011.
It's a hard position to hold and keep through successive city administrations, and after one flap too many, Firth left the $257,000-a-year city attorney's position in 2018 and started a law firm with offices at 311 Montana.
There she's just a shared wall away from the desk of her husband, lawyer Victor Firth, and his firm, Firth, Bunn, Kerr, Neill, which shares reception services but is not connected to hers.
Firth sat down with El Paso Inc. and talked about her priorities, getting elected to the state bar and why El Paso needs more lawyers.
Q: What have you been doing since leaving your position as El Paso city attorney in May 2018?
I took a little time off, and then I opened my own firm doing general real estate and business work. I have a contract relationship with a firm in Austin that serves small units of government – cities, counties, water improvements. 
Q: You're still doing city attorney work? 
Yeah, exactly. Or an assistant city attorney in lots of places all over the state. I am also a contract attorney with the Bojorquez Law Firm out of Austin with lawyers who specialize in municipal law and are located all over the state. We represent units of local governments that are too small to have full-time attorneys or need to supplement their in-house legal departments.  
Q: As far as your election to president of the State Bar of Texas, you are the first El Pasoan and the first Latina. 
Yeah, the first Hispanic woman and only the seventh woman. So there's history from the unified bar associations. The bar association that we operate under now was created in 1939. There have only been seven women presidents. I'm the third Hispanic, but the first woman Hispanic.
Q: How do state bar elections work? 
You get invited. They look at people who've been in leadership, and they'll ask you if you are interested in running. It depends from year to year on how many people submit a letter of interest. They glean that list down to maybe six or nine candidates and interview them. 
Then the state board will come up with two candidates. But there's another way to get on the ballot as well – by petition. 
You have to get 5,000 signatures from lawyers. It's a task to get them. 
Q: Didn't El Paso lawyer Steve Fisher try the petition route?
Yes. Steve Fisher has run as a petition candidate before. But he was not the last lawyer practicing in El Paso who ran for the state bar president. Cezy Collins, EPISD's general counsel, ran in 2019-2020 and came within five percentage points of winning. 
Q: To be elected, you had to wage a pretty long statewide campaign. Did you have two opponents or one?
I only had one. The state bar also rotates between large city and small city presidents, and then, the third year is open to candidates from anywhere.
So our year was an open year, and they decided to do small cities because we had not had a small city president for a while. The time before, when Cezy Collins ran, she ran against somebody who was from a suburb of Houston, so that was a little bit lopsided and unfair. So they made sure I ran against a lawyer from a small city. 
Q: But El Paso's not a small city in Texas. 
El Paso's a small city because there's only 1,300 lawyers here. They count it by the lawyer population. 
Q: Of course, some would say even that's far too many, but that's just a lawyer joke.
A bad lawyer joke. We set ourselves up for them.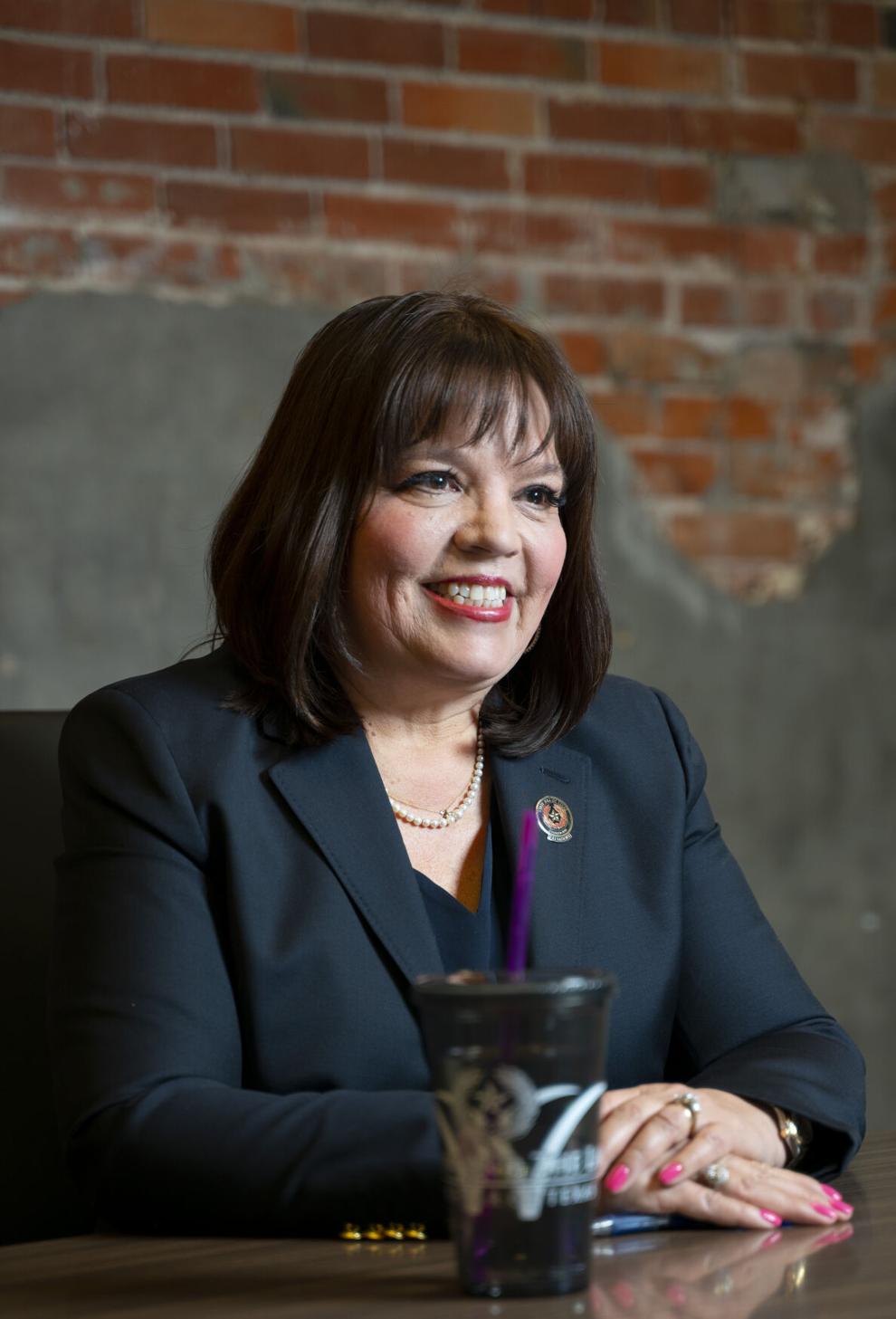 Q: So, you end up running a statewide campaign. How was it different from a political race? 
Well, it's different because it's limited to just lawyers. That's the most limiting factor. In recent years, it has looked much like a regular political campaign. We've had social media campaigns, Facebook pages, webpages. But we still do the good old, get out and shake hands and meet people thing.
You go to a lot of rubber chicken things. 
Q: Who did you run against?
His name is Pablo Almaguer, a legal aid lawyer from Edinburg, Texas. So we were both very non-traditional candidates. He would have been the first legal aid lawyer to be president.
Q: We've all heard of the State Bar of Texas, but what does it do?
The state bar is an agency of the state that regulates the legal profession under the supervision of the Supreme Court of Texas. We're a creature of the Legislature. There's a state bar act that was passed in 1939, and that lays out the way the state bar operates.
The Supreme Court has oversight of our administrative actions, so we work closely with them. 
Q: But what does the bar actually do?
We do the regulations and adopt the rules about the legal practice rules of discipline and professionalism. We also have programs for the continuing education of lawyers and make sure that lawyers continue that. We also have programs that educate the public about the rule of law.
We have a whole program that's law-related education that is really interesting, which most people don't know about. If you go on our website and plug that in – law-related education – you'll find it. We've also spent a lot of money and a lot of time creating a curriculum for kids K through 12 about the rule of law. 
We also have programs to assist lawyers that are in crisis. We have a high suicide rate and substance issues in the profession, so we run a program for that. 
Q: Why are there suicide and depression problems among lawyers?
It's a really high-stress profession. We also have a phenomenon we call "compassion fatigue." You see it among first responders as well – people that are in high-pressure situations dealing with people that are in very emotionally charged situations.
If you're a family lawyer, and you're constantly dealing with that kind of situation, that affects them mentally. 
Q: The state bar also handles disciplining attorneys.
Correct. We have a whole procedure for handling grievances for lawyers. 
Q: What does the bar president do? 
The president of the state bar is first of all the face of the bar, the spokesperson for the bar. 
We have a professional executive director that manages the staff. But as the state bar president-elect, you get opportunities to create your own initiatives. When you run, it's kind of your platform.
Q: What do you want to work on as president?
I will work to improve diversity, equity and inclusion in the bar and profession, to improve access to justice in the more rural areas of the state, like far West Texas and focus on the legal needs of veterans.
As president-elect, I work with the executive director and the state bar committee that put together the budget for the year that I will be the president. It is over $40 million.
Q: How much are the dues?  
Our dues are very low compared to other states. There's a lot of us though. We have 105,000 people paying less than $300 a year. It's not a lot to be a lawyer in Texas, and there hasn't been a dues increase since 1991.
Q: What are your plans and priorities?
I have identified three areas I'm focusing on. I was allowed to begin a task force to work on diversity, equity and inclusion in my president-elect year, which is unusual. The state bar is a microcosm of the country.
We've talked about recruiting more minority lawyers to run for leadership positions, having a pipeline to make sure that the lawyer population reflects the greater population. It should.
Q: Does El Paso have a problem in that area?
We're very lucky because El Paso is such a diverse community, and it does pretty much reflect the population at large. We also have a good representation of women judges. 
Law schools now have more than 50% women students, but only 37% of practicing lawyers are women now. So the question is where are they? 
At first, you might think they had children and dropped out. But this is happening later in their careers, so we're studying that.
I want to work on an issue that we have out here in far West Texas. We're actually calling it a legal desert because there are very few lawyers for the population. And it's in particular concern in criminal law circles. 
The third thing that I want to focus on is veterans' issues. We're one of the communities that has a veterans' court to deal with veterans living in our community who may be in crisis and need a different kind of assistance when they run into legal problems.
Q: When it comes to professions, like physicians, El Paso has always had far fewer per capita than other major cities. What about lawyers? 
The last figures I saw were from 2019, and we had one lawyer for every 653 people. That's not so bad, but the problem is we have a large group of lawyers here that are in government. So they're not available to assist the public.
Q: Because of that, the ratio is not really one lawyer for every 650 people in El Paso, but may be one lawyer per 1,000 El Pasoans or more? 
That might well be closer.
Q: What does that mean for El Pasoans?
We're in a legal desert. You know, you can just imagine if you're looking for an attorney. You just have fewer choices and longer waits. 
Q: How many attorneys are practicing in El Paso?
Q: What is it in a similar-sized Texas city, like Fort Worth?
It's one lawyer to 242 people in the Dallas-Fort Worth area where they have over 28,000 lawyers.
Q: Of course, it would help if El Paso had its own law school. What's it going to take to get a law school started here? And what difference would make?
It's a matter before the Legislature right now. It will take funding and finding a home? I'm assuming it would be a partnership with UTEP. It's the same process we went through to get a medical school here. It's spread out over time, and it's a long process.
We have students here who want to be lawyers who have to leave home. UTEP has a great law school preparatory program, and they've done a great job of finding places for these people to go. 
I hired a bunch of them when I was city attorney and worked with them. Some of them became lawyers, and they're still there.
A law school here would make it possible for people to stay close to home and make it more valuable to go because law school is very expensive. 
Q: How much, compared to when you went?
When I went to school, I was lucky enough to go to a state school, UT Austin, and the tuition was $4 a semester hour.
Now it's hundred dollars per semester hour, depending on where you go. To see a young lawyer with over $100,000 and close to $200,000 in debt isn't uncommon. And if they've had to take the loans to go to school, they start out with that burden. That affects their decisions about employment because they have to pay those loans. 
Pay is also lower for lawyers here, so we probably have a hard time keeping them, even if they want to stay.