Omar Ropele has been in charge of El Paso's oldest entertainment venue, the El Paso Coliseum, since September when he succeeded Brian Kennedy, who ran the venue under a succession of titles for 23 years.
The El Paso Sports Commission, a nonprofit that runs the coliseum under a contract with the county, appointed Ropele as the commission's president. He had been in the vice president position since January 2018.
Ropele, 42, started his career 22 years ago as a news editor at Televisa in Juárez after graduating from the University of Chihuahua. But he bailed out of investigative reporting several years later.
"I was young and stupid, and I did a story that I wasn't supposed to hitting on the cartel," he said. "Then one day, I got a kind of threatening call.
"I decided I didn't want to be doing that anymore and started doing sports to get myself as far away as possible from that."
His next position was at Univision's Channel 26 in El Paso, where he was born, and that led to a job calling football and basketball games for the University of Texas at El Paso.
"They asked me, 'Do you know how to do radio?' I said no, and they said, 'You get two games, that's two weeks, to do it and if we don't like you, we'll find somebody else.'"
He stayed on for 10 years as the voice of the Miners in Spanish and then took a job in Dallas, which he kept until he applied for a communications position with the University Medical Center Foundation of El Paso.
Ropele interviewed with Dennece Knight, the foundation's chief executive, who, of course, asked him what he knew about public relations.
"I said I don't know anything and she said, 'I'm going to teach you everything I know, but if you can't do it, we'll find someone else.'"
He jokes about how saying, "I don't know anything, but I can learn in two weeks" in multiple interviews over the years landed him job after job.
The biggest leap came when Knight, who was and is married to Brian Kennedy, asked him to a surprise meeting over coffee that he thought was going to lead to his dismissal.
"But she said, 'Brian wants to have you help him run the coliseum,'" Ropele said. When he later told Kennedy he didn't know anything about running a venue like the coliseum, Kennedy said, "I'll teach you everything I know."
When Kennedy, who had earned a law degree on the job, announced he was leaving the sports commission last September, Ropele said, "That's when the board of directors decided to pick me.
"That was Sept. 15, and I've been on the job for two months now."
Kennedy, who recommended him to the board, had this to say about Ropele: "He's really smart, but he accepts that he doesn't know what he doesn't know. He's going to do great. He has business sense, and he works as hard as anybody."
Q: First things first, what's coming to the El Paso County Coliseum for the holidays? 
We have monster trucks coming in December. We have a reptile expo the week after called Show Me Snakes. It's like a gun show, but instead of guns, it's reptiles.
 Q: Anything big lined up for early next year? 
Definitely. Next year, we are trying to do a Latino show in January. I think it's regional Mexican. And then we're trying to see if we can close a deal to bring a nationally televised wrestling thing called All Elite Wrestling. And then in February, which is booked, we start with Tuff Hedeman. It's a bull-riding championship. 
After that, we have Jay Wheeler, which is also a Latino act, on Feb. 10. Then we're hosting the El Paso Marathon.
In February, we also have the Sun City Dance Classic, which is a dancing competition that brings dance teams from all over the region. 
 Q: What was your biggest event this year? 
I would have to say us being the main COVID vaccination site in El Paso. There were days that we had over 3,000 people getting their COVID shot, and we were the place. As soon as they approved the vaccine, we started the ball rolling with University Medical Center, and we started vaccinating people left and right. 
It was nonstop pretty much seven days a week, from Jan. 19 until May. There wasn't a day that we took off. Thousands and thousands of people were here. 
 Q: Did you all have any shows this year or were you shut down by COVID-19? 
After May, we had Disney on Ice. We've been hosting them for many, many years. That's another one of our marquee events.
Q: What kind of effect has COVID had on your bottom line for the year that ended in September? 
We lost many shows and a lot of income. Fortunately, we were able to reschedule most of the events. 
Q: What's the role of the El Paso Sports Commission in the operation of the coliseum? 
The El Paso Sports Commission is a nonprofit organization that's in charge of managing the El Paso County Coliseum, and pretty much the whole block of what's at 4100 E. Paisano, including the El Paso County Events Center. That's the home of the El Paso Rhinos hockey team, the pavilion right next to the events center.
Q: Before he left, Brian Kennedy oversaw the coliseum as president of the Sports Commission, and then had a consulting role with the commission. What was his last title? 
Well, he had many titles. I guess he started as is the president and then moved on to CEO. And then, in the last years, he was the chairman of the board. That's when he decided to step down.
Q: Is he still involved with the coliseum?  
Yes, he is. We're so thankful that he's decided to be a consultant for us. His going to law school remotely at 59 was amazing, and he graduated at the top of his class at 62.
Q: Is he your attorney now that he's left?
Yes. We have a firm, but we don't want to use the term in-house counselor because he's kind of like that. When we have a legal question, we can pick up the phone, and he's there to help us. 
Q: You are a former news anchor with Entravision and in the news media going back to 1999. How did you land here at the Sports Commission? 
I think it's just being there at the right time – just a stroke of luck. It follows a trend because the way that I got into Televisa was I met the news director. In my short career as a journalist, he was my mentor. 
I said I want to work there, and he said, "What do you know?" I said, "I don't know anything," and he said, "Okay, you have two weeks to learn. And if you cannot learn in two weeks, I will find somebody else as a news editor."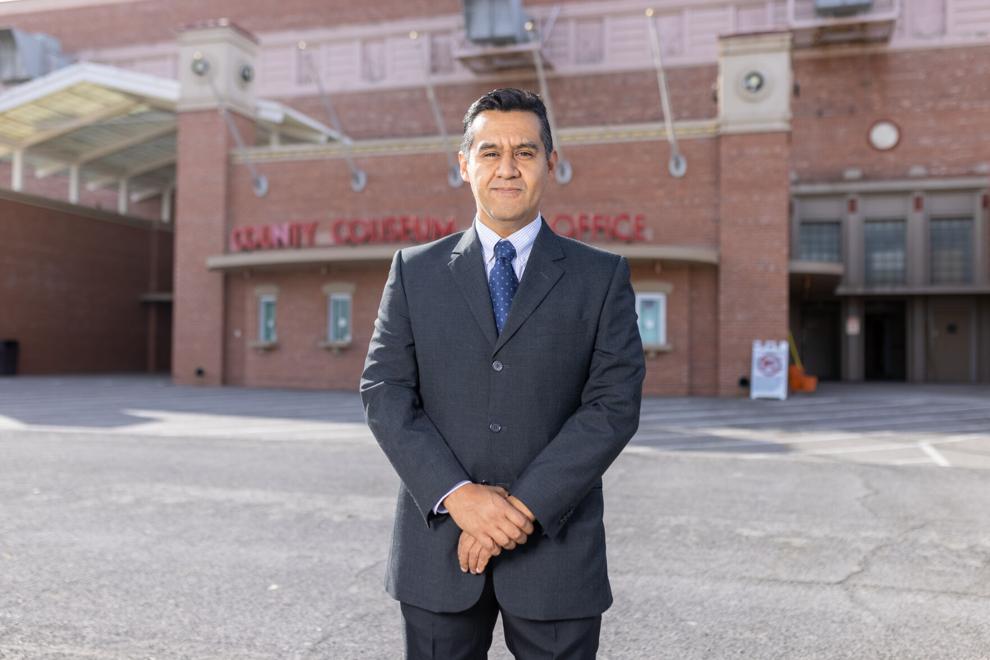 Q: How did you get the job of running the coliseum? 
Brian decided to step down as the board president as soon as the Sports Commission received the new contract extension with the county. That was effective Aug. 15 and in September, Brian pretty much announced he was leaving. 
That's when the board of directors decided to pick me. That was Sept. 15, and I've been on the job for two months now. 
Q: What's it been like following him?
It's not easy to fit into the shoes of Brian Kennedy. We've been blessed with Brian. He still helping us talk to the promoters because they don't call the coliseum; they call him on his personal cell phone. 
Q: There's a new agreement between El Paso County and the Sports Commission, how old is it?
We just signed it, and it went into effect on Sept. 1. The agreement is for two years, and if we meet the goal, we have an automatic extension of a third year. 
 Q: What is your current budget? 
$2.4 million from hotel occupancy tax money. Our goal is to generate over $275,000 in revenue for the county.
How it works is we get paid with hotel occupancy tax revenue – not property taxes – from people who stay in a hotel or motel in El Paso County. They fund the El Paso Sports Commission, which runs the coliseum
Those are restricted funds because the county cannot do a lot of things with hotel occupancy tax money. One of the things they can do with that money is manage the coliseum and another big part that the El Paso Sports Commission does is sports tourism.
That's how we have Beau Bagley in the El Paso Sports Commission. He is in charge of the sports tourism division. 
Q: Is that youth sports and tournaments?
It's all kinds of sports – every sporting event that can create tourism for El Paso and generate an economic impact for the county. 
Q: That's things like youth baseball and football tournaments that bring people from out of town? 
Right. But there are also senior softball teams looking for a place to have their tournaments and Beau is inviting them to come to the El Paso Sportsplex or another facility that can host their event.
We keep track of how many people are coming in from out of town, how many hotel rooms they are going to occupy for how many days and the ripple effect that creates from having people come from outside El Paso. It's airfare, transportation, rental cars, restaurant, nightlife, bars, you name it. 
Q: What did you learn from the pandemic?
That our parking lot could be turned into another venue, an extra venue inside the coliseum property. And that went to prove that we could do outdoor movies. 
El Paso Inc. also did their Women of Impact event here in the parking lot. It was a different venue that didn't have movies or concerts, but just an event, and it was a nice event outside that people enjoyed.
Q: There's a lot of talk and it's been going on for years about El Paso needing a large, modern venue for big traveling shows and concerts. What do you think about that? What kinds of shows is El Paso missing for lack of a bigger, better venue? 
I don't think we're missing anything. We're what is considered a small arena with between the 6,000 and 8,000-seat range. Then, you have something medium, like the Don Haskins that has between 10,000 and 12,000 seating capacity.
And then you have the jumbo ones, and you've got the Sun Bowl for that. 
But then the promoters say they need between 1,500 to 3,000 seats. They go to the Abraham Chavez or they go to the Plaza Theatre, and they do really well.  
If they believe that the artist, the show or the event they're bringing in is going to need between 3,000 and 7,000 seats, then they come to us. 
Q: So you don't think that there are shows driving through El Paso from Austin or Dallas and heading west or coming from the west and heading to Austin that would stop here and put up a show, but there's not a venue they like that's big enough?
I don't believe so, and we've seen it all. I mean, give me a big show – Cher. She came to El Paso. We just had Ricky Martin and Enrique Iglesias.
They went to the Don Haskins. 
Q: Regarding the condition of the coliseum, when were the last renovations? 
I think it was 20 years ago. 
Q: Is there something that the coliseum needs at this point?
Yes. Oh yes. We already submitted a list of capital improvements. The county is actually doing a feasibility study, and, I believe, the company they hired already generated results for what is needed.
---
Email El Paso Inc. reporter David Crowder at dcrowder@elpasoinc.com or call (915) 534-4422, ext. 122 and (915) 630-6622.