A new business opening is always a celebratory event. But one that happens after a year of lockdowns and social distancing seems twice as jovial.
That's how the last couple of weeks have been for Kassi Foster-Nava, co-owner of The Reagan, a new spirits and provisions spot on Mills Street in Downtown.
Foster-Nava, the daughter of El Paso billionaire Paul Foster, moved back to El Paso from Austin where she owned Golden Bones, a retail boutique. She recently married Alejandro Nava, who co-owns The Reagan.
She's also expecting her first baby this year.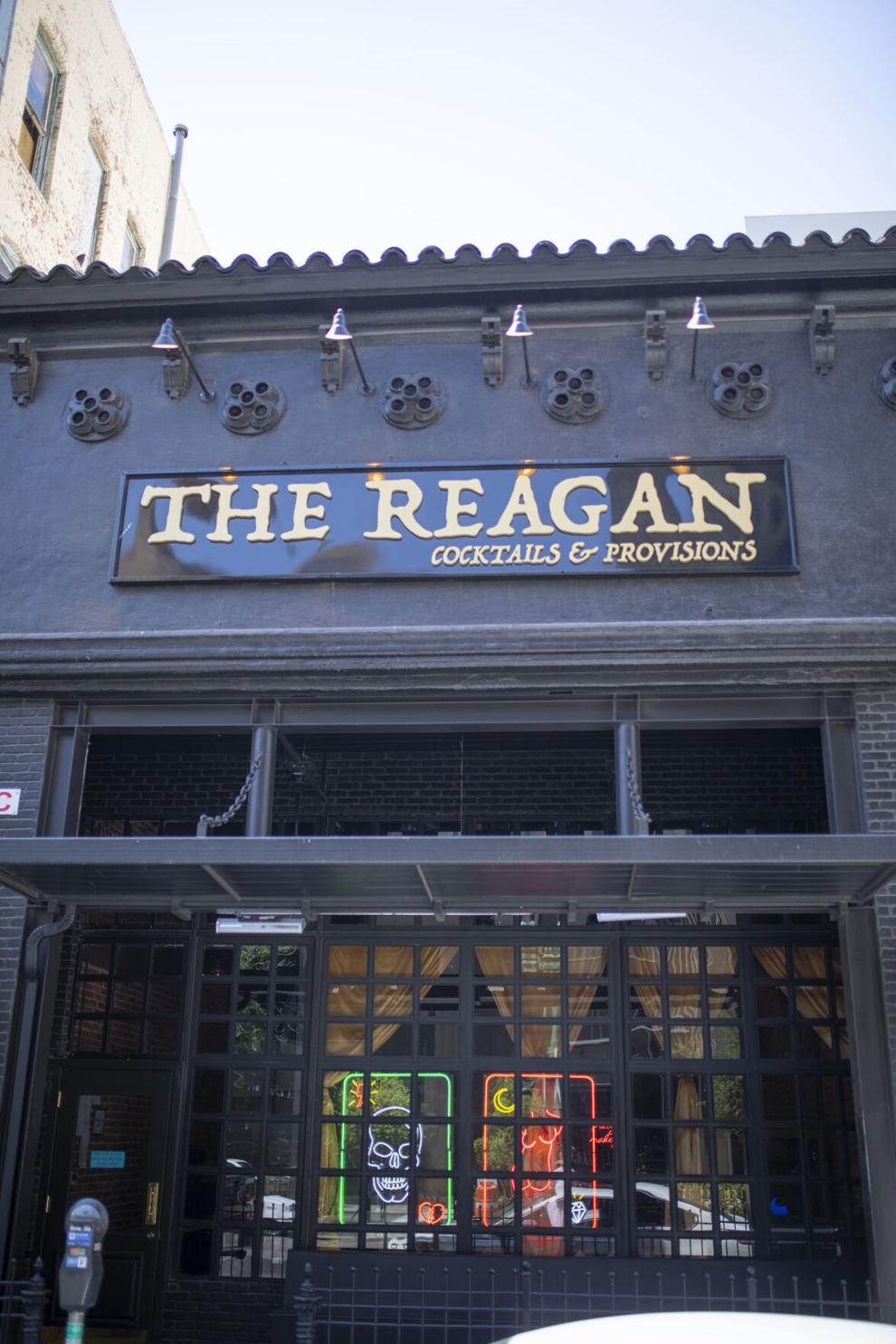 The Reagan is an homage to '80s music, where every detail of the space has been carefully thought out.
There's an upstairs space called the Tarot room, named after the card readings, where you can get a closer look at the black gilded ceiling and views of all the action on the bar's main floor.
The basement, lined with rock walls, is for administrative and storage space.
Foster-Nava is also vice president of business development at Franklin Mountain Investments. Before that, she worked at Mithoff Burton Partners.
The El Paso native served on the organizing team for TEDxEl Paso and curated TEDxElPaso in 2019. She is a graduate of Arizona State University and has an associate degree in merchandise marketing from the Fashion Institute of Design and Merchandising.
Foster-Nava and Nava spent some time with El Paso Inc. at The Reagan to discuss their new business, community involvement as young professionals and the historic secrets found in the basement.
Q: What's your vision for The Reagan? When did you first learn that you wanted to enter this line of business?
Alex and I both kind of had ideas that we brought to the table. 
He had been wanting to do a bar as well. We started talking about it two years ago. Construction took a year. 
It's my middle name, but it kind of stuck. We weren't sure if we'd use it, and we were messing around with the idea. 
Q: What influenced the design?
That came a little later, the Tarot card stuff. We have the Zoltar who tells you your fortune, so that's kind of where that came from. Then we have that kind of witchy vibe in different accents. 
Our favorite era of music is the '80s, so we really got a lot of influences from that. In the jukebox, we hand-picked all the CDs and selections in there.
We have the Cure, Blondie, Pink Floyd, Depeche Mode, Danzig. All sorts of '80s and late '70s music. 
Q: Is this your first business in El Paso?
It is. I owned a boutique in Austin for five years. It was clothing, retail and a little bit of home decor. It was called Golden Bones. The vibe is kind of the same – that very edgy stuff, black and gold and a very similar kind of branding. It's kind of a continuation.
Q: How long were you in Austin? 
I lived there for four years, and then moved back here and was traveling back and forth. 
Q: How's it been doing the business venture in El Paso versus Austin?
I'm full-time here and don't go to Austin ever really anymore. It's different, but I love doing it in El Paso because it's home. I love El Paso, and I love to bring this new, cool different idea and vibe to this city, rather than to Austin which has all this cool stuff.
Q: After living in different cities, what do you think El Paso is missing to try to get more El Pasoans and others to come home and start businesses here?
It's getting there. I think younger people are starting to move back and are seeing the potential here. We're starting to get places like this, and in the WestStar tower, we have a brand-new building in Downtown, which we haven't had since the '80s. 
The more young people come back and do things, the more others will follow. 
Q: What are you enjoying doing in El Paso? 
We used to go to a lot of live shows, but that's not something we really do anymore. Going out to eat, hanging out with friends, movies. 
Q: What other work do you do and do you serve on any boards?
I'm on the board of El Pasoans Fighting Hunger Food Bank. I'm also on the board for my family foundation, the Paul Foster Family Foundation. 
I'm starting a nonprofit called Foster and Adopt El Paso, so it'll be for animal rescue. 
We'll be doing some concerts. We'll do shows here because we have a stage and a DJ booth. But we're more focusing on the outside shows, so larger shows.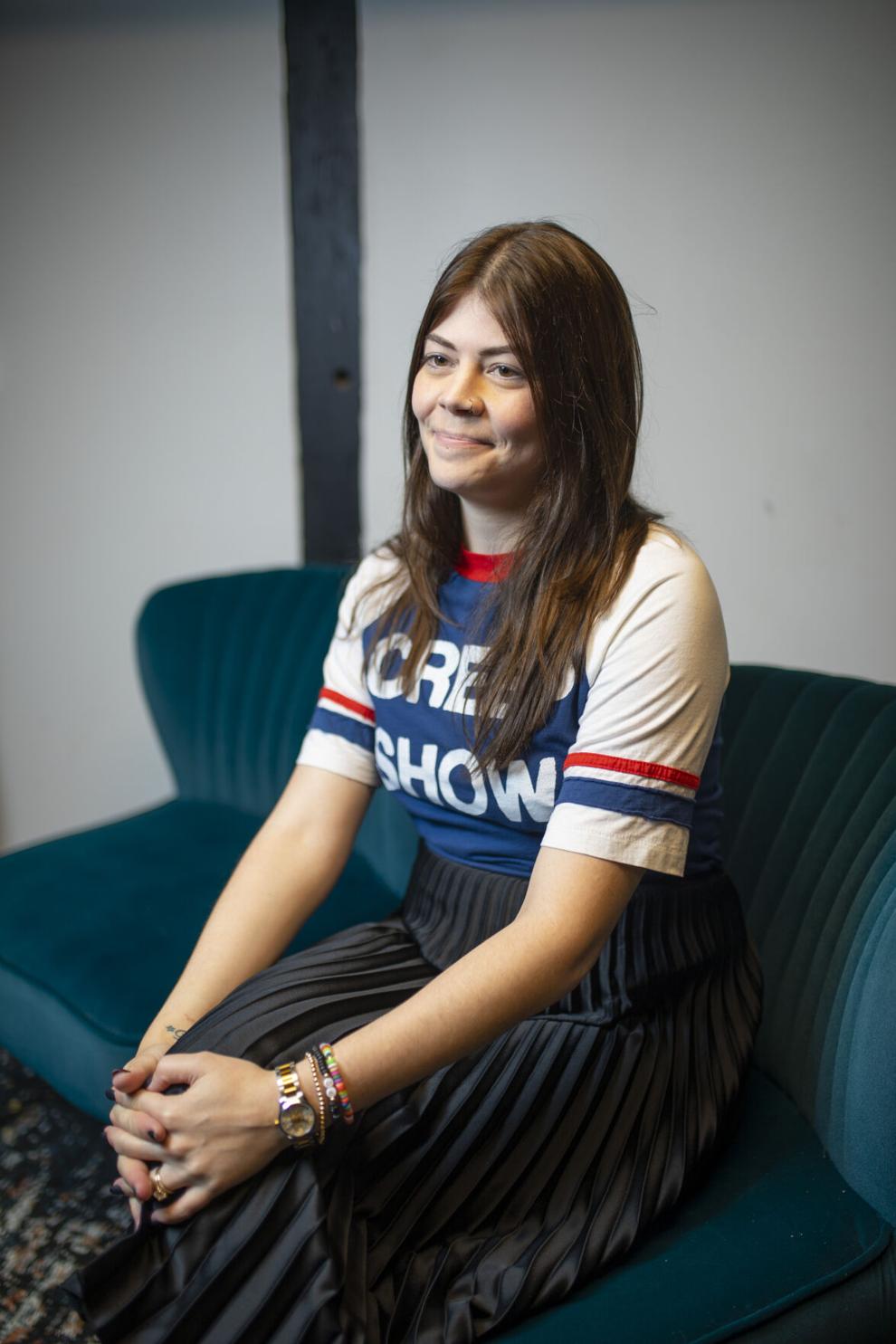 Q: Can you talk to me more about Foster and Adopt and your rescue pets? 
I have three rescues. I'm a big rescue advocate. Right now, I can't foster because my three are too much already, but I help find foster homes for dogs. I work with a different nonprofit currently.
I'm going to start raising money for this nonprofit, and I eventually would like to open an actual rescue location. I'm slowly going to get the name out there, get donations and then will get a location one day. 
Q: As you're getting into the bar business, have you seen any shifts in the scene in El Paso, in terms of where people are going and what they're seeking out?
Downtown is becoming more of a hub, which I think is great. I was going to say it feels like the crowds are getting younger but that's just because I'm getting older. 
Q: Was there anything that drew you to this location for The Reagan?
We were looking Downtown. My dad had owned some buildings and we even looked at some of those, but this one just really called to us when we saw it. The old and historic, we thought it was so cool that we could bring it back to life. There's a ghost story. 
Q: Are there any other Downtown projects you're keeping your eye on?
The Plaza is done already. It's great for Downtown, for sure. La Perla was exclusive for a bit but now it's open to anyone, and I'm excited about that. The views are amazing. But definitely go at night; it's so hot. 
Q: Can you share the ghost story?
Nava: El Paso Ghost Tours came and shared some history about this building. There was a doctor, Dr. Pickett, who had his office here. We had to dig. When we removed the original wood floors, we found hundreds and hundreds of old bottles. 
Some of them we have here, and they're dated from the 1920s. 
There's a story that Dr. Pickett died down here in the basement, and there's a story about a guy who was murdered. One of the beams, you can't see it anymore, had shotgun pellets from where he was allegedly shot. 
When we were doing the ghost tours, this room, specifically the back area, was just terrible. It's terrifying at night. You get that spook. We actually found a room in the back.
Foster-Nava: We turned it into a wine cellar. But it was full of stuff, and we didn't know it was a room. We had it excavated.
Nava: We have friends at Deadbeach Brewery. (At the beginning) there wasn't really access to the basement, but I knew it was there. We came over with our friends and we thought it was appropriate that the first beer we drank here was a Deadbeach one. 
We were doing that, and there was like a wood wall back there. I wanted to know what was back there, so we took a crowbar, started ripping up the pieces and discovered a room. 
In the 1920s when they were building railroads, we don't know for sure but it's pretty safe to assume that this leads to the El Paso main (rail) yard. 
It's amazing to be in a building that has this much history, and hopefully The Reagan will be here for 100 years.