When COVID-19 started getting serious in El Paso and was on the verge of being declared a pandemic in March 2020, the CEO of Vantage Bank in El Paso decided it was a good time to retire to his home state of Ohio.
That led to the appointment of the bank's chief technology officer and operation officer, Jeff Sinnott, who's been with Vantage Bank in El Paso for 18 years and the bank's CEO for 18 months.
Vantage Bank has been around since 1923 exclusively in Texas, and now has 23 banking centers and 458 employees in 12 communities that include two in San Antonio and one in Fort Worth. All the rest are along the border from Brownsville to El Paso. It is headquartered in San Antonio.
They've been in El Paso for 18 years now, employ a 28-member staff and have built up total assets of nearly $3 billion today – up from $1.9 billion in 2018 – without getting a lot of attention.
"It's been a very quiet bank," said Sinnott, whose name is pronounced like senate. "We are a community, commercially-oriented bank, really specializing on the commercial, real estate side of all the markets that we work within.
"We don't look outside of those markets."
A Texas A&M University graduate, Sinnott came to Vantage from the tech side of banking, while most top-level bank officers come in from the finance side of the business.
He started his career at Bank of America and then moved to Barnett Bank in Florida, which he said owned the state when it came to banking.
When Bank of America acquired Barnett, Sinnott and his wife decided to move back to Fort Worth to be with family. He started a computer software company of his own before taking the chief information officer position with Summit Bank where he said he "really fell in love with community banking."
It took a few more moves before he found his way to Vantage Bank.
Sinnott sat down last week for a conversation in which he acknowledged the difficulties that their business customers have endured while praising their resilience and emphasized the urgency of getting the traffic between El Paso and Juárez going again.
---
Q: Professionally, where did you come from?
I have a technology background originally. My first job out of college was working with Bank of America on their model bank program. They brought all their banks together. After that, I worked at Barnett Bank in Florida. Barnett really owned the state of Florida. They were on every corner. I really enjoyed my time there. It was a very forward-looking bank, and they were acquired eventually by Bank of America.
At that time, I decided to fulfill a promise to my wife, and come back to the Dallas-Fort Worth area where our families were from. We came back to Fort Worth and I started a software company, Renaissance, working with a couple of people I worked with in college, and we had good clients.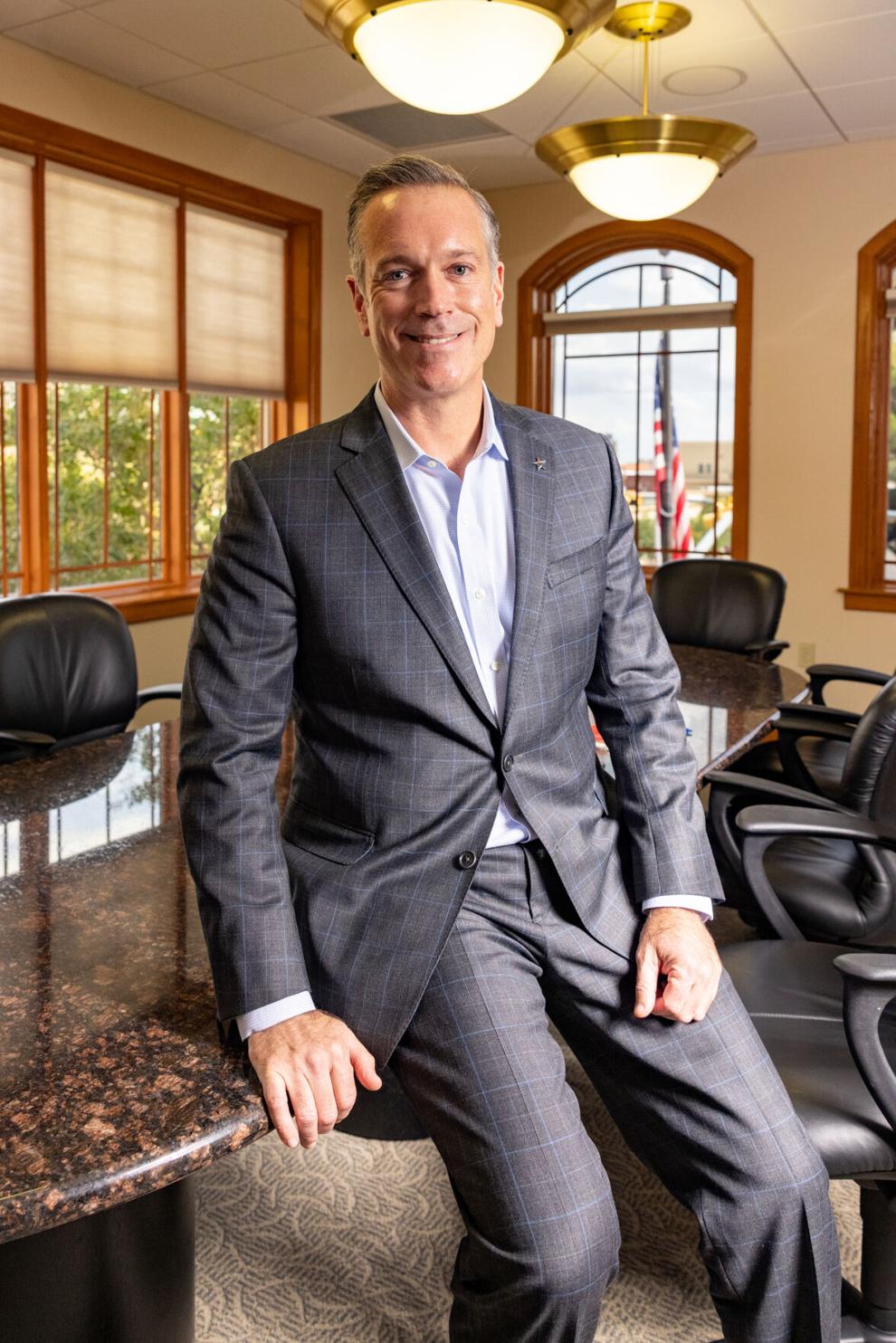 A&M. My brothers are Longhorns, and my sister and I are Aggies.
During that time, I was trying to buy out the main investor, the silent investor in the company, and started talking to a community bank in Fort Worth, Summit Bank.
When I saw that wasn't going to work, I decided to get back into banking and at that point, since I had gotten to know Summit Bank, I went to work for them as their chief information officer. I really fell in love with community banking and being able to tie the technology side with the close connection to your customers in the community.
It was something that resonated with me, and from that time on, I've been on the community bank side and have worked with some people at Vantage NIMB and my previous bank, Southwest Bank, helping them on some projects.
When that bank was acquired, they reached out to me and asked me to come on board, originally as the chief risk officer, chief technology officer and operation officer and eventually as the CEO and president.
Q: How long has Vantage Bank been around?
Q: That's the oldest bank I hadn't heard of before.
It's been a very quiet bank. We are a community, commercially-oriented bank, really specializing in the commercial real estate and industrial side of the markets that we operate in. We don't look outside of those markets. All of our customers are within those markets.
We have 23 locations today, and we stretch from Brownsville to El Paso to San Antonio and then up through north Texas.
Q: And the markets you're talking about, what are they? What do you consider your market?
We work to reflect the business communities all across Texas. So, unlike most community banks, we are very decentralized. Most community banks are focused on one market area.
We think that our diversity and geography is a unique attribute of ours. We run across the border, up into San Antonio and Dallas-Fort Worth. We think that is a reflection of the Texas marketplace itself.
We call it a very decentralized-centralized approach, meaning we have local leaders in each of those markets. And each one of those markets they go up to some statewide expertise. We have a visual backbone that connects each one of these markets together.
Q: As we all got into the pandemic, how were you affected in El Paso and was it different from your 22 other branches in Texas?
We run the same operating model across all our locations – Dallas, Fort Worth or El Paso – they're all the same operating model. We actually set up a pandemic incident response team in January 2020.
As soon as we saw what was happening in China, we set up a team to look at what we need to be ready for. By the end of March, we were already almost completely remote. Eighty percent of our locations were working remotely.
We have what we call ACE. It's our digital backbone that connects all of our people to know what they're working on – who has what workflow, what data – so we were able to very quickly pivot and go remote and still have everybody connected.
Q: How did Vantage Bank handle the COVID problem with regard to small businesses and helping them scoop as much as they could from the various rescue programs in operation?
Yes, one of the things we did before PPP, before any of the programs, was we actually reached out to every one of our commercial customers that we thought were most impacted – hospitalities, restaurants, hotels, day cares. We ended up modifying almost $1 billion in loans just to give those customers peace of mind ahead of PPP.
When PPP came out, of course, we also worked very hard to have our customers participate in that program as well.
Q: Where are we now from a banking standpoint in terms of the economy and unemployment? I expect some businesses are digging their way out of trouble unless they got a lot of help.
We're fortunate to be in Texas, for sure. I think businesses in Texas have responded better than some other areas of the U.S. With the backstop that the government gave the businesses and businesses' ability to pivot to other areas and find a way to sustain themselves, our customers have done very well.
We've grown with our customers in this time, as well. We've seen some impact in some areas, such as Downtown El Paso with the bridges being closed. In terms of the ability of businesses to sustain and pivot and do well during this time, we've seen a lot of resilience.
Q: Restrictions on non-essential travel remain in place at ports of entry. Is anything moving that might affect you and our local economy?
Retailers are affected by that probably more than any other segment, particularly in the downtown areas of El Paso and Laredo. But in terms of when we expect the bridges to open, we've been asking and asking and can't seem to get an indication of when that's going to be.
We do feel it's very important for our communities along the border to have the bridges reopen as soon as it's safe to do so.
Q: How significant is the impact of the travel restrictions?
Our biggest concern is what happens when the surge of different resources, like Homeland Security and health care organizations, start to pull back. Especially when you look at hotels and restaurants and some retail, what we're seeing is a lot of that's been propped up by having all those people come.
We've got to get those bridges open before those groups start to leave. That's really where we're concerned.
Q: Has anyone from your team been talking to members of Congress about this and nudging them?
We are definitely nudging. It seems difficult to get a clear message back, even with the local congressperson. It seems to be out of D.C. much more than it is locally.
Every time we ask them, it's another 45 days. So I'm not sure.
Q: We had some excitement last year when one of our local banks was having problems with their board and they had a second, corporate board. How is Vantage Bank structured?
Vantage is unique. We're owned by just one family and the employees. It's a unique ownership setup. Our corporate and bank board is the same board, and it's made up mainly of the Collins family and a few independent directors.
I office out of Dallas-Fort Worth. That allows me to get to our different markets much easier than any other location.
Q: In terms of the market, where does Vantage Bank play primarily?
We're a full-range community bank. We are commercially oriented, so we really drive our retail through our commercial channels – so their owners, their employees and families are where we try to drive the retail side.
But our focus is on those commercial businesses that we feel are the heartbeat of each one of these communities, so we focus on family offices. We focus on commercial real estate, real estate investment, professional services and logistics – really all the attributes that make each one of our markets unique here in Texas.
Q: What else would you like El Paso to know about your bank?
We are committed to the international market. We are committed to El Paso, as well. We've seen during this time, with all of the liquidity in the market, some banks are pulling away from the international side. But it's an important part of our business.
We've maintained the international side to be about 30% of our business. Our objective is to continue to do so.
We've almost doubled in size in the past two years. We've maintained that ratio. We're looking to continue to expand here in El Paso.
Q: What kind of business do you do internationally?
We really work with foreign nationals that are looking to invest and operate on both sides of the border – a lot of logistic companies, a lot of storage and manufacturing companies.
Any foreign national looking to buy some assets in the United States, we support as well. We're a full-range bank. We do foreign national mortgages as well.
Q: Has the nature of banking on the border changed over the last five years or so?
I would say that for Vantage, activity has really picked up. We're seeing some major organizations put factories just across the border. I think you're going to see more of that, with some of the disruption in China and some reshoring.
We're also seeing a broad array of companies. I was just in Laredo last week and the activity and the spirit of the business environment is strong and exciting in both Laredo and El Paso.