We individually are living, breathing ledgers of history, with decades of stories, experiences and passed-down wisdom floating around inside our meat lockers.
Erica Marín, the new director of the El Paso Museum of History, hopes the museum and its resources can tap into some of that.
Marín was named to the position on Aug. 6. A Montwood High School graduate, Marín is the first native El Pasoan and first Latina director of the history museum.
In addition to history, Marín is an artist. She's been able to weave the two together in her work, drawing on inspiration from her ancestors and the history of the borderland.
Marín graduated from New Mexico State University with a bachelor's degree in museum conservation and earned a master's in history from the University of Texas at El Paso.
Prior to her new role, Marín was a curator at the history museum, and was previously at Las Cruces Museums as exhibits curator.
The history museum opened at its location in Downtown El Paso in 2007. Construction of the facility was paid for through a voter-approved $6.5 million bond election in 2000.
According to its website, the history museum was first established in 1974 under the name of the Cavalry Museum. The name was changed in 1980.
Marín spent some time with El Paso Inc. in late August at the history museum and talked about her work, the museum's mission and what her advice is to start learning more about your own history.
Q: How long have you been in your new role and how's it going?
It's been less than a month. It's going very well. Previous to this, we just kept on working and pushing projects forward. It's just the same as it was a little before then.
Q: What first got you interested in history and how'd you get on your career path?
I'd consider myself a non-traditional student. For a while, I worked in PR and marketing. My transition was into the arts, as an art maker. I went to undergrad for art conservation. I continued to create and curate and work on independent projects. I also ran a gallery for a while.
I felt history was something I needed to look into in terms of my own art-making. It's very important to have a little more context. I'm not necessarily an art for art's sake person. I feel that art can be very powerful as a message and as a general statement.
For me, it was about that process. I was very much attracted to borderlands history, anything that had to do with our community. That's what led me down the path of becoming a historian.
Q: What mediums do you use in your art?
I worked in paint, mostly, and also installation work. It's kind of a strange way because it segues very easily into exhibit design and curation. 
Q: When you first became interested in borderland history, where did you start and what did you find that interested you? 
I'm interested in a people's history. I'm interested in not necessarily the large overview of the region, but of more personal stories and how those connect. 
People tend to feel a little more connected to their own stories, and they're more relatable than if we talk about a famous architect. We like that and talk about it as well, but people connect more with their own personal stories, or people that are similar to them, in terms of for example the working class in El Paso and those experiences.
Q: Being born and raised in El Paso, what has been your experience of studying history while also incorporating your personal story into your studies and art practice? 
For me, it's a hugely motivating factor. I'm very passionate about learning about where I've come from, who my ancestors were, what their struggles and accomplishments were, and all their teachings. I respect the elders very much, and voice that through my art. 
I also feel that other people probably feel the same way on some level, so I try to connect with people in that way as well. 
Q: Can you talk to me about who your ancestors were, where they're from? 
My father is first-generation (American). He came here from Mexico when he was about five years old, in the early '50s. His parents were also from Mexico.
My mother's side has been here for several generations. On one side of her family, they came here during the Mexican revolution as refugees. On the other side, they've been New Mexicans for several centuries. 
Q: What is your vision for the history museum?
The goal I'd set for us as an institution is access. It's very important to reach all communities and engage all communities. We're working on that through creating exhibitions that are interesting to borderlands people, finding ways to work outside of these walls and doing community outreach.
In the future, we're looking at satellite exhibitions in other communities. I'd like to work with rural communities. If we can't bring people to the museum, then we should be thinking of ways to take the museum to people.
Q: Are you looking to bring in new exhibits, retire any or anything like that?
Other than "Changing Pass: People, Lives and Memory" – that's our permanent exhibition – everything else is a rotating exhibit. We rotate these every six months to a year, depending on the exhibition and the significance to local ties.
We have "Neighborhoods and Shared Memories: Sunset Heights." That's going to stay here. We opened in April, and it'll be here for 10 months. It's important because we need to get as many people to see that one exhibition, and that's a series that will continue. After we finish that, we will move on to the next historic neighborhood and so forth.
Another goal is to develop as many in-house exhibitions as possible. I know some institutions will rely more on traveling exhibitions, or canned exhibitions. That's nice too because some are incredibly interesting and well put together, but I think it's important to create with what you have here.
Q: What do you think El Pasoans don't know about their history? Are there any facts or events you want to highlight moving forward? 
For a long time, the dominant narrative of El Paso has been a little more about cowboys and settlement and topics that are not necessarily highlighting everyone else, like the working-class communities or migration.
It's really important to talk about those topics and share with folks that yes, there were a lot of people who came from the east and settled here as this became U.S. territory. But there were also people here before, and those people included Chinese, Japanese, Afro-descent, and indigenous native communities. 
Q: What's the state of history education in El Paso? What's being taught?
I may not necessarily know what's being taught in textbooks in K-12, but I think what we share here is something that will enrich youth and their knowledge of history. It might help them look at history through a different lens. 
We don't just talk about Ben Franklin and George Washington, we talk more about people who came to this area and settled here, who don't have international names but have names that are more like the people living here today.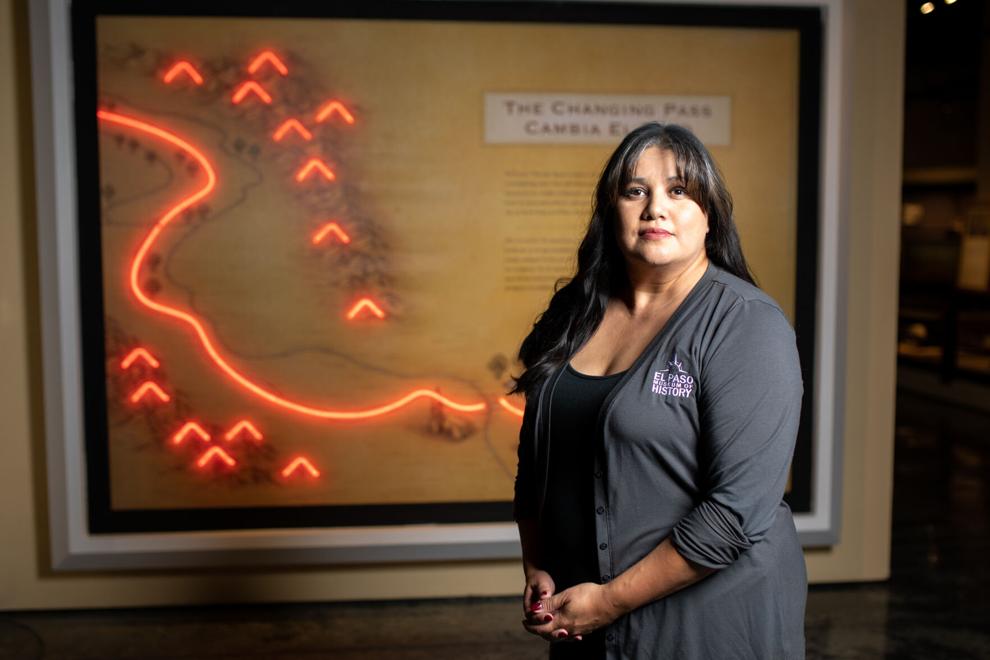 Q: What's it like learning history, while history is happening right now? What's the balance of paying attention now and also learning from the past? 
It's important to look at history and pick up clues, and understand that what's happening today is not the first time it's happening, whatever it may be. It could be political unrest or migration; it's not the first time.
It's important to clue into that and pay attention to history. Very few people know that Zyklon B was created here first, by Hitler's people, and they took the idea of that to implement in Germany. There are certain stories that are left out because they're not convenient or comfortable. 
It's important to understand that there's an origin to everything and that we don't want to repeat the past. We want to move forward. 
Q: What would your advice be for people to tap into their own personal histories and get more familiar with who their ancestors are and where they came from? 
One of my favorite things here at the museum is DIGIE, a digital archive. It's accessible via the web at digie.org. We really love it because it's a completely community curated archive.
Through DIGIE, we've started a series called "Historias." The first iteration was to have everyone submit what it was like living in El Paso. The second one was pride edition, and we're working on a third.
That's a great way to tap in and make your voice known, to share your own history at the museum, and to record your own history for posterity. It's a working archive, so whatever you put into it you're safeguarding your own history. You can upload photos, documents, whatever is important to your own history, as well as look up other people's history.
It's not just a tool for the layman, but it's also a tool used by scholars, researchers, journalists, students. 
Q: What are the other history museums in El Paso?
We have two sister institutions, El Paso Museum of Archaeology and El Paso Museum of Art. There are other local history museums that are more specialized in their topics. There's Magoffin Home, a house museum.
There are a couple at Fort Bliss, one is Old Ironsides and the other is more of a Fort Bliss living history museum.
We also have the Centennial Museum, which is at the university, but it brings current topics and also talks about history and art, and they do a whole lot of other work.
Q: What are the history museum's archives like?
We are a collecting institution and are charged with maintaining and safekeeping our collections. We have 3D objects, from pots to basketry to farming implements. We also have flat records, like documents, that can span from newspapers to photographs.
We also have a large textile collection.
Q: Do you have any favorite artifacts or collections within the archives?
I have several favorite pieces. I'm really partial to our Ysleta Mission door, and to an 18th century chest we have downstairs in "Changing Pass." That chest originated from a family in San Elizario, and it's been in their family. It's a really cool object to have.
Q: Does the museum actively acquire new pieces?
We have not yet, and it's something we're working on. It's more getting our own collections in order before we start collecting again. 
Q: Do you do work or share exhibits with other museums?
Definitely. We collaborated fairly closely in the last year. A few of the artifacts we have in our Sunset Height exhibition came from the museum of art. We plan on asking them again for a poster collection from World War II. We have an upcoming World War II exhibition, so I'll be reaching out to them for that. They're wonderful at collaborating with us. 
At the El Paso Museum of Archeology we have some baskets and other things from their collections.