A lot has happened in El Paso in the nearly four years since Oscar Leeser last sat inside the mayor's office on the second floor of City Hall.
But he's back now for a second term and faced with leading a city that has undergone repeated tragedies and hardships in a short amount of time.
Leeser, 63, took office in January. His first mayoral term ended in 2017 when he underwent treatment for cancer.
"I have some unfinished business and will continue to try to bring businesses and lower unemployment," Leeser said. "Unemployment had gotten under 4% (in 2017) and is now up to 9%. Our goal is to get it back down to under 4%"
This time, Leeser took office amid a health and economic crisis that didn't exist in 2017: the pandemic that blindsided the world.
After so many deaths and waves of infection, El Paso is finally seeing dramatically lower numbers of COVID-19 cases and deaths, but the sting of what happened through 2020 remains.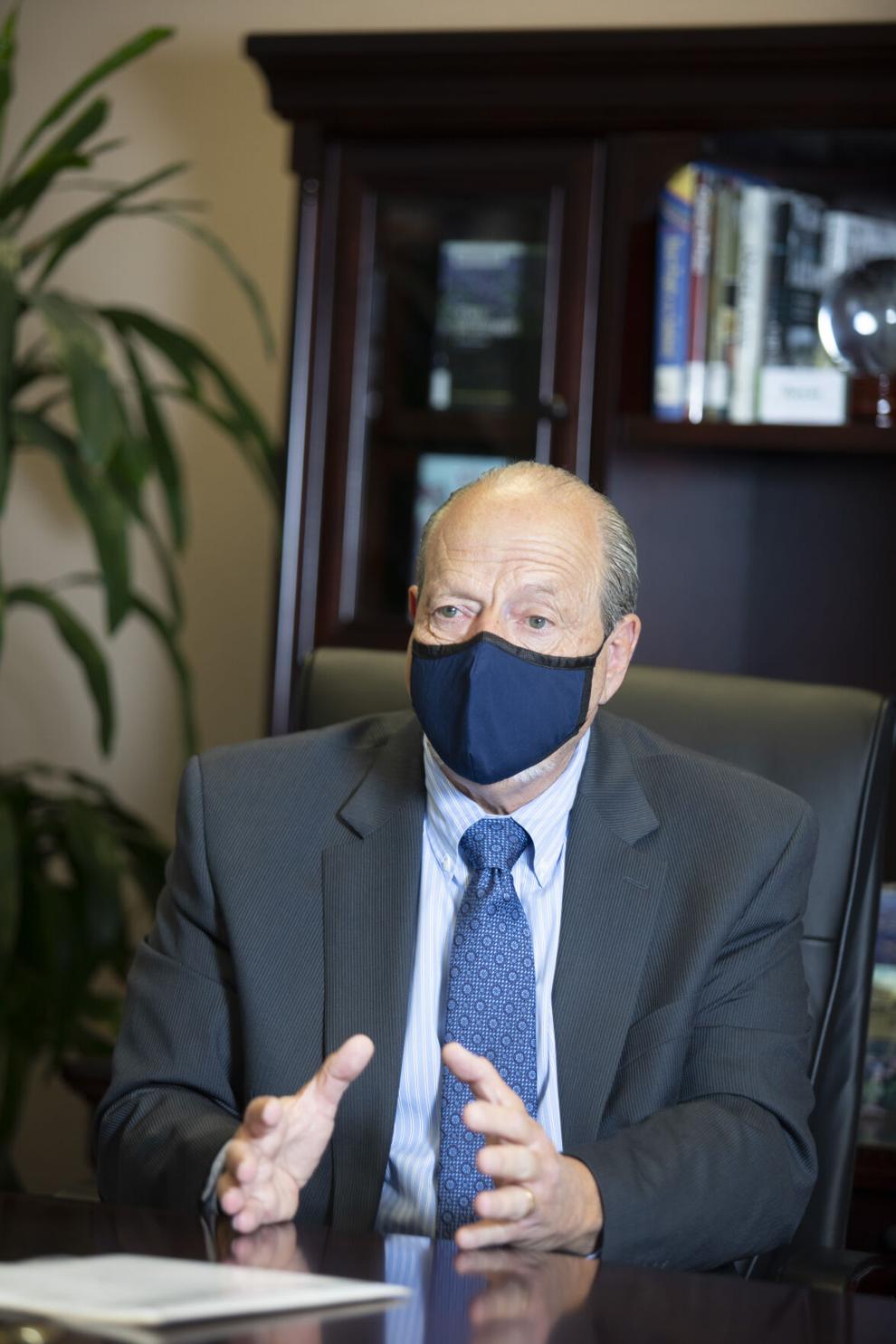 Now about 60% of the El Paso population is fully vaccinated, above the state average of about 35%.
Leeser was deeply affected by the toll of COVID-19, losing his mother and brother to the coronavirus.
"October, November, we were the worst city in the country. We had to overcome that to become the best and become one of the most vaccinated cities in the country," Leeser said. "I'm proud of the teamwork, of the county, UMC, all the private medical providers – Walmart, CVS, Target. Everybody had it available, and we all worked together to reach this goal."
Leeser spent time with El Paso Inc. last week to talk about the pandemic response, taxes and his idea for the multipurpose center and Duranguito.
---
Q: What's new and how have your first few months back in office been?
As I tell people, even though I was gone for three and a half years, it felt like a long weekend. We came back and started right where we left off.
Obviously, it's a lot different from when we came in last time because there's a pandemic. There's a lot of responsibility in our office and in the city to be able to provide a safe community.
We were able to provide the vaccine, and that was our No. 1 priority. People have told me, "Your term will be defined by how you handle the pandemic." We've done an incredible job as a community.
We've been able to provide an incredible opportunity to be able to get the vaccine. If you want it, it's available – not like when we first started. We had to work with Commissioner (Imelda) Garcia, (chair of the COVID-19 Texas Expert Vaccine Allocation Panel). She is a graduate of Burges High School and works for the governor's office and distributes vaccines throughout the state.
She put a challenge to us when we first met her and said if you can put the shots and vaccines in arms, we'll provide the vaccines. And we answered the challenge as a community.
A report was done that showed El Paso was the fifth among U.S. cities for providing full vaccination for its citizens. We're at 60%, and almost 73% for the first dose.
That's a huge accomplishment. When we first rolled it out there were a lot of people who wanted the vaccine. We had over 300,000 people that set up appointments through the city. Our biggest challenge was where and how we got the vaccines.
The county opened up the coliseum, and the city opened up the civic center, George Perry site, pop-ups all over the city. We wanted to focus and concentrate on the vulnerable population of 65 and over.
Fully vaccinated 65 and over is 84%. For herd immunity, we want to reach 75%.
Once we reach herd immunity, we'll really feel like we've done exactly what we needed to do. That next 15%, we need to make sure we have it available and make it convenient and have information for our constituents.
Q: When will the civic center, now a vaccine hub, transition back into a Downtown event center?
We see that somewhere in the future, the CDC will say we need to vaccinate younger ages, so we'll be ready. We'll look at that and continue to work with the Office of Emergency Management, CDC and federal government to make sure we're prepared and ready once that does come up.
Q: What about the ongoing border closure to non-essential travel? What are you doing to help bring that crucial part of El Paso's economy back online?
We've worked with the Mexican government and will continue to work with them, but it's really important that when we do open the border that we continue to protect our community and the Juárez community.
We're working together closely. We'd been hopeful about an opening on June 21, and we still have a little hope that it might, but it looks like it's going to be sometime in July.
As we open the border, we want to make sure they've been vaccinated and continue to protect our community in that manner.
There were some pilot programs in San Diego and Tijuana, and the county is looking at doing the same thing and working with the maquilas in Juárez.
The more people that are vaccinated in Juárez and Mexico, the better both communities will be. We share the same air.
Q: As the budget process continues, what priorities are emerging?
In a budget of nearly $1 billion, there are a lot of priorities we need to continue to look at.
The important part is that you're looking at $413 million in public safety bonds passed by the citizens, and half a billion dollars in quality of life bonds passed by voters, which we need to bring into our budget and look at how we're most effective in bringing it in without affecting the taxpayer.
It's been the biggest thing we're working on. We're not going to have a rate hike on the taxpayers, but the voters voted on a lot of things that we need to bring back in and make sure we do what they asked us to do.
Q: With the 2012 quality of life bond and the 2019 public safety bond, how is the city managing the rising costs it's going to take to complete them?
What we're looking at right now is record low interest rates. We're bringing a lot of the financing for these projects forward because we can get a lot more done today because of low interest rates.
The quality of life bond, based on the last presentation from the city manager, we're only about $128 million left to issue debt on.
We've already been issuing debt on the public safety bonds. It's the right time to do it because interest rates haven't been lower.
Q: The multipurpose center remains unbuilt and in litigation. The city's original plan has been for an arena in the Duranguito area. What now?
There's litigation pending in the Duranguito area. I believe that we don't need to build an arena in that area. We need to take the money and give the voters what they asked for, which is a performing arts center.
It would be perfect to build at the Abraham Chavez Theatre, and then incorporate the civic center into it. We do not have a viable civic center in our community.
I'd love to see the Duranguito area transformed into, I call it a Riverwalk without a river, with shops and areas where people can sit down and have breakfast and enjoy the beautiful weather.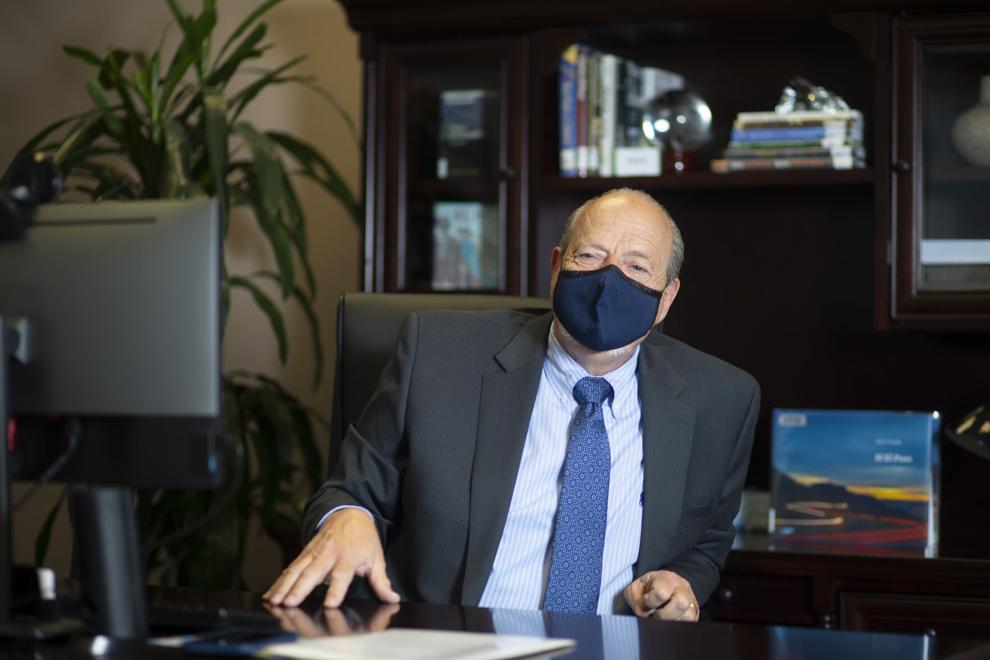 Q: Is the federal funding from the American Rescue Plan part of the budget or is it a standalone thing?
The city got its first payment of the $154 million it will be receiving. There are a lot of things to take into consideration of how it will be spent. The federal government will kind of dictate a lot of that, and make sure you use it in a way it's intended to.
We're working with the city manager and staff to make sure we use it wisely.
Q: The city says it isn't considering a tax rate increase, but with the jump in property values across the city, some homeowners will see sharp increases in their property tax bills.
We control the rate but don't control values. The (Central Appraisal District) is a function of the state.
As we continue to invest in our community, our citizens have voted on the quality of life and public safety bonds.
There have been so many investments in the city, and companies are coming into the Eastside, Northeast. That's going to increase your property value, and you want your net worth to go up.
These are the investments the community is making in itself, and companies are making in the community. We're looking at a property value average of 4.3% based on the preliminary.
But I look at some other states and cities, and I've seen some that are 50%. The city will continue to invest in the quality of life of our citizens. I will continue to make it a better place to live.
Q: Wages have remained stubbornly low in El Paso for decades. What is the city doing to support wage growth?
The minimum wage is $7.25 in El Paso and the state, which is low and we do need to look at increasing it. The federal government and President Biden, when he ran for president, said we need to look at gradually increasing the wage in our country to about $15 an hour.
If you look at $7.25 to $15, you're right; we really need to look at it, because quality of life and quality of pay is really important in our community.
Q: How's it going this time around in office with a city manager form of government?
I believe in a city manager, mayor form of government. I believe there needs to be a fair and equal balance, and that's one of the things I'm looking forward to continuing.
Sixteen, 17 years ago, when it came up, we need to continue to look at what the intention was when we came up with that form of government.
Q: You campaigned in part on fiscal responsibility. How have you worked on fulfilling your campaign promises?
Absolutely. How do we bring in those quality of life and safety bonds, and bring in $200 million in street repairs to our budget? We're working on making sure the tax rate stays the same.
As a businessman, I work on a daily basis. I don't work on it at the end of every month or every quarter. If we're going to be successful we need to work on it every day.
Q: What's going to keep El Paso moving forward as we continue healing from all these things that have shaken us?
You don't want to become someone else. It's important to look at great ideas, so we don't have to reinvent the wheel, but we want to make sure we continue to be El Paso.
The president of ADP, when they were looking at coming to El Paso or Augusta, Georgia, we flew to New Jersey and talked to them about the people and opportunities of El Paso. They had already bought the land in Augusta, and we earned their business.
At the end of the day, I asked the president (Carlos Rodriguez) what the main reason was why they came to El Paso.
He told me it was the people. That's what we have to offer that nobody else has.