El Paso's sunny skies are welcoming to everyone, even those who spend a lot of time working inside on very important tasks.
Dr. John Lawrence and his wife, Leola Westbrook-Lawrence, are in the process of relocating to the borderland. Dr. Lawrence recently joined Providence Children's Hospital's specialty clinic as a pediatric surgeon.
He will also be affiliated with Texas Tech Physicians of El Paso and holds the Meier/Mounsey Endowed Chair in global pediatric surgery at Texas Tech University Health Sciences Center El Paso.
Lawrence has a long background in medical care, including fieldwork and board seats with Doctors Without Borders.
Both Lawrence and Westbrook-Lawrence are originally from the Chicago area, and married in 2018. They will both be based in the borderland, bringing to the region their coastal city skills and work.
Westbrook-Lawrence is an executive producer and showrunner in Hollywood, most recently working for an HBO show with writer and actress Issa Rae. She also previously worked on shows like "The Bradshaw Bunch" and "Growing Up Hip Hop."
Lawrence received his medical degree at Dartmouth College. He was previously the president of the American division of Doctors Without Borders, also known as Medecins Sans Frontieres.
He has completed many overseas trips with the humanitarian aid organization, including field assignments in Syria and Haiti.
He and Westbrook-Lawrence sat down with El Paso Inc. and talked about relocating to the borderland, lessons learned in a long medical career and the highs and lows of house hunting in a new city.
Q: How'd you end up coming to El Paso?
Dr. Lawrence: An opportunity existed for the Meier/Mounsey Endowed Chair, which is a position that's supported at Texas Tech that provides a combination of pediatric surgery and global health.
Pediatric surgery is my specialty and global health has been my passion for a long time professionally. When I saw the availability of this position, it almost kind of called out to me like this is something I need to investigate.
After going through the interview process and getting familiar with the town and people involved, it felt like a perfect fit. That was the beckoning that brought us to El Paso.
Then, I've got an understanding wife. 
Q: What do you do and how did you get into your career?
Going back a ways, my clinical experience has been in academic pediatric surgery. That had been something I wanted to combine with global health, and I found it to be a challenge to do.
An academic pediatric surgeon takes care of infants and children with various surgical conditions, whether acquired, developed or related to trauma. It also includes an element of teaching and residence with medical students. 
It's sort of a mix of clinical practice with educational efforts. 
The global health part is something I really brought into focus a little over a decade ago when I started working with Doctors Without Borders.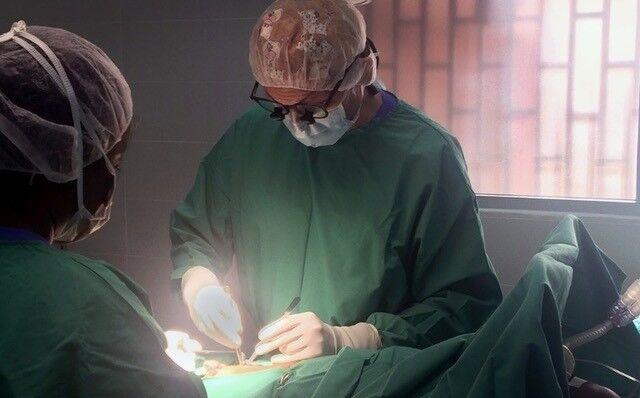 Previous to that I had done a number of shorter trips, one to two weeks, with various groups and found that largely rewarding. 
That had always been predicated upon this desire I had had since I was a medical student to work with Doctors Without Borders. 
I was able to actualize that first in 2009, and went from there to working in their field projects once a year for the next five or six years. That led to getting more involved with the administrative side, so I got onto the board of directors of Doctors Without Borders. 
I went from being a board member to being board president for three years. That brought me full force into working in the global health and humanitarian sphere, more or less on a full-time basis. 
That ability to put those two together in this position that exists here is very appealing. Binational health is very much a part of the daily existence in El Paso and Juárez. That was a very big appeal to have this in one's backyard, and the possibility to collaborate with a lot of people who are already doing great work from a health care standpoint. 
Providing services to people in need on either side of the border was very appealing and mixed into all of this. 
Q: What have you taken from your experience in global health and what will it look like here on the border?
I think the main take-home or lessons were that health care ought to be considered a human right rather than a privilege. I have a very strong conviction that it should be the way people think, whether that's here in El Paso, Texas, the United States or globally.
I haven't worked anywhere nationally or internationally where I don't think health care is really appreciated by the individuals I've been providing care to. 
The philosophy or perspective of what it is I'm hoping to accomplish is to make health equity a big part of what I'd like to be promoting and working to achieve. 
We've seen the effects here with the COVID pandemic. The people most severely affected tend to be the ones that have the least access to health care, let alone the economic and social elements that figure into all of that.
The determinants of health care are so tied to a variety of factors that are bigger or broader elements of society that we see or to some degree experience every day.
I think my time here in El Paso has been almost four months, and I haven't been able to appreciate or understand all the nuances of health care in El Paso. 
We try to do what we can to contain the COVID pandemic in this area. We can't help but look in Juárez and see what's being done over there and consider what we can do to assist those populations with the border as fluid as it is.
When you think about all the parts of the world that aren't vaccinated, the idea that we'll be able to contain the pandemic without paying attention to people in underserved areas is probably not a realistic one. 
Q: From your time here, what are your takeaways from the state of pediatric surgery in El Paso? Are we missing anything or doing anything really well?
Overall I've been extremely impressed with the dedication, commitment and expertise that's being provided in pediatric care and surgical care, and the intersection of the two. 
The group of pediatric surgeons I joined have been an absolute delight to work with. It's made my transition so easy into this position, to have this highly skilled and capable group of individuals to join.
The two hospitals I'm working at, both really do a superb job of providing pediatric care overall to the community. There's just a great deal of dedication, almost unique to the other places I've worked and seen exhibited by care providers and the system overall.
It's a demonstration of the population in El Paso and Juárez. I think the society and families in El Paso probably have more attachment and concern for the wellbeing of their children than almost any other place that I can think of offhand.
The importance of their health care is a reflection of the way that children are viewed as an important element of families, and the cohesion of families and wellbeing and looking out for each other. 
Things are overall at a very high standard across the board in all regards.
Q: Leola, how's your transition coming to El Paso and how has that impacted your work? 
Leola Westbrook-Lawrence: I am in the process right now of figuring that portion out. 
One of the key decisions for us as a family to move here was just the ease of getting to where we need to be.
It's been quite easy. The moment we stepped down at the El Paso airport, we were like OK, this is a good sign. This airport is really easy to get in and out of; there's major carriers.
As we all had to adapt to COVID last year, a lot of my work, unless I have to directly be on set, is remote. There are moments where I say, OK I have to head back for five or 10 days, and it's a quick plane ride between here and Los Angeles.
We both have family in the Chicago area, and we've been able to get there very quickly. We've also mastered the road trip. We put a lot of miles on the car, but it turned out to be fun.
There have been no hiccups in terms of me and my career. I'm really looking forward to rooting here. As a couple we were bicoastal. We never really had a chance to close up both homes, and we're in the process of that.
Q: How's the process of finding a home in El Paso?
Dr. Lawrence: It's funny you should ask that. When we came to town, not having any familiarity with various parts, it all required a bit of introduction. There are biases that people have said – Kern is where you should be, or it's the valley, or the mountain or Manhattan Heights.
People have a very strong allegiance to the neighborhoods they're living in. 
At any rate, it took us a while to begin to sort of get oriented geographically to what the various locations offer. Then thinking about the commute between El Paso Children's and Providence.
We've been able to narrow it down, but then there's the real estate market. I'm sure that for most people in El Paso, this is a good thing. Valuations are skyrocketing, and the amount of inventory is very low. It creates a desirable circumstance for people that are here.
For those of us that are trying to move into town, it's a little bit of a challenge. I'd say we're still on the hunt. We haven't made any decisions but are planning at some point to buy a residence here. We haven't been able to lock into the right thing yet. 
Q: How has pediatric surgery changed over your career?
The biggest transition has been a recognition that specialist care, and pediatrics more broadly, is not so much dependent on the pediatric surgeon themselves but on the care network that exists or they feed into.
As an example, when I first started training, the idea of having specific pediatric anesthesiologists for pediatric cases didn't exist. That's really now become a standard of care. You can expand that to a whole variety of other ways we interact with the health care system.
Pediatric intensive care units and specialists that focus on that were just being developed when I was in my training years. 
Similarly, having dedicated care inside of facilities, special recovery rooms for pediatric patients, the expertise someone brings who's dedicated to pediatric surgical care has been a very big part of what's changed. 
Ancillary and support groups, things like child life services, are important to the overall well-being of children. The attitude 30 years ago was that these were entities that could be tolerated rather than embraced. The real value of what they offer wasn't as mainstream as it is today.
When I'm making rounds at Providence, it's not unusual for one of the therapy dogs to come in, and the bigger attention to the social and emotional needs of families and children in hospitals has also really been upgraded. 
There's a lot in the way of technology that's come along, and that's more broadly in health care. 
I grew up in a time when the digital medical health record didn't exist. As someone who saw what it was like before, one of the things it's done is cut down on the amount of time spent face to face with patients and their families. 
It's important to reinforce how important time is at a bedside versus time at a computer terminal. That transition into a more technologically sophisticated element that we practice is one that has some benefits but also has some downsides that we need to try to balance or bring attention to.