All different parts of the medical field are feeling the stress and fallout from the global coronavirus pandemic, and it's all hands on deck for many clinics to try and care for all their patients.
Dr. Alison Days, the medical director of Healthy Days Pediatrics and president of the El Paso County Medical Society, is navigating through this year alongside her colleagues. 
In addition to the work at her clinic, Days is on the COVID-19 United El Paso task force, which was formed earlier in 2020 and gives guidance and recommendations on actions that can be taken to mitigate the spread of the coronavirus.
Last week, the county medical society sent a letter of support in favor of El Paso County Judge Ricardo Samaniego's stay-at-home order. 
To say the least, it's been a busy year for Days.
"We try to work on how to build communication avenues between city authorities, the community and the physicians in town. I think we're going to continue to do that but don't want to take over all the public service announcements," Days said. 
Days was born in New York and came to El Paso in 2002 on a two-year position with the National Health Service Corps to help pay off her medical school debt. She found a home in the borderland and met her husband here, and has two children. 
She graduated from Yale medical school and completed her residency in social pediatrics at the Albert Einstein College of Medicine in New York. She was previously an assistant professor of pediatrics at Texas Tech.
Days spent an hour talking to El Paso Inc. about the experience of doctors away from the hospital frontlines, her work with the medical society and the uptick in anxiety in children.
---
Q: What's new with the EP Strong United task force?
We formed this taskforce in about April or May. It's a group of many of us, including Dr. Alozie (an epidemiologist and chief medical officer at Del Sol Medical Center) and Dr. Ocaranza (city/county health authority). We've been talking from the beginning to give the city recommendations on things we think they should be doing and ways they should be reporting data.
We're partly responsible for getting up that EPStrong.org page, and a new format up there with all the data and looking at the stages in terms of data and testing availability. All that stuff gives us the COVID-19 scorecard.
Since August we've been mainly quiet. But given that we went from a stage 4 or 3 to now a stage 1, with all our infections and hospitalizations and stuff, we started back up. We met again to see if there was something we should be recommending or pushing out. 
We kind of made the decision to support Judge Samaniego's stay-at-home order. It was physicians and a lot of people on the call who agreed on a pause period – to pull back to see what we did wrong or need to do differently and to look at where the infections are coming from.
The medical society decided to put out a couple of different letters, one to the city, to talk about the things we should be doing right now, and to the community, looking at what things they should be still doing. 
That has been the majority of my week so far, with the addition of being on call. We've been getting lots of calls from frantic parents who think their kids have COVID, and some who do have COVID. So it's been busy.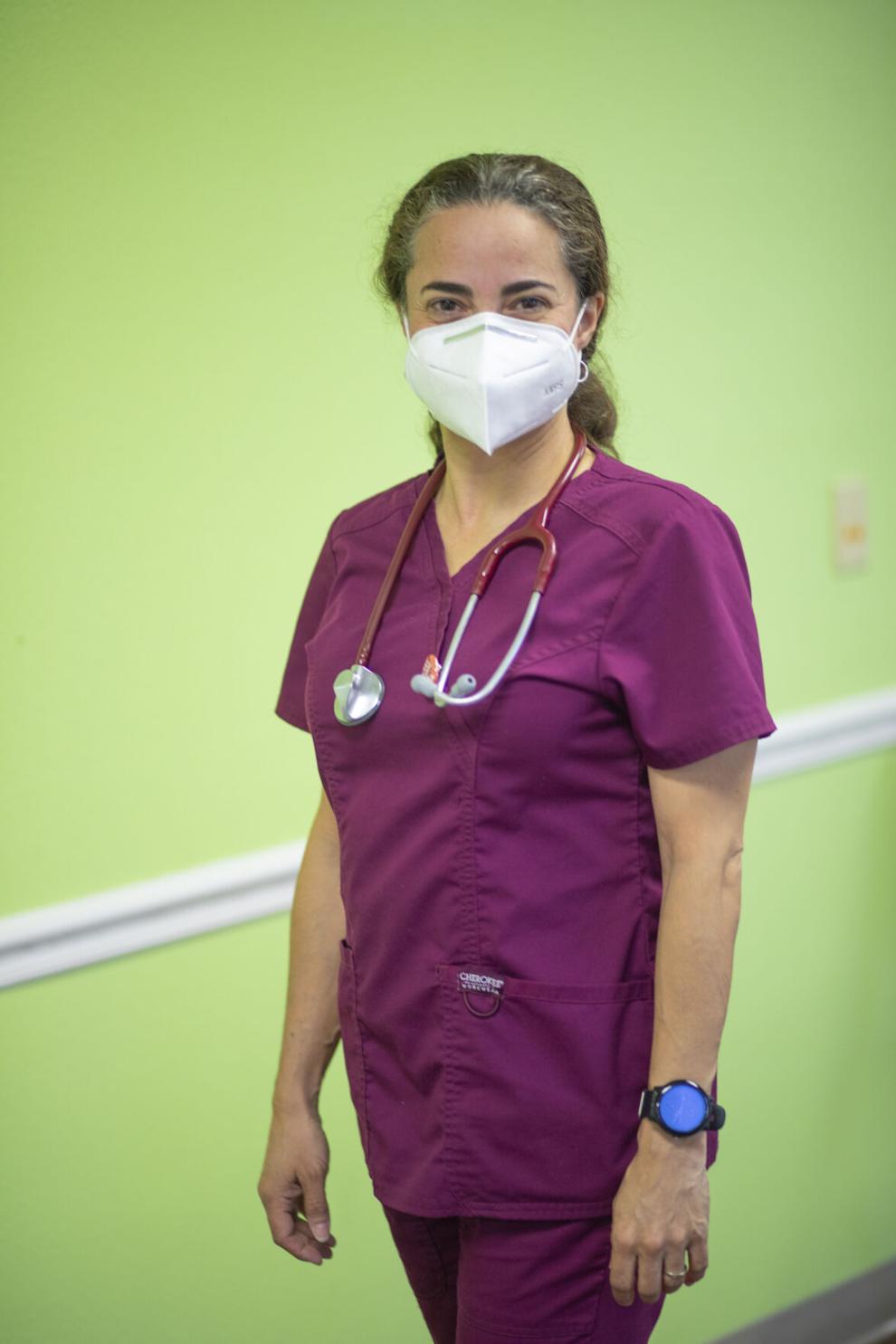 Q: What's been your experience with practicing pediatrics and being on call during this year?
In pediatrics this is generally our high time of the year, and we usually see a lot of school-based infections in normal years. We'll see a lot of strep, flu and colds coming on. We're not really seeing as much of that because most people are staying at home. They're not at school or day care or the places they're usually catching some of these infections. 
It's sort of a double edged sword for us. It's a negative to the extent that we're used to those visits being part of our paycheck. For most pediatricians it's the period of time where we make the most money. So we're not seeing that. I think some pediatricians are suffering a little from that. 
It's also somewhat of a negative in terms of development of immune systems. We've talked to parents about how we don't want them interacting with other parents right now, but at the same time, we do want them going outside and playing with dirt, taking walks and it's OK for them to put their hands in their mouths if it's inside your house. 
Part of developing strong immune systems is being exposed to these non-fatal viruses that are out there. 
On the positive side, it means kids are not getting as sick. When they do it's difficult to decide whether it's a normal illness or COVID. Most pediatricians are taking an "everything could be COVID" take. 
People are still bringing their kids to the doctors for the most part, which is great, for COVID and vaccines. It also means we're sort of the frontline to the rest of the family, because the adults are not going to their doctor or hospitals.
Q: Are you seeing a rise in any other health concerns?
We've seen maybe a slight blip in things like accidental falls and burns, most of the ones I've seen are accidental. Despite being at home some parents might not be watching as well. 
I've definitely seen more mental health stuff, and that's across the board from young to old. In kids I'm seeing more stranger anxiety, and it's heightened in the last couple months because kids are not seeing other kids the same age, even within a family for the most part. 
I'm seeing a lot more fear, in children when they come in, fear of going out and talking to and seeing other people. 
You see it in the older kids too. I have two kids who are generally pretty social, but since this has happened they really haven't seen any other friend in person. I see a little bit of hesitancy I've never seen before, of not wanting to go out. 
They say they miss their friends, but they don't know if they want to go back (to school). 
In teenagers, I'm seeing more general anxiety, lack of motivation, depression. Those things are all coming out. 
We're sort of at a crossroads for what to do as pediatricians. On one side we want to get kids back into school and to social events and stuff as fast as possible, but on the other hand the risks are still concerning. 
I had several positive patients after competing in school sporting events. I think it's still concerning, but we also don't want them to have all these mental health and anxiety issues.
Q: Do you think there's a turning point for that fear?
From a scientific point of view, we're looking at trying to get the positivity rate down below 2-3%. I have friends and colleagues that are in smaller towns where their kids are doing relatively normal things because they have positivity rates of 1%.
We need our hospitalizations and ICUs to go down, and that will help. 
We're advocating for things like rapid testing, as more testing comes out and are more effective at being correct. School nurses could do rapid testing, to figure out quickly how to get a student in and out. 
Q: There's a lot of wrong information floating around out there. What are the wrong things you're hearing about all of this? 
The biggest problem I see is the asymptomatic spread. I see people in my extended family say they got together to watch football but it was OK because everyone felt fine. 
I think there's still a lack of knowledge or ignorance that someone can be asymptomatic or pre-symptomatic and still transmit the virus. Without testing or anything, you can't be sure.
It's one of the biggest things driving our community spread.
The other thing is when you need to wear masks and not. Overall El Paso has done really well with wearing masks, and other cities have looked at us for that. 
I see there's some confusion as to, if you're in a restaurant how do you deal with it. If you're eating the entire time, an hour, your mask is off. That puts someone at risk, especially if everyone else is doing the same thing. 
You should limit the amount of time you're inside or take-out instead of eating in the restaurant.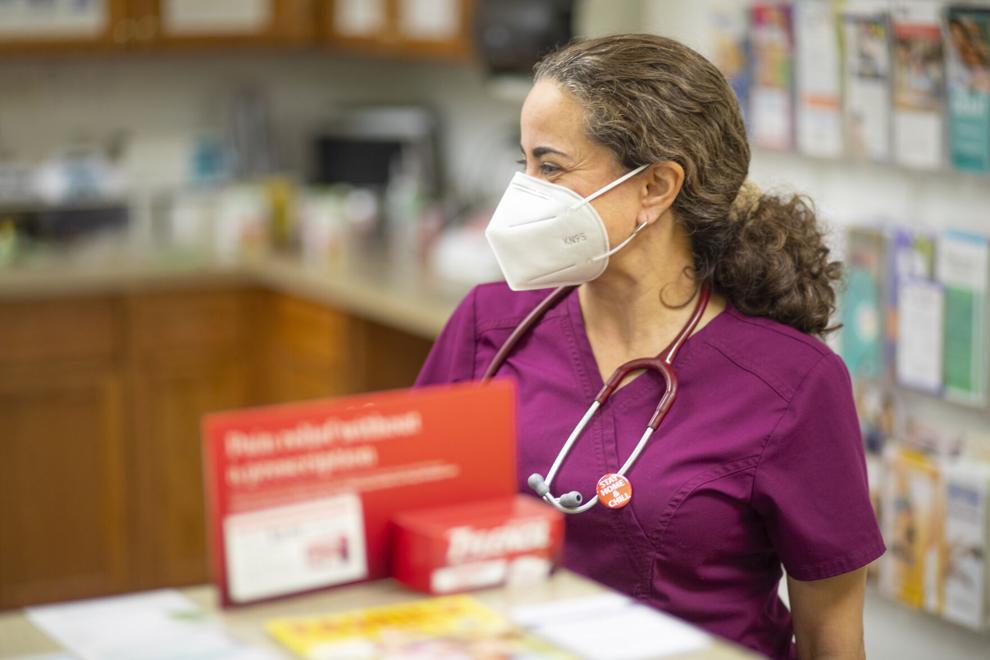 Q: What are the other financial impacts of working in a practice right now?
I know one person who is getting ready to close down his practice, an older doctor, because he had COVID. He came through OK, but months after he still complains of muscle fatigue and memory loss, and feels it's time to retire. 
I don't know of any doctor who has had to close down a practice but I do know some who have had to fire staff or downsize in a big way. I think there are one or two who had multiple practices who had to close down one to save money.
For the most part, physicians have managed to stay open, but mostly through getting loan packages and stimulus from the government. If those hadn't been around, there would be many more layoffs that would have happened in the medical community. 
Q: Are you seeing impacts from any shortage of doctors in El Paso during this pandemic?
Our real shortage of physicians is more on the specialist end. We do pretty well on the primary care arena. There are plenty of pediatricians, general doctors, family doctors. 
Where we really lack are things like cardiologists or endocrinologists or pulmonologists. 
It's affected us in that other cities have surpluses of intensivists to deal with ICU patients who have COVID. I think it's affected us during the surge, but that we're doing pretty well overall, given the numbers we have now. 
The group of doctors we have dealing with COVID patients is getting very fatigued. You can see the toll it's taking on them physically and mentally. 
Q: How has El Paso's health needs and things like comorbidities impacted the COVID situation? 
Comorbidities have made a difference. In terms of our population, we probably have a higher percentage of people who are obese, overweight, with high blood pressure or diabetes.
I think we have one of the top five cities with asthma, from air pollution coming over from different places. Those things have affected us.
The part of El Paso where everyone drives in their own cars, where there isn't a whole lot of public transportation, I think actually saved us earlier on. We don't have that density you see in other cities. That's a positive. 
We're also still a population of families, which is good overall but means it's been more difficult for people to separate from each other. 
We're a city of multigenerational families, so you have a young couple that might go through COVID. In any other place they might not suffer at all. But because they live in the same household as their parents or great aunts or brother's kids, it ends up affecting the family in a more urgent or critical way than it might if they were living by themselves. 
We have a pretty stable population, where teenagers don't necessarily go out of state to go to school. People go back and forth across the border for sure, but families tend to stay in the same places generation after generation. 
That doesn't happen in other places in the country as much anymore. I see that as something that could have negatively affected us with COVID.
---