When Clifton Tanabe took the helm of UTEP's College of Education one of the first things he did was invite faculty and staff to ride the bus with him to school.
That fact-finding mission on a yellow bus three years ago, as well as a particularly poignant comment from a young teacher, helped Tanabe launch a transformation effort at the College of Education that is now in its third year.
New to El Paso, he wanted to see the region's schools in operation and meet teachers in their element. He also invited teachers and other stakeholders to speak on panels to provide more input.
One second-year teacher described how her excitement to start her career had turned into doubt by only the third week as she wondered if she could continue. If there is one thing she would ask the College of Education to do, she said, it would be to try to make the preparation experience real.
Nationwide, Tanabe says, roughly two out of every five teachers end up leaving the profession in their first five years on the job. So his focus in revamping the undergraduate teaching program has been to ensure the college is graduating teachers "ready on day one."
The College of Education has an enrollment of about 2,100 students. Besides teachers, it also trains counselors, diagnosticians and school administrators.
Tanabe grew up in Honolulu, Hawaii, and came to El Paso from the University of Hawaii at Manoa. His last job there was as the director of institutional transformation. He has a law degree, and also taught educational policy and law.
He has a doctorate in educational policy studies from University of Wisconsin-Madison and a master's in educational foundations from the University of Hawaii at Manoa.
On July 1, 2018, he officially started as dean of the UTEP College of Education, as well as a professor.
Tanabe sat down with El Paso Inc. last week and shared the story of the yellow bus that started it all. He talked about the changes they've made to ensure teachers are day-one ready and why his grandfather is one of his heroes.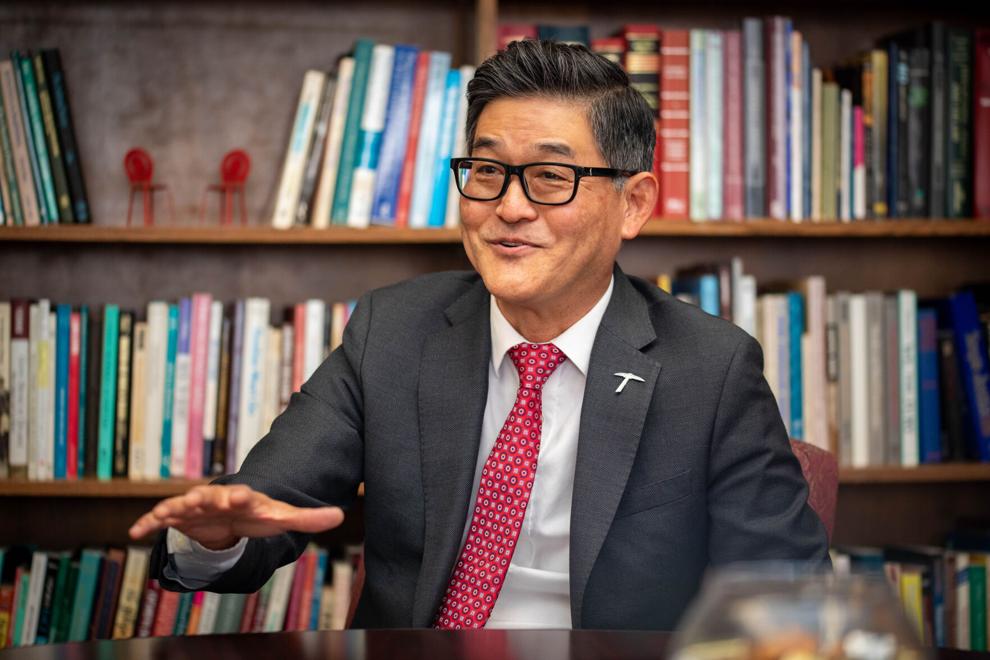 Q: Where did you grow up?
I was born in the Midwest, but I grew up in Hawaii. My mom is from Hawaii, and my dad was a preacher's kid so from all over.
Q: So you're the kid of a preacher's kid.
My grandfather was a living hero of mine. My dad was a wonderful father, but my grandfather… He was interned. He was one of the leaders in that camp in Tule Lake.
Q: I heard you talk a bit about the internment of Japanese Americans during World War II in an interview on YouTube. What influence did that have on your dad and you?
My dad was so young. He was just a child. But for my grandfather, I think it was really powerful for them. He didn't talk much about it, but later I did a senior paper in college on internment and started to learn more about it.
Q: Were you able to learn more about your grandfather's experience?
His mom passed away in a camp. That was a really, really sad outcome. They couldn't get her to Tule Lake, and she was in a different camp.
But if you asked him the big lessons, he'd always say that was a place that desperately needed hope. They were missing everything, but the thing that was missing the most was a future and hope.
As folks were starting to get out, he stayed until the very end. It was a very difficult transition. That is a whole other incredible story that we probably don't have time to go into.
They weren't letting anybody go back to where they came from. They were from the West Coast, so that's how they ended up in Detroit. My grandfather took the only church he could get.
It was right after the war, a working-class community. They had petitioned before he got there, you know, "We don't want a Jap minister."
Instead of going to the church first, he just went shop to shop and introduced himself as the new minister in town. He said, "It's hard for people to hate you after they shake your hand and look you in the eye and have a conversation."
He retired in Hawaii. Fifty, 60, maybe even 70 years later people who knew him as children in that church would make the pilgrimage to Hawaii to visit him. It was incredible.
Q: What do you take from that as you work here at the College of Education?
What I try to do in education is work to address the fundamental question of education equality – trying to contribute in a way that higher education and K-12 schools can to provide the absolutely best educational experiences for all children. Not just some, but all children. And, you know, finding the ways I could make an impact. It's one of the reasons why I'm here at UTEP.
Q: What brought you to UTEP?
The only thing I knew about El Paso or UTEP prior to coming is the Miners played in the WAC and the University of Hawaii was in the same athletic division.
When I was at the stage of looking for new opportunities leaving Hawaii, I looked into the possibility of coming here and learned a lot more about Dr. Natalicio, (then the president of UTEP), and all the work she did on access and excellence. I just knew if I could get lucky enough to find an opportunity here, it would be a great fit.
Q: The College of Education, like pretty much every school, had to transition unexpectedly and quickly to remote learning. What have you learned from that?
You can deliver higher education content remotely at a very high level, but it's only one mode of delivery. We were OK from a retention standpoint. We were able to keep our students engaged, but lots of the undergraduate work we do is moving from theory to practice. And if you're talking about educator preparation, you need to be in a performance-based environment. That's just something that will never change for us. We've done a ton of work to make that extremely robust over the past three years.
Q: What do you mean by performance-based environment? That all the instruction can't just be theory over Zoom?
Yes. There was already some work and thinking around this before I got here, but we started with the undergraduate program, and over the last three years, it's been a transformation effort – fully overhauled.
Q: Could you tell me more about the transformation?
Can I tell you a couple of stories?
One of the first things I knew I needed to do on coming to UTEP was to try to understand the relationship between the college and schools. If you're a college of education, that's where the rubber meets the road.
I proposed a bus tour, and we literally took faculty and some staff and visited school districts. I'm talking about getting on a yellow school bus and driving around and visiting school after school.
That experience was eye opening. Teachers in the classroom would come out and say, "Hey, Dr. so and so!" Or some would bring a faculty member over to me and say, "This person was my professor 20 years ago." For somebody new to the region, it opened my eyes to the very close connection between the College of Education and the instructional workforce in our region.
Q: I understand the majority of teachers in El Paso are UTEP graduates and the majority of those enrolled at UTEP come from the region.
That is unique. Partly because of our region and how isolated it is but perhaps for other reasons as well.
The second story is I brought in external evaluators. We talked to community members. We had panels of different stakeholders. One was a panel of first- and second-year teachers. That was powerful.
So, one day there are faculty in the room, teachers on the panel and community members in the room. One of the panel members, a second-year teacher, talked about her program at UTEP. She said she loved her courses and her professors – loved it and was super excited about getting started. She got a new job and, she said, within three weeks, she knew she couldn't do it. It was too hard.
She's in tears, there's tears all over the room and she said, "If there is one thing I would ask the College of Education to do, it would be to try to make the preparation experience real." That stayed with me. It was a sort of clarion call for us.
That meant trying to transform as much of the work we did into a program that recognized the rigor of teaching, that understood our region and was more aligned with it and that understood we had to move from theory to practice in very robust, significant ways.
We started by expanding a semester-long teaching experience to a year-long residency. We transformed that residency into an internship.
Q: What does that look like in practice?
It's almost as if you are a first-year teacher. So you enter into a classroom and are with a mentor-teacher, who we co-select with the school district. We have a faculty member in the building who is a coach for all the interns.
The goal is to graduate teachers who are day-one ready. We're tracking the data right now – not just their own evaluation scores but the impact that they have on their students and the student learning outcomes, so we'll know if all the work that we did is having the right impact.
We started with about 20 students. We'll scale it through the entire program, which will be somewhere near 200 students annually.
Teaching is a difficult job. It's also an incredibly rewarding job. You will have the chance to make an impact on individuals lives. It's real.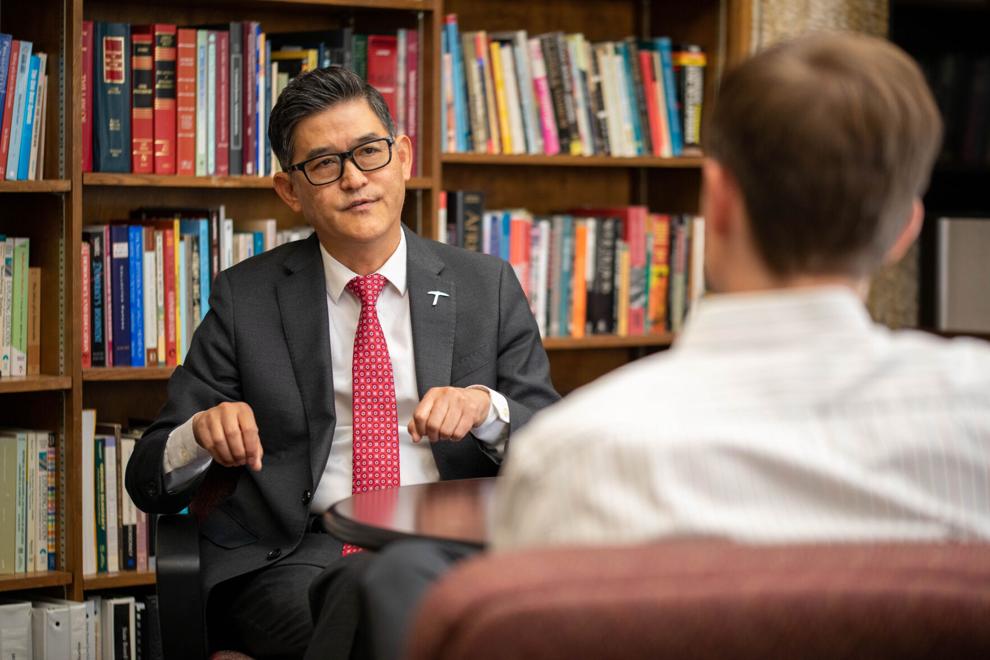 Q: The bus trips and panels and external evaluators, what prompted you to do all that?
I wanted to know what folks were saying on the ground about us and wanted to know myself what was happening in schools, not just at a high level but on the ground.
We had folks on those school buses, faculty who teach teachers, who hadn't been in a school building in 10 years.
Q: The pandemic upended the way teachers teach. How did that impact the way the College of Education teaches teachers?
This past class had to even do their practical experience online. While they didn't have the in-classroom experience, they were online, five days a week, with their mentor-teachers, learning a 21st century skill and that is delivering academic content electronically. It was a very challenging experience – one that I think will serve them well.
Education technology in general is exploding, and we are working furiously to provide some exposure to those types of learning technologies earlier in the training process.
We have tech-enhanced classrooms. Those are modular. They are larger. There are eight to 10 screens on the walls. Folks gather in pods and the instructor can shoot content onto one screen for one pod. A pod can send content back to the instructor or to everybody. And there are all the other types of tech tools.
One of the incredible things about the year-long residency: Because we have faculty in the buildings working with these students, mentor-teachers and school administrators as it's happening, faculty can bring what they see and learn back to the college.
Q: By many measures, educational outcomes in El Paso are behind those in Texas and nationwide. What is being done to change that?
We are doing our part to produce teachers who are trained and prepared with a high-quality program. For us, that's where the work is.
With the El Paso Community Foundation, CREEED (a local nonprofit focused on improving educational outcomes in the region), and the Gates Foundation, we put together a teacher pipeline task force that has members from the community and districts to talk wholistically about that exact question: What do we do to make a measurable contribution to educational outcomes?
Q: How big is the challenge?
Oh, it's a massive challenge anywhere.
One thing we don't share even with our neighboring cities in Texas is an overarching teacher shortage. We don't have that. We have pockets of shortages, but not overall. In some ways, that allows us to target the work more effectively and get really focused on quality.
Q: How is enrollment at the College of Education?
Enrollment had been declining prior to my arrival for a variety of different reasons. One, I think was just competition. Alternative certification is strong in Texas. Part of our transformation strategy was to compete. It wasn't around crisis or anything, but everything we did was about quality.
Enrollment went flat the year after I arrived and went up the next year.
---