Marybeth Stevens graduated from law school 25 years ago in Washington, D.C., and the route that brought her and the family to El Paso in 2009 included long stays in El Salvador and Mexico City.
A Dallas native, she has been president of the nonprofit El Paso Better Business Bureau since last year and is intent on raising the profile of an organization that provides important services to consumers, businesses and the community.
After graduating from UT-Austin, she and her husband, Greg, moved to Washington to attend Catholic University's Columbus School of Law. Then he went to work for the Department of Justice, and she spent 10 years handling government relations in the legal department of the American Council of Life Insurers.
But D.C. is a grind, she said, and they both longed for something different. When the Justice Department opened an office in El Salvador in 2002, her husband got the post. Three years later, he took the post in Mexico City.
"That was wonderful, but in 2008 and 2009, things were fairly dicey there, and we thought it'd be nice for our kids to go to school in the States," Stevens said.
They had a lot of choices but picked El Paso.
"You've heard the story 1,000 times," she said. "People would ask, 'Why El Paso?' But we came in 2009 and have not regretted it for a second. We've had the chance to move several times, but we haven't."
Stevens landed a job with El Paso Electric that meant getting to know the community and the region. Five years later, Myrna Deckert, a force behind the El Paso YWCA and Paso del Norte Health Foundation, picked her to carry on the work of MJD and Associates, a consulting firm.
"It was going well, and then I saw a notice for the president's job at the BBB," Stevens said. "It was sitting on my desk, and I kept going back to it."
She had served as board chair of the Greater El Paso Chamber of Commerce, and the idea of working with the business community intrigued her.
"I called Myrna, and she said, 'Marybeth, it's the perfect fit. You need to apply for that job,'" Stevens said. "She's so generous and always looking for the best for everyone. So, I applied.
"A lot of things in my life led me to this job – all my experience doing lobbying, working in the community and with nonprofits. There was not an identifiable voice in the community on ethics that I saw, so I thought BBB can't be everything, but it could play a larger role in that area."
Stevens, who has been in the job since 2016, met with El Paso Inc. to talk about the importance of the BBB to businesses and consumers and how she hopes to get more people to rely on its online services.
---
Email El Paso Inc. reporter David Crowder at dcrowder@elpasoinc.com or call (915) 534-4422, ext. 122 and (915) 630-6622.
---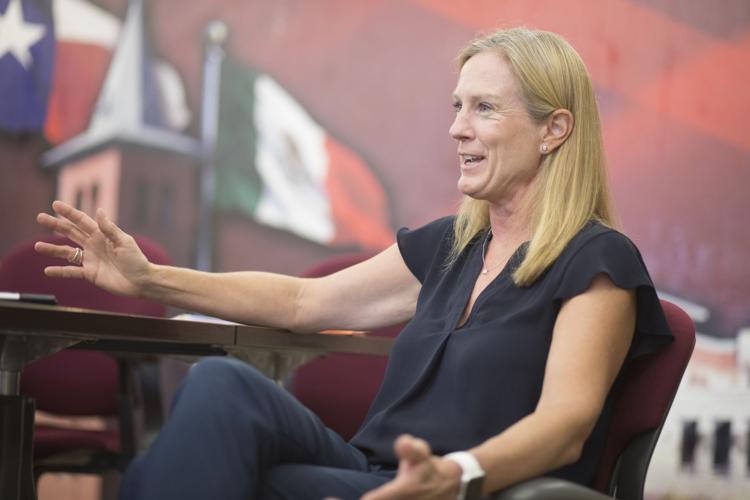 Q: What do you and your board want the BBB to do that it has not been doing?
The value of the BBB brand is understanding what it stands for. We want to make a concerted effort to educate people about it. People see the brand and it makes them feel good. But they don't know exactly what that means.
So I want to educate people about our accredited businesses and what they stand for. They stand for a trusted marketplace. You know what you're getting from them.
Q: How many accredited businesses are there in El Paso?
Q: What have you learned about the Better Business Bureau that you didn't know when you took this job?
I did not know that we have an office here that's available to help people with every business. We don't just help people with our accredited businesses; we help people with any business.
When someone comes in and says they have a problem with a business, we don't just say, 'OK, you have that issue.' We require proof. You have to have had a business relationship with them. It can't be a grudge against a business or anything made up.
We do investigations. I didn't fully appreciate that. Then we contact the business. Our whole goal is resolution, so we contact the business and say this customer has this complaint. You have 30 days to resolve that issue or we would publish your name. We then publish the nature of the complaint and your response. We publish everything because it's really beneficial for people to see how a business resolves an issue. And when I say publish, I mean on our website.
When you have a customer who's upset about something, and you are responsive, they're likely a customer for life for your business. Again, it's all about how you respond.
Q: Do you get much drop-in business at the BBB office here at 550 E. Paisano?
Surprisingly we do. Every day a number of people come in, primarily if they have an issue with a business, and while you can file complaints online, some people want to come in and talk.
One of the values of a BBB is the local presence so people can come in and talk to us face-to-face. Most of our outreach is done through leads, but several times a week people will walk in and ask, "How do we get accredited?" That makes me feel good.
Q: Are you open to every kind of business?
There are two main categories. First, smaller businesses that don't have their own very strong brand or identity in the community and need something to distinguish themselves from others. The BBB brand very much helps them do that. It's very, very valuable, and they care about having that seal on their advertisements, on their trucks and whatever they can put it on.
Second, there are other businesses that don't have that much consumer interface. They support the BBB because they support the mission and the fact that we're here and we're going to help consumers.
There are a few types of business that are not eligible for BBB Accreditation.
A trusted marketplace is a good thing. It's good for our community that people have more education about their purchasing habits and that we hold businesses accountable. It makes for a better economy.
Q: What does a business have to do to be affiliated with the Better Business Bureau?
You have to be in business for at least six months and adhere to our code of standards and professional conduct. It's not terribly hard. If you have licensing requirements, you have to provide proof of that on an annual basis. The same with bonding. If you're a restaurant, we have to see all your licenses every year. The same if you are a contractor.
So if you're accredited, people know that we've checked on all that for you. We say they can start at a place of trust because this business has agreed to work to resolve disputes with its customers, to advertise honestly and do all the other things we ask.
And, if they don't, they cannot be accredited. It's an honor, a privilege.
Businesses have to have a B rating or better to be accredited. You can't come in if you've got a D on our system. Every business has issues, so it's how you resolve those issues that's important. It's not how many issues you have; it's how you resolve them.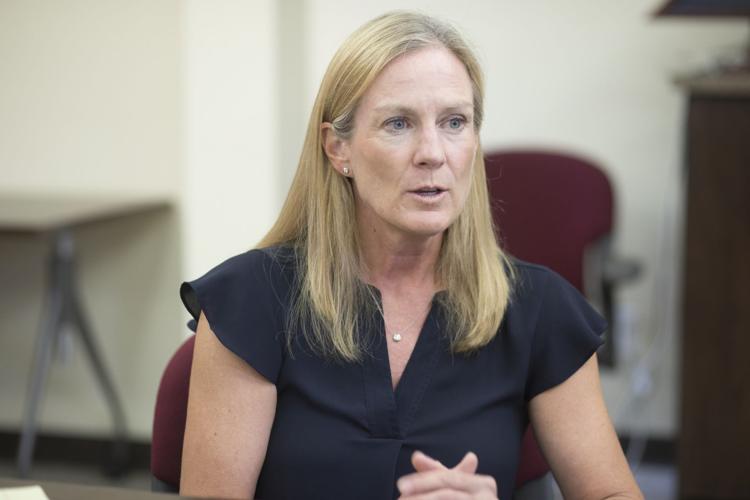 Q: What's the difference between what BBB does and an online sites like Yelp?
You'll see this on our website. All of the complaints that affect your rating are validated. But because of the desire for customer reviews, people have the ability to put a review of a business on our website, like Yelp, because people like that. But the reviews do not affect your rating. We post them, but we don't validate them.
There's a lot of debate about the value of those reviews. One of the benefits I see, and another reason the job was appealing to me, is there are over 100 local BBBs around the country. There's the Council of Better Business Bureaus, which is the large umbrella organization in Washington, D.C. that manages the website and the rating system.
That gives me access to more than 100 other BBB offices and the national for any question I have. All day long, I send and receive questions from them.
Q: You're online, but do you have a mobile app yet?
That's another thing I didn't know. I didn't fully understand how much people use BBB.org. A mobile app is in development, but I do not have a date when it'll be ready. You have to be mobile these days. Our priority right now is redesigning the website to be more user friendly.
Q: What is your budget and where does the money come from?
The budget is about $650,000 and the vast majority of that comes from our accredited businesses' investment dues. We don't call them members; we call them accredited businesses.
Q: How much are the dues?
The accreditation investment starts at $375 for a business with one to three employees and increases based on the number of employees. The upper end is for businesses with 5,001 or more employees and is $6,950 per year. Of course, you can contribute more to our foundation, and we are very grateful for that.
Q: That's a little pricey.
It is a significant investment; there's no question. Having had my business, too, I know that when different organizations come and say join here, join there, they really have to demonstrate to a business the value of that.
With BBB accreditation, the businesses have to support the mission and if they don't, they're probably not going to join.
Q: You give A to F ratings. How do you come up with those and what can a company do to improve its rating?
Your rating is based on 13 factors. The primary ones are your record of complaints. Again, it's not the volume of complaints that's important, it's the volume compared with your business transactions and how they are resolved. A company with many thousands of transactions may have 20 complaints, but if they resolved them all, they can still have an A+ rating.
There's also the nature or severity of the complaints, so there's some subjectivity there. But most of it, in fact all of it, is based on a computer formula, thank goodness, and things like your longevity in the community come into play.
If you have a bad rating, it would very likely be because of unresolved complaints. We will work with you to resolve all of those complaints. That's what we want, whether you're accredited or not.
Q: At what point, what grade, do you tell them they have to take the blue BBB sticker off the door?
You have to maintain at least a B rating.
Q: How effective is that in the community if they see someone is getting whacked by the BBB?
It's very effective. So effective that I think that's why you see less of it – because they are responsive to us.
Q: How many complaints did you receive last year, and how many of those were resolved?
We had 2,008 complaints submitted last year. That was another hugely surprising thing to me – how much people use this office.
(Stevens later provided figures showing 650 of those complaints were resolved in 2016 and that 967 of the 2,506 complaints filed the year before were resolved.)
Q: What are the top two or three biggest scams or questionable business types that El Pasoans should be aware of?
We have a thing called Scam Tracker online that's pretty helpful. Locally, the top three reported scams involve Phishing, which includes the puppy scam and "Hello, can you hear me?" to get a "yes," from you and debt collections, which includes IRS imposters.
Q: Some time ago, you all issued a warning about "stay local El Paso" and a guy named Johnny Mills regarding ads that were supposed to be distributed at Fort Bliss but weren't. That seemed unusual. Will you be doing more of that?
Yes. An important part of our mission is to call out substandard marketplace practices. BBB.org and our rating system are the primary tools for this. Sometimes a case requires additional warnings to the public.
Q: There used to be a close working relationship between the BBB and county attorney's deceptive trade practices unit. Is there still?
Yes, and we meet with them regularly and support each other with information and things to be looking out for. It's a very good relationship. We worked together on the wraparound mortgage scams with RioGrande Legal Aid to help some of the folks that have been impacted by that.