Members of the New Mexico Angels investor group visited El Paso recently to meet with a UTEP cancer researcher, professor Renato Aguilera, and hear about his work.
Aguilera is studying an anti-malaria drug called pyronaridine, which also happens to kill cancer cells and has the potential to be repurposed as a cancer therapy.
The investors came at the invitation of Ernest Armstrong, president of Armaceutica Inc., a pharmaceutical research company started in 2019 and now headquartered in El Paso. They were impressed by Aguilera's findings, as well as the advanced laboratory where he works in the University of Texas at El Paso's Bioscience Research Building.
"Armaceutica is a very innovative company, with the professor who did the academic work and the company led by Ernest Armstrong," said Drew Tulchin, president of the 100-member angels group. "New Mexico angels salutes what they're doing to develop health innovations.
"We are doing due diligence because this is a very complex business opportunity, even though I think everyone will agree that the health and the science of it is clear," Tulchin said. "From a business opportunity, we have to do a lot of work to see what the business potential is for an investment return.
"That's the stage we're in right now."
The New Mexico Angels is a group of accredited investors that invest in startup companies in the Southwest. Tulchin said the group is looking at seven very different ventures right now.
They range from Aguilera's medical research at UTEP with Armaceutica to an energy bar company called Taos Bakes and Electric Playhouse, an entertainment venue in Albuquerque.
The individual members of the New Mexico Angels, which has been around for 20 years, rely on the group's research and recommendations but make their own individual decisions about investments.
Armstrong said Armaceutica has other balls in the air, too.
"We're doing a leukemia study in East Africa, West Africa and Southeast Asia," he said. "And were doing a breast cancer study in same area – all with this drug."
He said they're looking at pyronaridine as a possible treatment for leukemia and breast cancer in places like Tanzania, Rwanda, Uganda, Ghana, Cambodia and maybe Vietnam because those are all areas where the drug is already used to treat malaria.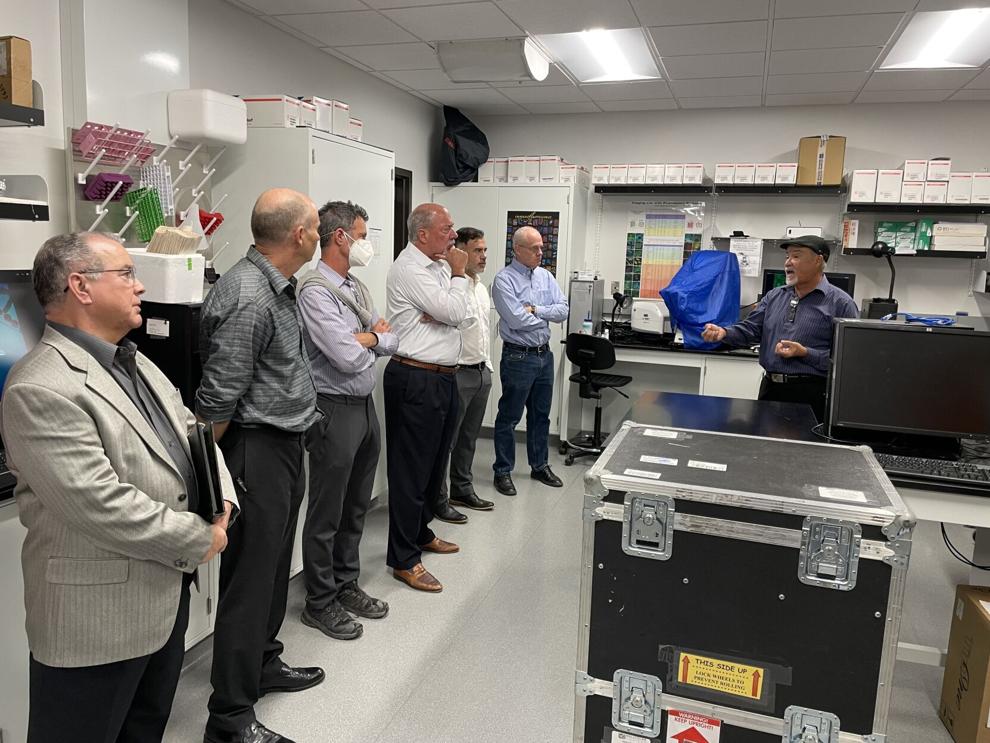 The testing stages, Armstrong said, are "first for safety and, second, does the drug you're looking at help? That's where we are now. Third is seeking U.S. Food and Drug Administration approval for safety and efficacy.
"Our goal is to license the technology to a Big Pharma company and let them do the research and marketing. That could happen in the next year or two."
Big Pharma refers to the world's pharmaceutical industry and to the major companies that obtain necessary approvals for the use, production and sale of new drugs or older ones being used in new ways.
But none of it would be taking place were it not for the work that's already been done by Aguilera, a biology professor who's worked at UTEP and UCLA for 33 years. He is also the director of the Border Biomedical Research Center, which provides support for more than 200 faculty, staff members and students.
"What Renato did was discover that the drug has anti-cancer activity," Armstrong said. "This is how it works. There are patents on it for malaria. We have the patent for anti-cancer use, and there are 68 countries where they are pending or have issued patents."
Aguilera has been doing cancer research for the last 18 years and holds an interest in pyronaridine as a potential cancer treatment along with Armstrong's company.
In 2019, Aguilera received the Distinguished Scientist Award from the Society for Advancement of Chicanos/Hispanics and Native Americans in Science.
Asked if any of the drugs he's worked with over the years have reached the market, he said, "Not yet. This would be the first."
---