Like hundreds, no, thousands of people around the world, Jerry and Sue McInturf bought a little lot in a sprawling unincorporated development that never really developed called Horizon City.
It was 1971, they were newly married and they paid $1,100.
"I was just out of college and thought we need to start investing some money, and a relative had bought some land in Horizon City, so we went ahead and bought a lot there also," Sue said.
When they bought theirs, lot sales had been going on for five or six years in what the original huckstering developers promised would one day be the new cool El Paso next to the old El Paso.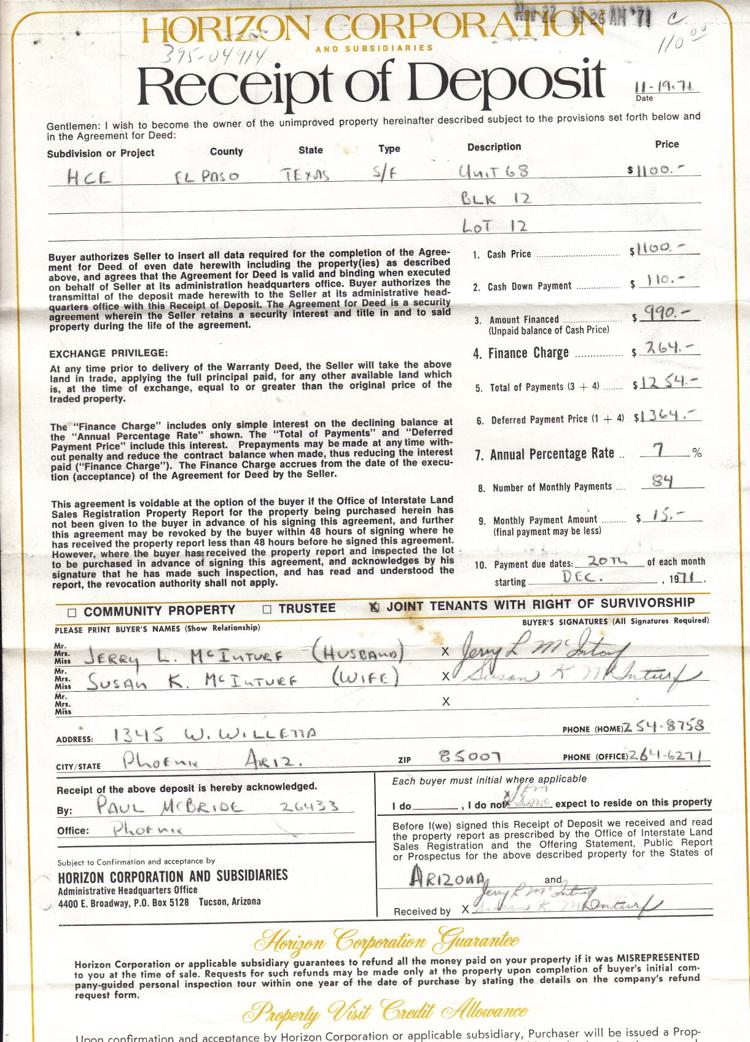 But nothing like that happened, and today, the best way to experience the old Horizon City development is to look out the window of a plane leaving or landing in El Paso and see what appear to be ancient lines and patterns that go for miles in the desert east of El Paso.
Now the Horizon Communities Improvement Association is trying to buy lots, consolidate them, clean up the records and sell properties to legitimate developers.
Roxanne Jurado, the association's general manager, says her best guess is there are about 80,000 old Horizon City lots and some 27,000 lot owners.
"They would invite people for dinner and have someone like Lee Trevino as a hook to attract them," Jurado said. "They had maps to show there was going to be development here and there, when in reality, they had no plan.
"They also did it in Arizona and New Mexico and, I think, even in Florida."
For decades now, those undeveloped desert lots have been a huge headache for El Paso County and other taxing jurisdictions that have not been able to extract much at all in taxes for all those lots or to condemn them for nonpayment.
That's because the owners are scattered around the world or have died without passing theirs to heirs, while living owners have lost their records or forgotten all about their desert lot and have since moved once, twice, three times or more, like the McInturfs.
Sue said they didn't know of any problems until they received a letter advising them about the impact of new legislation in 2001 aimed at stopping the development of colonias.
"It said you can't sell your property because there are no roads, water or utilities," she said. "We were stuck, so we thought let's just wait and hold out and see what happens," she said. "We didn't have any options at that point."
This past July, they got a letter from the Horizon Communities Improvement Association offering them $300 for their lot and advising them that the association was trying to cobble lots together for sale to legitimate developers.
"Then they offered $500 and we figured they had a developer interested," Sue said.
Jerry said they've tried finding a map that shows where their property is without success.
"I was online a couple weeks ago and found a TV report from 2015, and they were driving through all the lots," he said. "It's just a mess out there.
"People have used it for dumps and everything else."
He said he called the improvement association several weeks ago to ask what would happen if they didn't sell their lot.
"She said it might just stay the same way it's been for the last 40 years," Jerry said.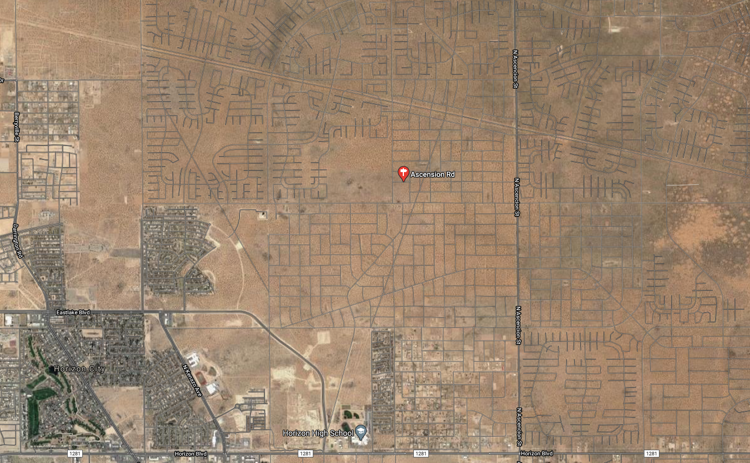 Walter Miller, board chairman of the Horizon City Economic Development Corp., said those old Horizon City development lots have effectively landlocked the legitimate Town of Horizon City.
"It will probably be many years before they're able to assemble enough property to justify development," Miller said.
But Michael Hernandez, the economic development department's executive director, said he's aware of several legitimate groups involved in consolidating properties in the old Horizon City and other areas in east El Paso County.
"I think those kinds of transactions are useful because they restore value to some of those parcels," he said. "That's been a challenge for decades, but I think some really sharp people are looking at those areas and trying to assemble some of those properties. 
"It's an important trend, and I hope it continues." 
So, for Jerry and Sue McInturf, there's the question: sell or don't sell, which will it be?
"We haven't decided yet, but we're leaning towards 'sell,' " Sue said.
---