Delayed by the pandemic, it will take El Paso Independent School District until 2023 to complete all of its major school projects. But many of the subcontractors are struggling because of the 5% being withheld from their compensation until the projects are finished.
That withholding is called retention or retainage, and it's commonly used as security against work that is incomplete or defective.
Subcontractors who have done work for the school district have wanted to ask the school board to reduce retainage to 3%. Last year, the city of El Paso reduced retainage from 5% to 1% for subcontractors working on quality-of-life projects delayed by COVID-19 precautions.
But the subcontractors and people representing them haven't been able to get the issue on a school board meeting agenda and discuss it openly with school trustees.
The projects, which include major school construction and renovation, are funded by the $669 million bond proposition voters approved in 2016.
"Now, with the school board president deciding not to run, it's kind of a lame-duck position, so we're kind of waiting on the new members to pick up the ball and run with it after the election," Thad Steele, president of T&T Staff Management, said referring to the May 1 school elections.
"Over $20 million of subcontractor retainage is being withheld by EPISD, and a lot of these jobs are substantially complete," said Steele, who is also vice president of the Southwest Specialty Contractors Association.
Eileen Karlsruher, vice president and co-owner of CSA Constructors and president of CSA Design Group, said she quit bidding on EPISD projects because of its retainage policy, but is well aware of the struggles that subcontractors are going through now.
She said one flooring and ceiling company she knows of is owed several hundred thousand dollars in retainage fees that might not be paid by the district until all of the school projects are complete next year or in 2023.
"To a small businessman, that's a lot of money, so what you have to do is borrow against a line of credit until you get paid," Karlsruher said. "Everybody knows that a typical construction project can be nine months to a year, and most everybody's good with that.
"But when you have been dragging on for two years, like the Coronado High School project, that's tough."
It's particularly hard on companies like hers that do the ground-clearing work at the very beginning of a project that may not be completed for two or more years.
"They're not going to get their retainage until then," she said. "That's a long time to wait on your profit.
"I have not done anything with EPISD because I do not like their contract terms, so I won't bid it and I won't do it."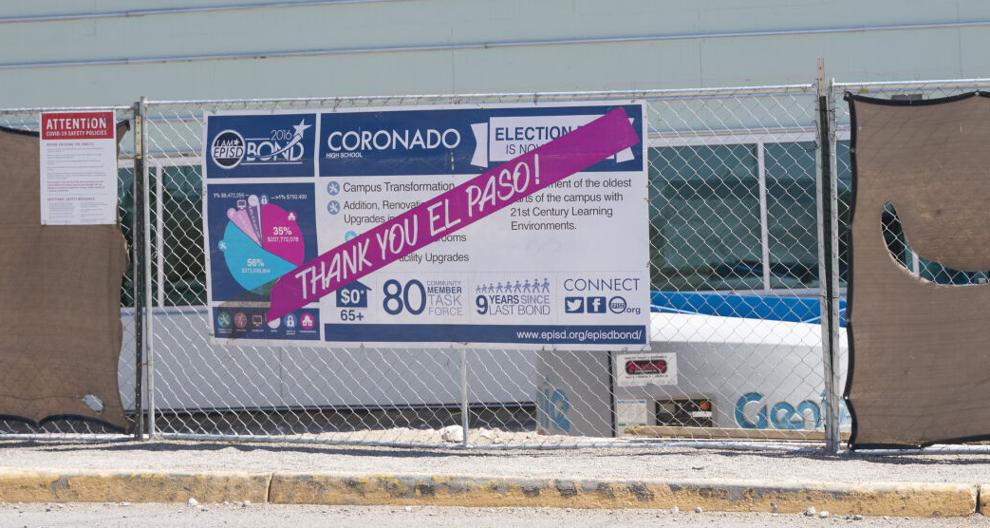 A 5% retainage is typical on construction projects, but when the city was asked last year to return part of the retainage on quality-of-life projects stalled by COVID-19 a year ago, they reduced it to 1%.
Al Velarde, vice president of the EPISD board, noted that the city reduced the retainage on some of its projects, but said he's not in favor of returning 2% of the retainage on school projects because of the problems it could cause.
Among other things, it would require rewriting the contracts the district has with its contractors.
"I'm not in favor of it," Velarde said. "We're winding down on our projects anyway. We'll start to see the closure of projects going into the first quarter of 2022.
"These contractors didn't complain or argue when we set this in the contract requirements."
But that was before those projects came to a standstill because of COVID-19.
"These are retainage dollars that we hold on to to make sure our subs and everybody is fulfilling their contracts," Velarde said. "I've had several people calling me. I understand because they're cash-tight and trying to make it through this environment.
"I don't think it's a fiduciary risk that I'm willing to take on. I might think differently if we hadn't had a single problem with any contractor or sub, but we've had several, so I just can't get on board with this."
So far, the Crockett Elementary, Torres Elementary and Coldwell Elementary projects have been completed, according to an EPISD spokesperson.
Coronado High School, a $68 million project, will be finished near the spring of 2023, and Coach Walley Hartley Middle School, a $48.7 million project started in late 2020, is 28% complete and may not open until mid-2023, according to EPISD's website.
Velarde said the situation is further complicated by complaints that some of the subcontractors aren't paying the required prevailing wages for skilled labor.
Leticia Marcum, who wears several hats as president of El Paso Building Trades and business manager and financial secretary for the International Brotherhood of Electrical Workers, or IBEW, said the problems are significant.
"It's wage theft and it's also the misclassification of skilled workers as laborers," Marcum said Thursday. "This is bond money from taxpayers, so if a guy is doing electrical work and being classified as a laborer, it's not right.
"It's always right to pay them right."
Asked how much workers have been shorted, she said, "based on our calculations, it's probably over $500,000 at different school projects."
Marcum said she understands that issue is under investigation by EPISD auditors, but it's taking too long.
"We asked the trustees, 'Why haven't you taken care of this? It's been going on a long time,'" she said. "Where's the enforcement?"
Trustee Freddy Khlayel said he sympathizes with the workers and would readily agree to reduce retainage to 3% were it not for the problems that could cause and the time it would take.
"We also have prevailing wage issues right now where some contractors are accusing the prime contractor of wage theft," Khlayel said. "So there's a lot of issues that need to be looked at before a final decision would be made."
Among other things, Khlayel said he's been told by the administration's contract managers "that we would have to do a complete overhaul of the language for all these contracts."
"That would take a lot of time to do," he said. "It would also expose us to unnecessary risks. It's my duty to make sure we don't do that."
---
Update 9:30 a.m. April 6, 2021: An earlier version of this story incorrectly identified how many EPISD bond projects have been finished. The finished projects include Crockett Elementary, Torres Elementary and Coldwell Elementary.