Despite inequities in the distribution of COVID-19 vaccines and frustrating foul-ups that delay vaccine deliveries, El Paso County continues to lead Texas' bigger counties in shots administered.
As of Friday morning, 103,493 people had gotten at least one of the two recommended doses in El Paso County, and that equals 12.4% of the county's 839,238 population.
So far, there have been 118,715 COVID-19 cases in El Paso County and 1,820 deaths.
Next in Texas is Dallas County where 11.3% of the 2.6 million population has gotten at least the first shot, according to the Texas Department of State Health Services.
The lowest among the state's seven largest counties is Tarrant County east of Dallas where 152,808 people out of 2 million, or 7%, had gotten at least one dose of the two-shot vaccination.
El Paso Fire Chief Mario D'Agostino reported to city officials and to the media Friday that a major shipment of second doses of the Moderna vaccines had arrived four days late, which fouled up the city's distribution schedule.
Those things happen, he said, and it's frustrating for people who had a date and time to get their second shot.
"But once we receive a shipment, we will contact you to schedule your second appointment," D'Agostino said.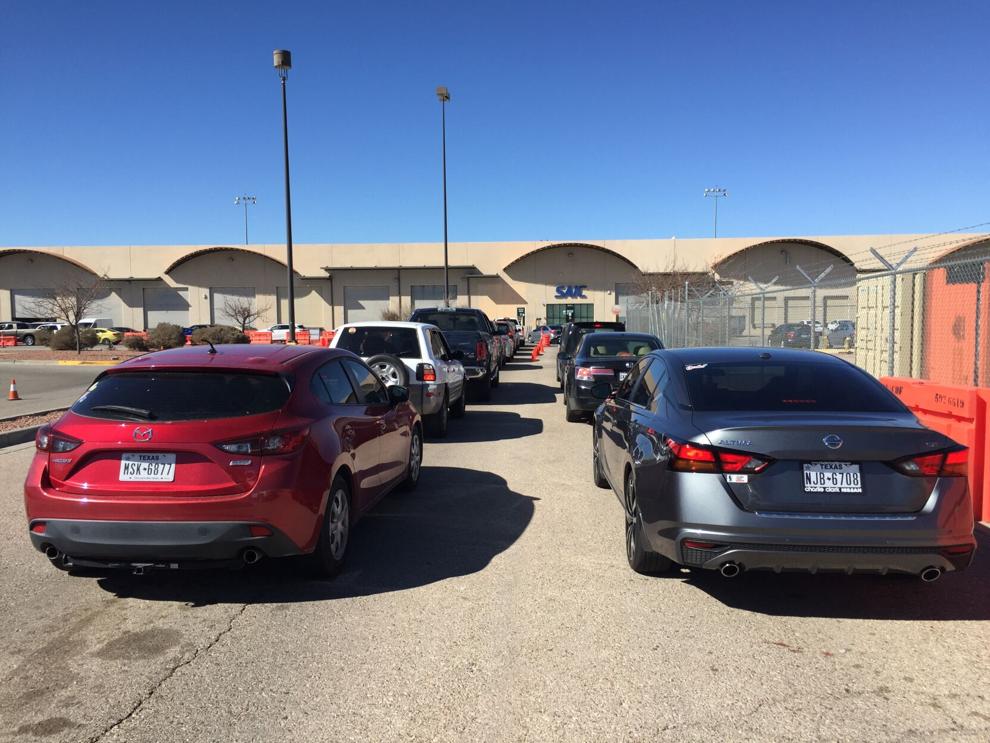 One big problem, he said, is that people continue to show up at the city's vaccination center at 301 George Perry with only the cards they received when they got their first shot showing when they should expect to get their second shot.
"But that card is not an appointment," he said, offering the assurance that the city will contact anyone and everyone who got their first shot through the city so they can set up a second appointment.
Those contacts will come by phone and by email if an email address was furnished initially.
Meanwhile, he said, the city is working on a walk-up vaccination site at the Downtown Civic Center that would spare those who use it from an hour or two-hour wait in the car on George Perry Boulevard.
While waiting in the George Perry line on Sunday, Feb. 7, Deborah Harris recalled spending three hours in line the first time. But the wait for her second shot would be closer to 45 minutes.
"Many people got bumped out of the line when they started to check paperwork," she said. "I guess everybody wanted to get here early whether they had an appointment or not."
Getting that second shot, she said, "will be a great relief."
The second big vaccination hub in El Paso is run by University Medical Center of El Paso, which announced Friday that a large batch of Moderna second doses had been delayed, resulting in the cancelation of appointments from Sunday, Feb. 14, through this Thursday.
Quick interviews with Harris and others in the shot line last Sunday confirmed that nearly all had made their initial appointment online, raising questions about how people without access to technology are getting vaccinated against COVID-19.
Some of the nonprofits handling vaccinations on a smaller scale were unwilling to discuss the issue or what they've been doing. But Project Vida's longtime director Bill Schlesinger said it's a big problem in El Paso.
"Project Vida Health Center has received about 200 vaccines, maybe 300, to distribute to the community we serve," he said. "What we're doing is taking the seniors and the high-risk individuals and we call them when we have a vaccine for them.
"We don't put people on a waitlist or have them wait in a line," he said. "They come in. They get the vaccine. They go home. But we're a drop in the ocean."
Project Vida has a 12,000 person patient load, Schlesinger said, comparing the situation to the game of Lifeboat.
"You've got five seats and 10 people," he said. "What do you do? That's where we are right now. We don't have enough vaccine, and there's no way to be equitable. The supply chain just isn't here yet, and that affects everybody.
"People who have a hard time getting on the Internet or catching a phone call real fast, they're going to wait until there's more supply and it catches up with them.
"So if you talk about equity, there is no equity. Supposedly CVS and Walgreens have doses, but that's a trip too because when you call, none are available."
---