The chief executive of El Paso's largest health network says they are reaching their limit "each day," and the crush of COVID-19 patients at El Paso hospitals is not sustainable.
"No health care system in our country could sustain a surge like this for a prolonged period of time," says Nico Tejeda, group CEO of The Hospitals of Providence, which operates five hospitals in El Paso.
As they have been forced to expand capacity and some nurses have tested positive for COVID-19, they have scoured the country for nurses. As of Wednesday, a total of 167 "rapid response nurses" had arrived at Providence, some recruited by Providence and others provided by the state.
As a second wave of infection continued to surge through El Paso on Wednesday, Tejeda talked at length with El Paso Inc. via Zoom, saying their doctors, nurses and staff needed a break. He also looked exhausted.
Q: The last time we spoke, on Aug. 31, you said, "The last thing we want to see is a surge of COVID after Labor Day, plus kids going back to school, plus flu season. That certainly would put a strain on our health system." How close are we to your nightmare scenario?
Each day, we are reaching our limits. Fortunately, we have an incredible team that continues to find solutions each day to add capacity and problem solve in real-time. That's not just us; that's University Medical Center and HCA hospitals as well.
It's a very, very challenging situation right now. We continue to see more COVID patients, which leads to more hospitalizations, which leads to more ICU stays.
At some point, we need to break that trend.
Q: El Paso's last COVID-19 spike followed the Fourth of July holiday and peaked at less than 440 daily cases. The health department announced 838 new cases on Oct. 16, then a new daily record. What happened?
Nobody knows for certain. There are a lot of theories out there. It is probably too far after Labor Day to be directly connected to the holiday.
Of course there is the thought that there continue to be places that people are going to socialize, and that's spreading the coronavirus. There is also the issue of Juárez and what is happening there. And then there is the other piece that says maybe El Pasoans have COVID fatigue and are not masking and distancing as much. From people we have talked to, that seems to be legitimate. People have grown tired of doing that, but we need to get back to it.
The other day I was talking to my mother, she lives in Kansas, and she said that my sister was going to come visit her. I reminded her to wear a mask. Her response was, "But mijo that's your sister. I don't need to wear a mask."
Yes, you do. The virus doesn't know the difference between family and friend or stranger. So that may be a factor, too.
Q: How many COVID patients are The Hospitals of Providence treating right now?
We have 257 patients. Every day is a new record right now.
Q: The El Paso health department said one out of every three hospitalizations was due to COVID-19 in El Paso County.
That's entirely accurate.
Q: Is this sustainable?
No health care system in our country could sustain a surge like this for a prolonged period of time. We need to break this trend in the next week or two.
I wish I could tell you the precise timeline that we need to change it. But I do know you cannot sustain it. There aren't enough beds or staff or physicians in El Paso, or any community, to take care of this kind of patient load.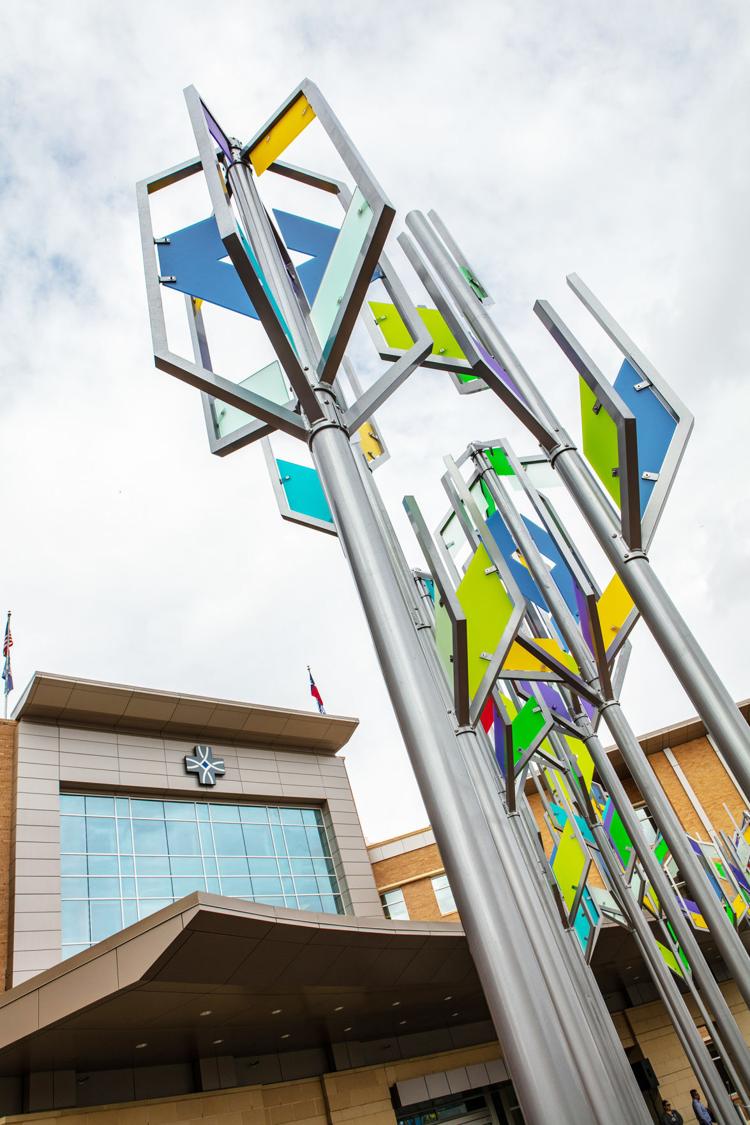 Q: One tweet I read said that there are now three floors dedicated to COVID patients at Providence Memorial, and they are bringing in nurses from all over the country to fill vacancies.
In The Hospitals of Providence, we have added 167 rapid response nurses in the last week and a half. That comes from either private sources or nurses provided by the state and Gov. Greg Abbott.
Q: That's a big surge.
That's a lot. A portion of those nurses or being used to backfill staff who have either tested positive or their family members have tested positive so they need to stay home. The other portion allows us to expand capacity in our hospitals.
At all of our campuses we have found ways to expand capacity. What that means is there are beds we are repurposing to take care of COVID-19 patients. The Memorial Campus is an older facility that has quite a few beds, many of which haven't been used in recent decades. But with COVID-19 we are able to reactivate those beds with the staff we have received. Now that we have solved, temporarily, staffing and beds, looking to the future, we have another challenge. Now we need to have more physicians and providers to manage those patients. So we are working with our physician partners to do that as well, whether that means we bring people from out of town or we increase the shifts of the providers that are already here.
Q: How long is the average hospital stay for COVID-19 patients?
About 10 days. Patients who end up in the ICU, we find it generally takes about seven days for them to evolve to that stage. That's the biggest challenge for any hospital, expanding the number of ICU beds.
Q: It's been about eight months since the first case was confirmed in El Paso. Are hospitalized patients getting better faster and more often recovering?
Yes. Physicians can now treat it better. We know the potential benefits of remdesivir or dexamethasone. Those are helping, but it still is requiring patients to remain in hospital beds for quite some time, even with the improved treatment.
Q: Probably an impossible question to answer, but do you have a sense of how long this surge might continue? And what do you need the community to do to help?
If I look at the previous surge and the time it took to reach our peak, it would seem we are still a week or two away. But that's only if we use what happened last time as our example. Hopefully, it will be sooner than that.
What I would ask is for El Pasoans… I'm trying to think about the best way to say this.
I hear people wonder if masking really helps. Sometimes I hear people question whether the pandemic is real. What I never hear, though, are comments like that after somebody or their loved one is hospitalized with COVID-19. Those comments go away entirely. Instead, they become requests to be with their family members in that very scary moment. They become questions about how long the recovery is going to be. Will they get their sense of taste back? When will they be able to breathe like they did before?
People need to put themselves in the shoes of physicians. I'd like them to be able to walk alongside our physicians, our respiratory therapists, our nurses on any given day and see just how hard those teams are working to keep up with the influx of patients.
They are working as hard as they can. They are growing tired. They need a break, and the best thing we can do right now is reduce the demand coming from the community. The best way to do that is what we always know to be true: masking, hand-washing, distancing. Those might not be the best solutions in the future, but they are the best we have right now.
Q: Many people with COVID-19 are asymptomatic but infectious, especially young people.
This virus is impacting all age groups; no age group is exempted. Fortunately, mortality rates aren't high, but that doesn't take away the stress it places on hospitals. People may not die, but they still require a hospital bed.
The asymptomatic transmission is troubling because young people can spread it to people at higher risk, to parents or grandparents, or to other young people who then spread it.
Q: COVID "long-haulers," patients who do not fully recover and have lingering symptoms like extreme fatigue, shortness of breath and cognitive impairments, have been getting more attention from the news media and medical community lately. Have you seen that here?
Absolutely. I have spoken with physicians who have had COVID-19 who are wrestling with the impact a month later. I have spoken with patients who are recovering but also wrestling with those challenges many weeks after the fact. It's not always a condition that lingers, but, when it does, it is substantial.