The FBI crime figures for last year are out, and El Paso's crime rates are once again among the lowest in the country.
Among cities with populations over 500,000, El Paso's murder rate stands at the fifth lowest in the nation, and the city is third lowest in violent crimes.
It's nothing new, but El Paso will see a precipitous one-time fall in the ratings when next year's FBI crime report counts the 22 people who were killed in the Aug. 3 mass shooting at the Cielo Vista Walmart.
For years, El Paso has consistently placed in the top five statistically among major cities with low rates when it comes to murder and violent crime.
The FBI's violent crime category includes murder, non-negligent homicide, rape and robbery, and El Paso's rate of 371 such crimes per 100,000 population is third, behind Honolulu and Mesa, Arizona, but just ahead of San Diego and Austin.
While some attribute El Paso's consistently low crime rates to the qualities of the community itself, others point to the Police Department and the sheer number of local, state and federal law enforcement agencies at work.
They include city Rep. Henry Rivera, who had 35 years with the El Paso Police Department under his belt when he ran for City Council three years ago, won election and retired before taking office.
"We have a hell of a police department," Rivera said. "It's always on top of things. I think we've changed more than any other police department. They take steps to quell things right away."
The department uses a style of investigation that allows its detectives to go beyond single-incident arrests and often close multiple burglary, robbery or theft cases with an individual's arrest.
"In the old days, you did your report, cleared up that one case, and that was it," he said. "Now we clear up larger numbers of crimes committed by the same offenders.
"We also have tremendous people that live in this community, and a majority are not afraid to get involved and call police or get a license plate number or something."
Oddly, El Paso auto and larceny-theft levels are far lower than other low violent crime cities, including Honolulu, San Diego and Austin.
El Paso had 817 vehicle thefts last year, while San Diego – another city by the border – had 5,182 and Honolulu, a city where no one goes far, had 4,191 vehicles stolen.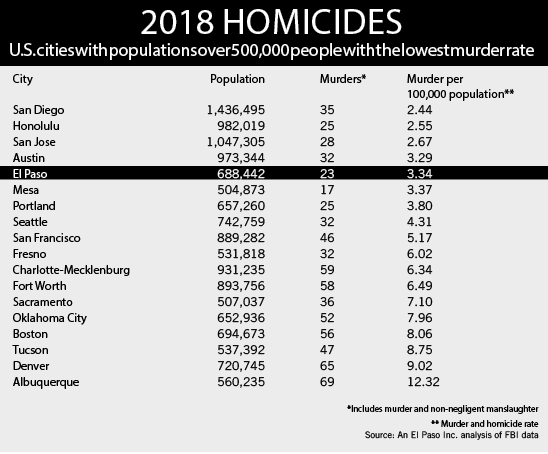 Crime in El Paso today is generally far below what it was in the 1990s, and particularly 1992, the peak year for most of the crimes in El Paso.
The city had a population of 554,515, which is 144,000 fewer than today, but there were 6,109 violent crimes then, compared to last year's 2,554. That works out to 1,102 such crimes per 100,000 then and 371 last year.
The FBI tallied 4,220 aggravated assaults in 1992, compared to 1,750 last year.
Crime fell steadily starting in 1993, and many attribute the decline to the Hold the Line strategy devised by then Border Patrol Chief Silvestre Reyes, which involved stationing agents all along the Rio Grande and other areas of the border with Mexico.
Reyes went on to be elected to the U.S. House of Representatives.
If there is one anomaly in the West Texas-New Mexico area of the country when it comes to crime, it is Albuquerque, which has a population that is significantly smaller than El Paso's but much higher crime levels.
While El Paso ranks third among large cities in violent crime with 371 incidents per 100,000 population, Albuquerque ranks 32nd with a rate of 1,365 – nearly four times higher.
It also had 6,378 burglaries, compared with El Paso's 1,107.
El Paso Inc. was unable to reach anyone with the police department or district attorney's office in Bernalillo County who would discuss the subject of crime in Albuquerque.
But Paul Guerin, a well-known sociologist and adjunct faculty member at the University of New Mexico, said it's a puzzle.
"We have been looking at this as well and have a comparison that includes Albuquerque with El Paso and a number of other similar-sized cities in the U.S. and located in the same geographic area," he said in an email to El Paso Inc. "We have some ideas, but no one really knows."
The issue arose during a recent visit to Albuquerque by U.S. Attorney General William Barr.
"Unlike many cities in the United States that have seen violent crime rates fall, the violent crime rates in Albuquerque remain stubbornly high," Barr said at a press conference.
He went on to blame "very weak law enforcement systems" and to say, "Unfortunately, the system in New Mexico is subpar."
Albuquerque's new mayor, Tim Keller, said, "Our city is an outlier in the country, and we've got to step up and face it head-on."
---
Email El Paso Inc. reporter David Crowder at dcrowder@elpasoinc.com or call (915) 534-4422, ext. 122 and (915) 630-6622.