A new synagogue will open in West El Paso at the end of August, and Jewish leaders say the new space will help expand services for the community during the time of social distancing.
The Chabad Lubavitch Center for Jewish Life, a 10,000 square foot space at 6516 Escondido, opens on Aug. 30 and will feature a synagogue, library, offices and two kitchens.
Rabbi Levi Greenberg, associate rabbi at Chabad Lubavitch El Paso, said the $2.5 million project was made possible through local philanthropy.
"For that we're very grateful, and it was a community effort," Greenberg said. "It's all from local money, local philanthropy, local support."
The new synagogue and center is an extension of Chabad Lubavitch's current space on Escondido, Greenberg said. The former synagogue, previously on Westwind, will be moved to the new space.
"All of our services and programs, and just in general, will be at a place that will be open all the time to walk in, for whatever they're looking for," Greenberg said.
There are about 50 to 60 regulars during services at Chabad Lubavitch, but that number has gone down and maxed out at about 30 with social distancing and capacity caps.
"This is the miracle of this new space," said Rabbi Yisroel Greenberg. "We'll be able to invite more people because we have more room, and more people participating in services and other activities."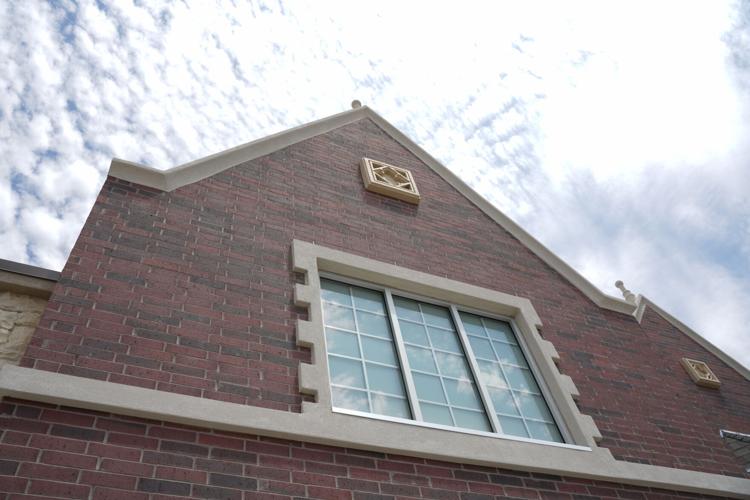 The distinctive facade on the new center, with three points and dark red brick, is a reflection of the Chabad Lubavitch world headquarters in Brooklyn, Levi Greenberg said, and the new center's facade is one of 17 worldwide.
"It has some very deep meaning for us because the Chabad headquarters was (leader Lubavitcher Rebbe's) message of bringing light to a dark world, and empowering humanity to nurture the goodness that's within," Levi Greenberg said. "We're confident that having this type of facade will help us on our mission."
The center was built by El Paso-based Vistacon Inc. and designed by GA Architecture, Yisroel Greenberg said.
All of Chabad Lubavitch's El Paso operations will be housed at the new center on Escondido, including adult education, preschool, Hebrew school and summer programs.
Coronavirus-related closures and capacity mandates have limited how many people can gather in places of worship.
"When things start to ease up and gather in greater numbers we'll be hitting the ground running," Levi Greenberg said.
He said that he hopes the new center can be a light for the community during a time when so much is going on in the world.
"The way to deal with darkness is by introducing more light," he said. "I can't see any better way than by opening another space where people can feel comfortable pursuing their relationship with God and find fellowship and community. It's a great asset to not only the Jewish community, but it's a boon for the entire city."
---