How many cups of New Mexico Piñon coffee did Paul Foster drink while leading a major renovation of one of Downtown El Paso's most recognizable buildings?
Well, it's definitely more than a pot.
Work on the Plaza Hotel at Pioneer Park is nearing completion after several years and millions of dollars in renovations on the historic property, which was the first high-rise in Conrad Hilton's hotel empire when it was built in the early 1900s.
Foster said it's not so much about the price tag as it is about contributing to the transformation of Downtown into a competitive city center that El Pasoans are proud of.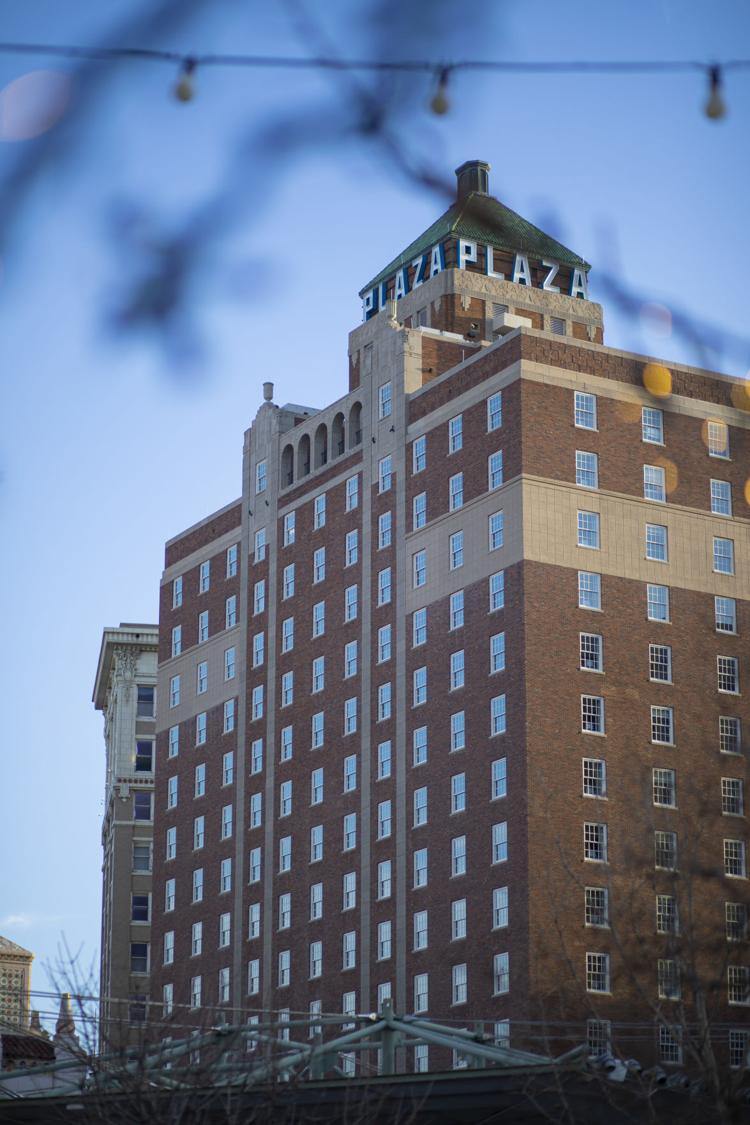 "What I'm hoping is that it'll end up being the nicest hotel property in El Paso. I believe that, but it's not for me to say," Foster said. "I think a rising tide lifts all boats. The more of this type of product we build Downtown, the better. I think it elevates people's image of El Paso."
One of the most anticipated projects in El Paso, the Plaza Hotel Pioneer Park is set to open on April 6, more than two years after work began on the property. Reservations are being accepted online for stays beginning May 1
The hotel will feature ground-level and rooftop restaurants, an expansive collection of tequilas, an upcoming specialty boutique, 130 luxury hotel rooms and 7,900 square feet of conference and event space.
Foster spent an hour talking to El Paso Inc. last week at his Downtown office inside the Mills Building. There was a fresh pot of that coffee, which Foster said he buys in bulk at Costco and is the best he's ever had.
Foster bought the vacant building at 106 Mills in 2008 from brothers Mike and Paul Dipp. He said he first noticed the building during renovations of the Plaza Theatre, and then later during his renovation of the Mills Building.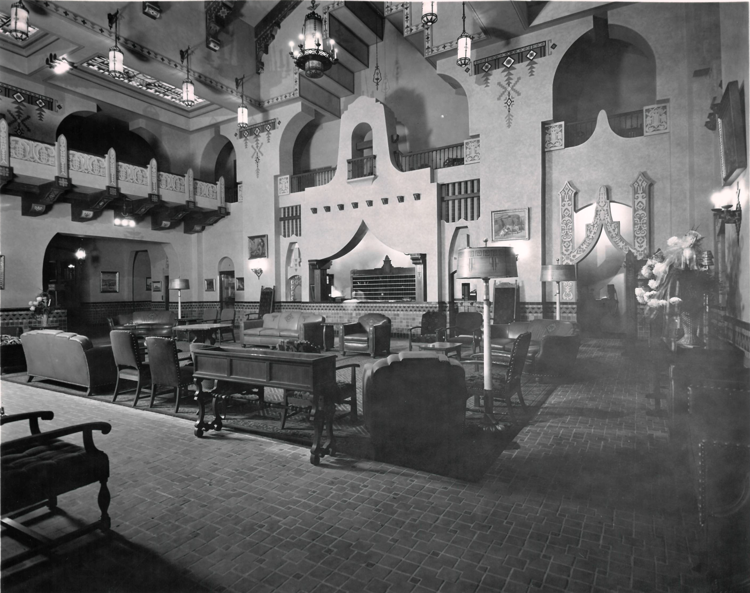 The Plaza Hotel has a special place in El Paso's history. The original Plaza site was once home to the Sheldon Hotel, a five-story building constructed in 1888. In 1929, that structure was destroyed in a fire.
In 1930, American hotelier Conrad Hilton opened the Plaza Hotel, which was designed by famed Southwest architect Henry Trost. It is listed on the National Register of Historic Places.
Hilton ran the Plaza during its original gilded years, where the stories about Elizabeth Taylor calling it home originate.
"Back in the 30s and 40s I think we were sort of the jewel of the Southwest," Foster said. "El Paso was where everything happened. We kind of lost that over the years."
When it opened, the hotel caused a stir. The El Paso Herald declared in July 1930 that the "new Hilton hotel lobby is fairyland." Elizabeth Taylor briefly lived in the penthouse during her marriage to Conrad's son, Nicky.
The hotel was sold in 1963 and became the Plaza Motor Hotel until it closed in the early 90s, and sat vacant until construction started in 2018.
"I run into people all the time who tell me about weddings or meetings or different things they did at the hotel, things they remember or celebrities they saw there," Foster said. "It's kind of fun recreating all that and reimagining what it was like back then."
For nearly 30 years, the Plaza was dark and on the path to a slow deterioration.
Now, construction is wrapping up. The marquis is lit again and glows red against the dark night sky, and if you're observant you can see some of the restored beams across the ceilings of the ground floors of the hotel.
"I bought that building pretty early on, it just took a while to come up with a plan and sort of wait for the El Paso economy to catch up," Foster said.
The hotel will also include restaurants Ambar and La Perla, as well as a two-story tequila wall with additional spirits like mezcal, sotol and bacanora. Even the bath products in each room are luxurious — they will be from Le Labo, a swanky New York-based perfumery.
Joe Gudenrath, executive director of the El Paso Downtown Management District, said the Plaza will add to the number of people visiting Downtown every day and will bring more tourists and more exposure to businesses in the area.
The Plaza received $50,000 in facade, signage and lighting grants from the DMD for the marquis.
"The signage and lighting grant is meant to build the identity of Downtown through signage," Gudenrath said. "I don't know if you can get much more iconic than that Plaza sign. It's great to see those letters back up."
The project also received significant federal and state historic tax credits for the meticulous restoration of the building. Foster said it wasn't an easy process, but in the end it was worth it.
In order to receive the historic tax credits, a qualifying project must meet and adhere to stringent requirements and limitations on how much the building can change. As one can imagine, it can get pretty tedious.
For example, Foster said, the balconies on the second-floor rooms cannot be used because the railing is too low to meet today's building codes, but the railings also couldn't be changed under the historic tax credit requirements.
"Those are the kinds of things that are frustrating but are just things you go through with an old building you've restored," Foster said. "Those are acceptable problems to have, but still frustrating."
There were also parts of the hotel's restoration that were expensive to do.
There used to be fire exit staircases on the outside of the building, which were removed. Foster said the team constructed two fire exit staircases inside the building, which meant cutting through every floor and constructing 19-story staircases.
Other big-ticket restorations include new elevator systems, HVAC, plumbing and the intricate concrete work at the top of the Plaza.
"You have to be sure that you've restored it not only to look good but for it to be safe and survive heavy wind storms we occasionally have, and will survive the test of time," Foster said.
Marco Ortega, president of the El Paso Hotel and Lodging Association and general manager of the Staybridge Suites by the airport, said the industry in El Paso is already growing and that projects like the Plaza will only add to the momentum. He said the hotel industry employs about 5,000 people in El Paso.
"We're really excited about the opening of the Plaza and eventually the Hotel Paso Del Norte," Ortega said. "It means more rooms Downtown, especially next to the convention center. It means more people are traveling and visiting our city, more economic growth and more people experiencing what El Paso is about."
Foster also owns other historic properties in Downtown, including the Kress Theater building across from San Jacinto Plaza. He said he and his team are contemplating several scenarios for what to do with the Kress, but are not ready to share quite yet.
He's also planning work on new a soccer stadium in Juárez and a master-planned community in Northeast El Paso.
There's also one more component to Downtown that Foster and pretty much everyone else is keeping an eye on: the status of the proposed multipurpose center approved by voters in 2012. The project has faced opposition from activists and historic preservationists, including several lawsuits that have frustrated the city's plans to build the facility in the historic Duranguito neighborhood.
"I don't know that it has a negative impact to not do it, but we're missing out on a great opportunity," Foster said. "The voters approved these bonds to pay for this arena seven or eight years ago. It's an absolute shame it hasn't happened."
Franklin Mountain Properties, which Foster owns, also recently picked up a portfolio of buildings in Downtown that Foster said gives the company more flexibility on where to locate employees and offices. Acquired from Borderplex Realty Trust and property owner Billy Abraham, the properties include some of El Paso's most important buildings, everything from the 20-story One San Jacinto Plaza high-rise to the historic Kress building.
"If I believe in my heart that what I'm doing is going to be good for the city, for the economy, for quality of life, then I'm going to pursue it," Foster said. "If there's opposition, we try to satisfy that. Not everybody's going to be happy.
"I've never been involved in a project yet that didn't have some sort of opposition."
---