Anthony Dohrmann founded Electronic Caregiver with three people in an office.
In 2017, the tech startup moved into the top floor of the 10-story Las Cruces Tower. Then, they took over the ninth floor. Then, the eighth. Eventually, they expanded into the seventh floor and a building next door.
The company, which executives say has experienced 70% growth over the last two years, is now in negotiations to purchase the tower at 506 S. Main St., the tallest in Las Cruces. It would be an investment of more than $8 million, according to the company.
El Paso businessman Lane Gaddy is the seller of the Las Cruces Tower. Gaddy also confirmed Friday that he has put El Paso's Coronado Tower on the market.
"Our goal within the next two years is to get the company public, and get the first Fortune 500 company headquartered here," Dohrmann said.
As the country's population ages, it has strained the number of available qualified caretakers. At such a high cost, the job of caretaking often falls to family members and informal caretakers.
Electronic Caregiver, a home health technology company with users in all 50 states, is working to maximize health for patients through the use of telemedicine, continuous health monitoring and other products and services.
Dohrmann, the company's chief executive, said the company is building a 24/7 care outreach and telehealth operation, including deployment of a virtual caregiver named Addison Care.
He said the systems and products created by Electronic Caregiver help bring together family caregivers, clinicians and continuous monitoring for different patients with different health needs.
"Tech by itself is nothing but a rubber doorstop," Dohrmann said. "It has to be connected to systems and people, and needs to be able to seamlessly get into the hands of clinicians and decision makers. It needs to be reliable, secure and private."
The company has also developed systems for the response to the COVID-19 pandemic, including tools that have been implemented at hospitals around the country, including Las Cruces.
Dohrmann said Electronic Caregiver created a tool that helps hospitals coordinate which COVID-positive patients need to come to the hospital and which ones in the hospital can go home.
"Within two weeks we were remotely monitoring COVID patients. Over 100 days, we saved $2 million and opened up 50% of their capacity to house patients (in Las Cruces hospitals)," Dohrmann said. "That's through the end of 2020."
Dohrmann also gave some statistics about the country's aging population, and America's current state of unpreparedness to meet those health and wellbeing needs.
He said there are 50 million older Americans, a number that will jump to 80 million to 85 million by 2050.
"Every 24 hours we have 10,000 to 11,000 people turning 65. There's rapid aging happening around the world," Dohrmann said. "In Europe, they have outstripped caregiver capacity and are not able to get enough people trained to serve the aging population."
Dohrmann added that a number of aging individuals need at-home care, are in gradual physical decline and that most take between seven and 15 different medications.
But many cannot afford professional at-home health care, which Dohrmann said can reach into the thousands of dollars per month.
"Only about 3% of the U.S. population has discretionary income to handle a $2,000 per month additional bill," Dohrmann said. "Caregiving has become something that's a service provided by over 43 million informal caregivers, not paid, who are typically family members.
"They're stripped of savings, taking out loans, sinking in debt and there's not a lot of support or training. Insurers are saying there's a rapid increase in mental and physical health-givers developing."
Dohrmann said it can get worse.
"133 million Americans live with at least one chronic condition, and it's continuing to escalate," he said. "We have a nursing shortage, and a pandemic, and a third of our doctors at retirement age, at a time when we have this incredible pressure on caregivers."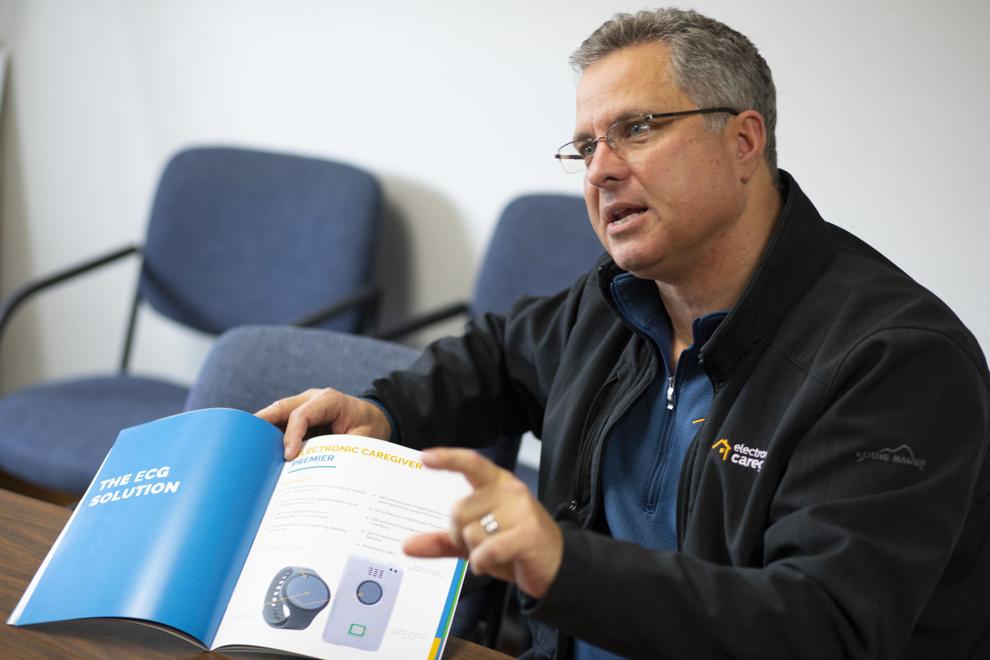 Electronic Caregiver's products and services address some of the pressure of caregiving and keeping everything and everyone connected, Dohrmann said. The company also creates products to help continuously monitor medication dosing and side effects, vitals tracking and health records.
Dohrmann said the company has plans to add 3,000 jobs over the next few years.
He said when the company started 10 years ago, they were told by Silicon Valley investors that it would take over $300 million to get to the point they could go public. Dohrmann said the company estimated it would take about $50 million to $75 million.
"This market in southern New Mexico and West Texas made all this possible," Dohrmann said. "We have customers in all 50 states, a finished virtual caregiver, clinical care teams working round the clock. We opened an office in Berlin, are working with reps of the (World Health Organization) and a major medical university in Austria.
"All that's headquartered, all products and services are developed, here in the border region."
---