Sacred Heart Catholic Church, often described as the heart of El Paso's Segundo Barrio and one of the first buildings to go up there, is up for a long-overdue restoration.
That project was officially kicked off Thursday by Sacred Heart's pastor, Father Rafael Garcia, and historian Max Grossman, who said the church would be the first restoration carried out in the Segundo Barrio since it was established in 1886.
Garcia, who is serving as co-chair of the restoration project with Grossman, first served as Sacred Heart's pastor right out of seminary from 1994 to 2007 and has come back.
The restoration, he said, has been a dream of his and the community's for a very long time.
"My goal is not that we're only restoring a building, but it's a way of restoring and helping the community grow and helping the community to stay and hopefully to live better," he said in announcing the project in a Zoom press conference.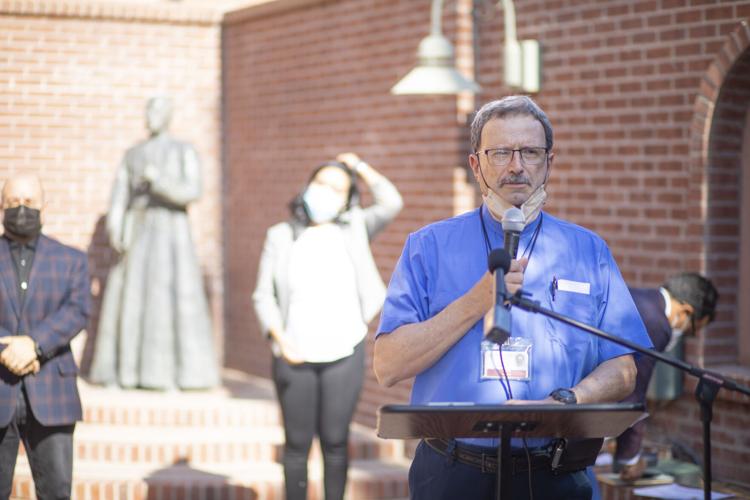 The announcement was made beside the church's Pinto Plaza, named after Father Carlos Pinto, Sacred Heart's first pastor in 1892 and a Jesuit, who became known as the Apostle of El Paso.
At the time, the Roman Catholic Church was illegal in Mexico. Sacred Heart is now the last Jesuit outpost in Texas.
"Unfortunately, we're the only Jesuit parish that's left in the state of Texas," Garcia said. "The last one we had was in San Antonio, and we had to turn that over because we could no longer staff it for lack of priests."
Established in 1886, Segundo Barrio, also known as the Second Ward, is home to a large Mexican and Mexican-American community in South El Paso, and the fact that there's never been a single building restored there is about to change, Grossman said.
"In June 2021, only a few months from now, we're going to have the Segundo Barrio National Historic District," he said. "In that district currently, there's only one building on the National Register of Historic Places – an obscure building on South Mesa Street.
"When this district is created, there will be 659 buildings added to the National Register of Historic Places. These buildings are not significant just to El Paso or the state of Texas, but to the United States.
"This district will commemorate this neighborhood and raise it to the very highest level of recognition."
And with that, he said, information will become available to scholars for tourism brochures to put Segundo Barrio and El Paso on the map for heritage tourism.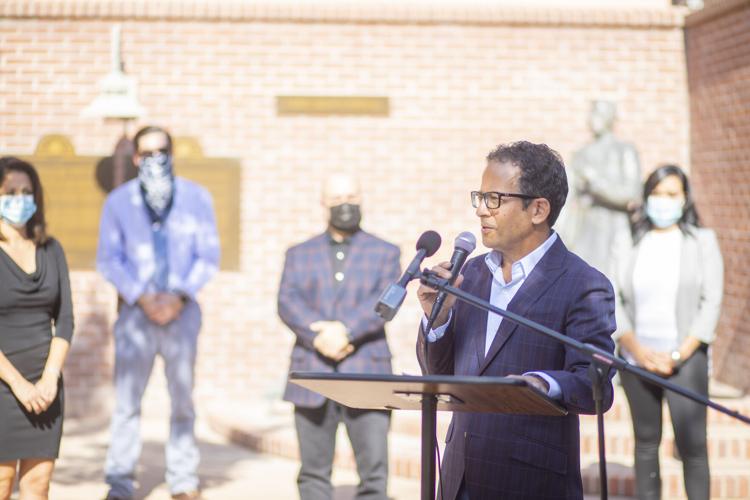 Making the National Register won't prevent building owners from doing what they want with their property, but it will make those properties eligible for federal and state tax credits of up to 45% of the cost of restoring properties in the historic district.
"I cannot overstate the significance of what is about to happen, and among those buildings is Sacred Heart Church, which will be individually listed on the National Register of Historic Places," Grossman said.
An associate professor of art history at the University of Texas at El Paso specializing in the medieval and Renaissance eras in Italy, Grossman has been a controversial figure in El Paso for several years now.
Of late, he has sought to lower his profile and confine his public comments and activities to local historical issues.
He's had a big hand in preventing the city from pursuing its plans to demolish the historic Duranguito neighborhood, not far from Sacred Heart, to build a performing arts center that was also to serve as an arena for basketball.
That project was part of the city's 2012 quality of life bond election, and the city allowed a number of buildings there that date back to the 1880s to be partially demolished before Grossman and his attorneys were able to stop further damage.
A decision on the legal action between the city and Grossman that could clear the way for demolition is still pending before the state's Eighth Court of Appeals in El Paso.
At Thursday's announcement, Garcia complimented Grossman for the work he's done as "the agent behind all of this."
Grossman said the restoration of Sacred Heart will cost millions of dollars and take several years to accomplish. But, he said, the project has solid support in El Paso and could well qualify for significant grants at the national level. He named one, in particular.
"I can also tell you that the first grant we're applying for will be from Sacred Places, which is based in Philadelphia," he said. "It's the largest grant-giving agency in America for historical churches."
---