Life in Clint, Texas, rarely drastically changes overnight. But the world does, and sometimes those changes suck in small communities and the workers who keep things afloat.
So, in early March, when the first rumblings that a global pandemic was about to hit stateside, Joe Burks took action.
Burks is the owner of Wholesale Lumber Co. in Clint, a place he grew up working alongside his dad. He put together a pandemic plan for his employees, requiring masks long before the Centers for Disease Control and Prevention said they were recommended, and hired a full-time person to keep up with cleaning and disinfecting the store.
He, and his work preparing for the coronavirus, was honored last month with a Beacon Award for Community Service from the Hardware Connection magazine, an industry publication that recognizes the "best of the best" independent hardware retailers. Wholesale Lumber was one of 10 retailers honored nationwide.
"We were just looking at what was happening in other places in the world, and you could see it was probably something that was coming," Burks said. "There's no harm in being prepared anyway."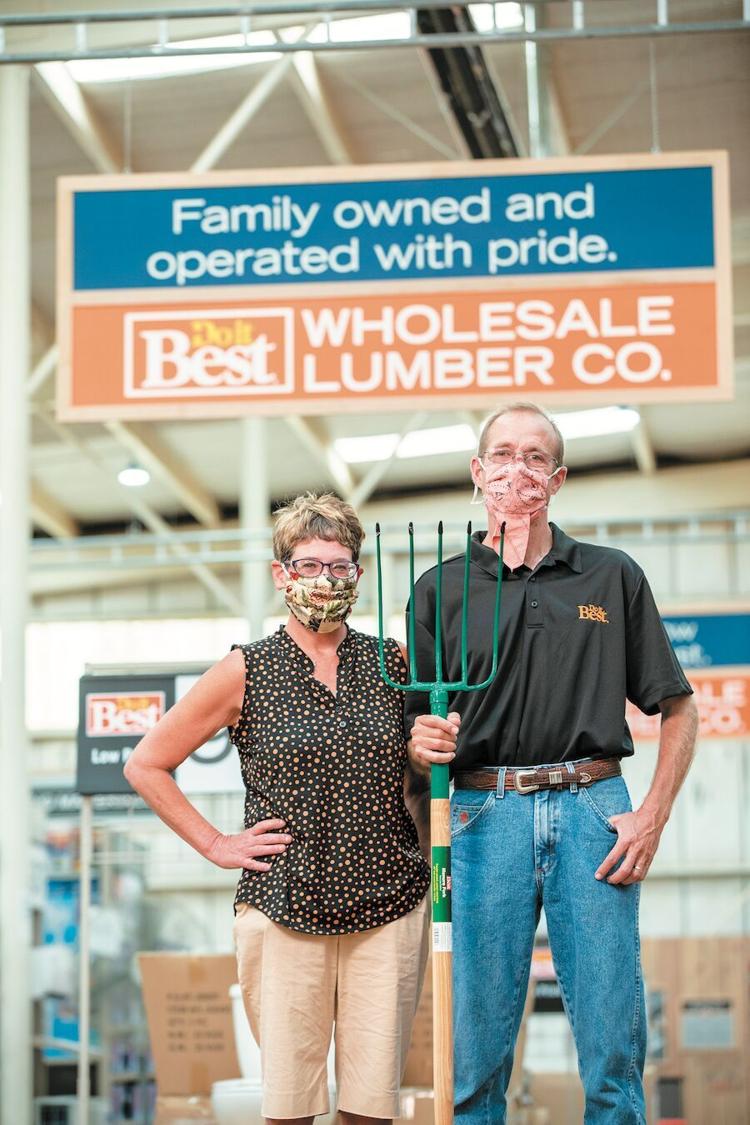 Wholesale Lumber opened in 1974, and Burks said he started working at the store at 10 years old, but added he probably spent a lot of time sleeping under the counter at that age. He runs the store now with his wife, Jody.
Lumber, construction and home improvement have been declared essential businesses during the pandemic, and Burks remained open throughout the quarantine months in March and April.
Americans, some who are stuck at home, are spending more time and money on home improvement supplies, including at places like Wholesale Lumber.
Burks said some of that comes from being at home and not at places like the movies or shopping, and realizing there are things to work on at the house.
"For most of the summer, we were running at about three times our normal customer count, and it's a challenge on how to do that safely," Burks said.
The lumber industry is also soaring, with prices higher due to increased demand and supply snags.
"From a supply side, the lumber industry was caught off guard by the demand, and the pandemic was expected to kill demand, but it went opposite," Burks said. "I expect prices to be coming back down next year."
In addition to early coronavirus safety protocols, Wholesale Lumber is also helping its neighbors in Clint by offering small grants or materials to businesses that need to make coronavirus-related changes or upgrades.
But, Burks said, it's not always easy giving away things, and there haven't been a lot of applications.
In a follow up email, Burks said if his efforts are unsuccessful, he'd like to find a partner to work with, such as the El Paso Hispanic Chamber of Commerce or similar organization.
Burks said those interested in applying for assistance can call the store at 915-851-2805 or visit its Facebook page.
"We had a heck of a learning curve getting everything going here, and that was even starting early," Burks said. "My hope is to get everyone thinking about how to run their businesses safer, and what they should be doing.
"Businesses that spent a while closed down, I'm sure they're strapped, and expenses for things like sneeze guards come in second place."
Wholesale Lumber will be honored at the 2021 Hardware Conference in Marco Island.
"Owner Joe Burks' passion for the industry is matched only by his love of the community his store serves," Chris Jensen, founder of the Hardware Connection magazine, said in a statement. "He defines what it means to be a beacon of hope during challenging times."
---