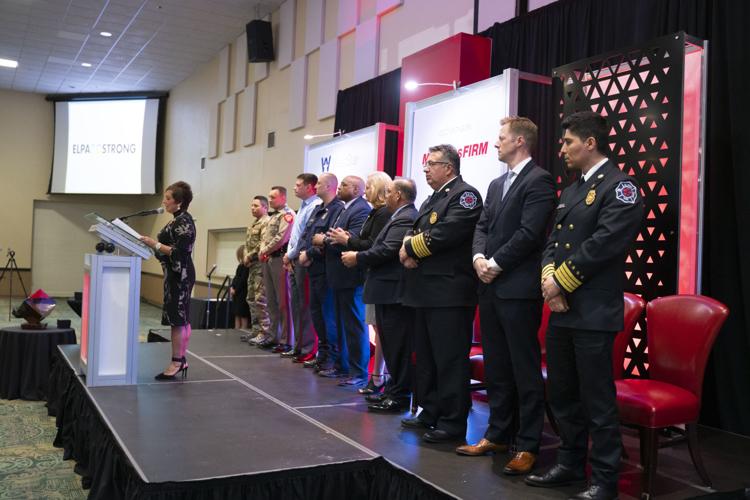 Last year's tragic Walmart shooting left 22 dead and an indelible mark on those who lost loved ones, the 24 who were wounded and on many in the community itself who cannot talk about it without coming to tears.
El Paso Inc. departed from its annual El Pasoan of the Year and Community Spirit event last Wednesday to recognize the first responders and many others on the front line, along with the El Paso community that mourned and rallied against the hate behind the shooting.
More than 500 people gathered Wednesday at the Centennial Conference Center on Fort Bliss for the presentation and to share the stories of what happened that day and the days that followed.
Mayor Dee Margo, who accepted the Community Spirit Award on behalf of the El Paso community, had to pause and regather himself several times as he recalled that morning.
Photo gallery: First responders of Aug. 3 honored at El Pasoan of the Year luncheon
More than 500 community and business leaders gathered Wednesday at the Centennial Conference Center on Fort Bliss to honor the El Paso Inc.'s 2019 El Pasoans of the Year: The first responders of Aug. 3.
Read more about the El Pasoans of the Year here. And the Community Spirit Awardees here.
He was in Austin on the morning of Aug. 3 when he was notified about a mass shooting back home and jumped on a private jet for El Paso almost immediately.
When he arrived at 1:30 p.m., he learned that the initial active shooter call went out at 10:39 a.m. and that the first police arrived just six minutes later.
"A 6-year veteran and his rookie partner on his first day solo arrived, and they entered without hesitation," Margo said. "Ladies and gentlemen those are true heroes trained by our chief and our department."
The shooter was arrested 18 minutes after that.
Margo also told of going to the United Blood Services Center with U.S. Sen. John Cornyn later that day and seeing a long, long line of El Pasoans waiting to give blood. Some stood in the sun for hours.
"There were cheers when they announced each donor's gift," Margo said. "That is what El Paso is all about. Aug. 3 will not define us."
In the days that followed, the Paso del Norte Community Foundation, El Paso Community Foundation, Walmart Corp., and individual donors raised nearly $12 million for the shooting victims and their families.
Eight of the city's funeral homes provided free services and burials for the 22 who were killed, and United Airlines offered free flights to family members.
"Our region is so very special," Margo said. "Nowhere else in the Western Hemisphere is there anything that resembles El Paso and Juárez.
"I am humbled and honored to receive this award on behalf of our most loving and generous community. We will continue to defy hatred in all of its virulent forms. We will remain El Paso Strong. God Bless El Paso."
The entire audience rose to applaud.
KVIA's longtime news anchor Estela Casas, now executive director of the University Medical Center Foundation and Children's Foundation, proceeded with the presentation of the El Pasoans of the Year award to the community of first responders.
"We appreciate your courage and willingness to put your lives in harm's way for us," she said. "We want to commend you for your dedication to protect our community and to respond to situations and work through them and bear witness.
"We are here to recognize excellence and to say thank you."
Those first responders include law enforcement officers, from police and sheriff's deputies to customs and FBI officers, along with emergency services and medical professionals, from EMTs, doctors and nurses to hospitals' top administrators.
"We thank you and your colleagues for what you did on Aug. 3 and the days that followed," she said.
El Paso Fire Chief Mario D'Agostino was among those who spoke.
"I want to remind everyone here today that the outstanding performance we saw from these teams, our teams, was a testament to the performance they provide on a daily basis. They did an amazing job, and I could not be prouder of them.
The shooting may have been six months ago, but it is still impacting the lives of survivors and others close to the events themselves, as well as the larger community.
At the conclusion of Wednesday's event, El Paso Inc. publisher Secret Wherrett announced the company's $5,000 donation to the Borderland 100 Club, led by former police officer Amanda Walsmith.
"The 100 Club is a national nonprofit built on a premise that if 100 people donate $100 to join the club, there would be $10,000 to help the family of a first responder who died in the line of duty," Wherrett said.
Email El Paso Inc. reporter David Crowder at dcrowder@elpasoinc.com or call (915) 534-4422, ext. 122 and (915) 630-6622.