Now that the Texas Legislature has hit the brakes on red-light cameras, El Paso and 56 of the 61 cities with them have turned them off.
In El Paso's case, the end came after the issuance of 373,909 citations for red-light violations over 12½ years.
Under the law Texas Gov. Greg Abbott signed June 10, cities could keep their cameras going until the contracts with their providers end.
A few cities, including Dallas, Amarillo and Plano, plan to keep their cameras going as long as they can. Dallas reportedly made $5.8 million off red-light camera fines last year.
But Assistant El Paso Police Chief Victor Zarur said El Paso isn't waiting, even though its contract with Redflex Traffic Systems, the Australian company that sells and services most of the red-light cameras in the world, doesn't expire until 2022.
"There's wording in the (contract) that if there's any adverse legislation that could lead to termination, then it's terminated," Zarur said. "Right now, we're doing the wind-down.
"The cameras have been deactivated, but the signs are still up and have to be taken down. Redflex is working on that."
From 2006 through 2018, Redflex issued 378,791 citations in El Paso, according to tables Zarur provided, starting with 12,675 citations in the first full year, 2007, and peaking at 41,613 citations last year.
But before the citations went out to vehicle owners, Zarur said, "we had a police officer reviewing each one behind a computer validating a violation."
The numbers fluctuated, but never really went down, suggesting that El Pasoans weren't that bothered by red-light cameras and those fines – $75 for the first two citations and $150 with the third – or the nagging collection calls to delinquent ticketholders.
However, accident, death and injury stats at the city's 22 red-light camera intersections for the last three years show a significant drop from 2015 when there were 530 accidents, one death and 157 injuries.
In 2016, accidents fell to 316 and injuries to 62. Both rose the following year but stayed well below the 2015 level, and there were no fatalities.
For reasons the stats don't tell, accidents at the worst red-light intersection – Montwood and Joe Battle – dropped sharply from 88 in 2015 to 63 in 2016 and 34 in 2017, the last year for which the city made figures available.
Looking back to 2010, there were 698 citations issued for red-light violations at that intersection, 94 accidents and 37 injuries.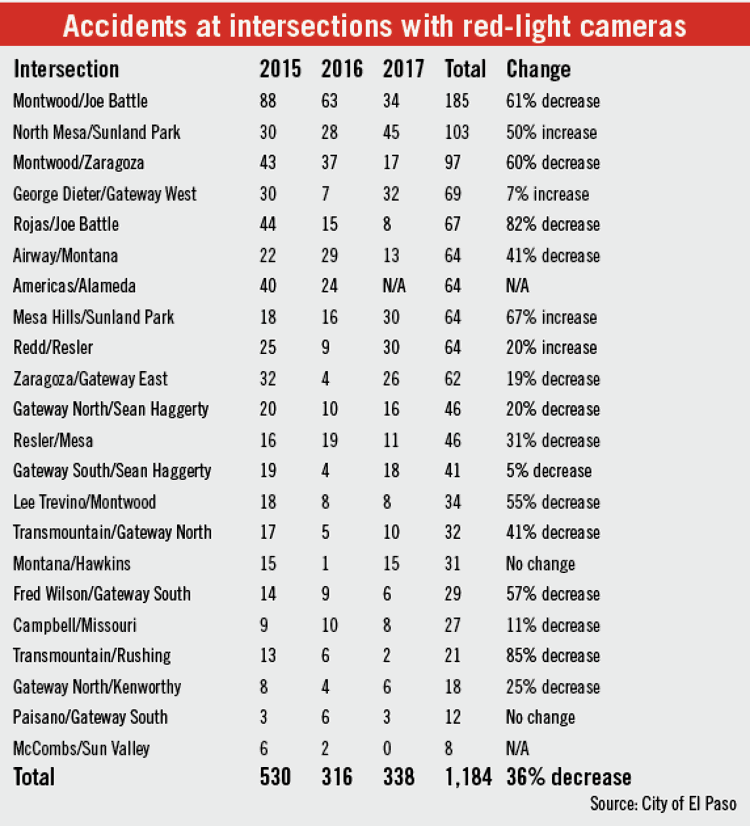 In El Paso, Redflex collected the fines, kept about half the revenue and sent the rest to the city.
Sixty-one Texas cities have deployed red-light cameras since the mid-2000s, in an effort to make dangerous intersections less dangerous, preventing accidents and saving lives.
The cameras also generated millions in revenue – $11.5 million from 2007 to 2018 in El Paso's case. In 2012, the state got into the act, claiming half the future income.
Since then, El Paso has sent $3.2 million to the Texas comptroller's office, leaving the city with $8.5 million.
"Certain folks at the legislature say it's strictly a revenue stream that was unconstitutional because a policeman didn't pull you over," El Paso Mayor Dee Margo said. "Our position was it was an incentive for public safety, a deterrent from running that light."
As a result of the ban on red-light cameras, the city will lose at least $500,000 a year and so will the state, he said.
Another bill the legislature approved eliminated a portion of the AT&T franchise fee that had been going to cities, amounting to an estimated $2.6 million loss for El Paso in the coming year – and a gain for AT&T customers.
Margo noted that the Texas Legislature also capped local governments' ability to raise property tax revenue more than 3.5 percent without a public vote of approval in an election.
Meanwhile, he said, the city still has to cover $11 million in higher costs for the police and fire collective bargaining agreements.
Email El Paso Inc. reporter David Crowder at dcrowder@elpasoinc.com or call (915) 534-4422, ext. 122 and (915) 630-6622.