While populations are growing fast in other big counties across Texas, El Paso County is growing slowly and getting slower because people are leaving for better paying jobs and the county's birthrate is steadily declining.
Among El Paso's unique assets are its very low unemployment rate, crime rates and cost of living, as well as UTEP and El Paso Community College pumping out graduates.
Weighing against those assets appears to be big problem No. 1: the lack of high wages and salaries in the private sector needed to keep El Paso's college graduates from leaving in droves.
"We should be more competitive," said Joyce Wilson, chief executive of Workforce Solutions Borderplex, the state's privatized employment and training agency for the region. "In virtually all areas, we're at the bottom or near in terms of wages.
"There were only one or two areas, like teachers, where we're the most competitive. That kind of tells the story."
Starting pay for new teachers at the county's nine school districts is more than $40,000, and at EPISD, a teacher with one year's experience can now make $50,000 a year or more.
Base pay for a new El Paso police officer is just over $42,000.
But those are the bright spots when it comes to the kinds of income that can persuade young El Paso adults to stay.
"Even in areas here where there are high demand occupations and they're really searching for talent, we're just not paying a wage that's competitive," Wilson said. "But one of the things we talk about is if we only raised wages here by 5% or 10%, we would actually be more in line with places like San Antonio and Albuquerque."
But the kinds of jobs El Paso leaders have been trying to lure aren't coming as quickly as they'd like, and the reason may be that "the talent is exporting itself," she said.
"We have a lot of skilled jobs here, and I do think wages are moving up, but I don't believe as fast as they maybe could," Wilson said. "We can show wage growth, but we're farther behind, and so if we're growing, the other cities are too, and it may be we're not really catching up because we were way behind."
One chart in a Workforce Borderplex presentation shows that from 2012 to 2017, 30,000 people moved to El Paso County, but just over 40,000 moved out, for a net migration loss of 11,346 people.
That is not to say the county isn't growing. It is, but growth has slowed to a crawl in recent years.
Census figures show El Paso County's population went from 679,622 in 2000 to 800,647 in 2010 – an 18% increase. The city of El Paso grew 15% to 649,121 in the same period.
But from 2010 to 2018, the county only grew by 40,111 residents to 840,758. That's just a 5% increase, and in the four years from the start of 2015 to the end of 2018, population growth fell to less than 1%.
El Pasoans aren't just leaving, they're also having fewer children.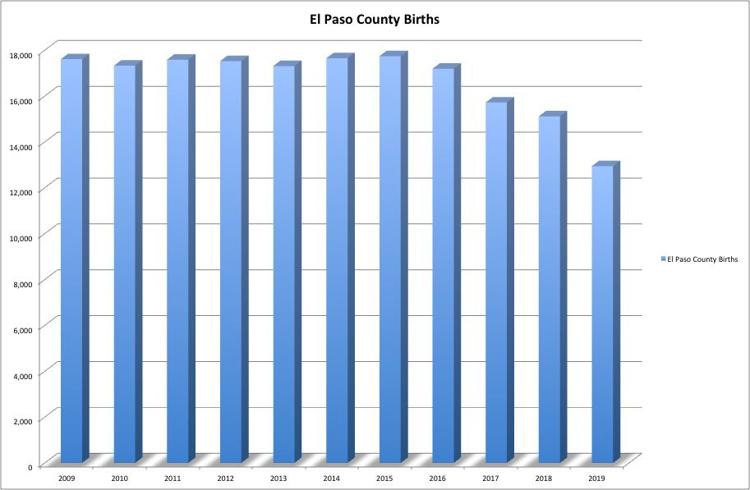 In 2000, there were 17,791 births, according to annual birth records kept by the El Paso County Clerk's office. That's roughly a birthrate of 26 new babies per 1,000 county residents.
The number of babies being born peaked at 18,460 in 2005 and steadily declined until 2018 when there were 15,112 babies born – 3,348 fewer than 2005.
The 2018 birthrate of 18 per 1,000 people represents a 31% decrease in that rate since 2000.
Despite that decrease, Danielle Xiaodan Morales, an assistant professor of sociology and a demographer at UTEP, questions whether that's the big problem.
"I think what is happening here is more driven by migration – people moving out of this region to other counties in Texas," Morales said. "Austin and Houston, of course a lot of young people have been moving there.
"The population there is younger, and they will have more children. There are more job opportunities."
But, she said, El Paso is trying.
"I heard the school district is going to have tax breaks for businesses and encourage them to send their children to the El Paso district schools," she said, referring to action by the EPISD school board last week.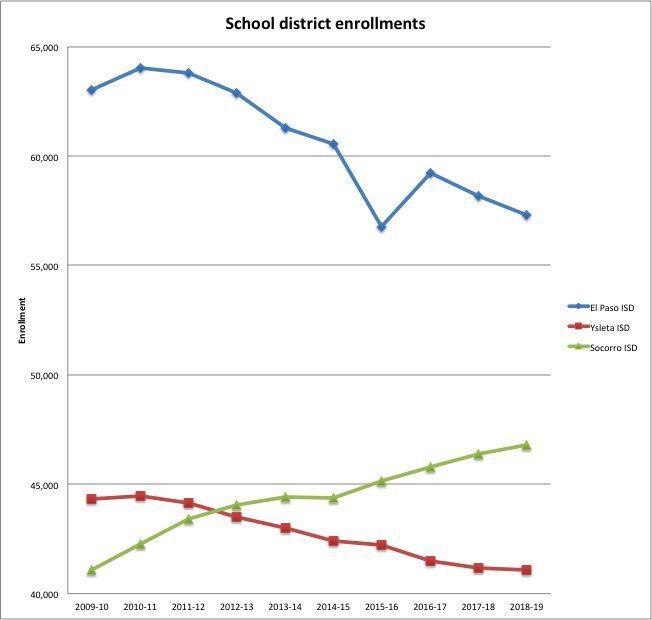 Declines in student enrollments haven't gone unnoticed by the El Paso and Ysleta school districts, which include some of the city's oldest neighborhoods.
"It's something we've been discussing for quite some time," said EPISD's chief communications officer, Melissa Martinez. "Birthrate is one of the main factors we discuss."
The EPISD school board decided Tuesday to join the city and county in offering tax incentives to companies that locate in the district in an effort to lure jobs, the families and, particularly, the children that come with them.
The number of students in EPISD peaked at 64,023 in the 2010-11 school year. Since then, it has steadily declined, hitting 57,315 in 2018-19 – a 6,708 student and 10.5% decrease.
In the same period, Ysleta ISD has seen its enrollments go from 44,311 to 41,065, a loss of 3,404 students representing 7.3%.
Meanwhile, school districts that encompass El Paso's fast-growing fringes in Far East and Northwest are growing. Socorro ISD has seen a 10.7% increase in students from 42,287 in 2010-11 to 46,814 last year. The Canutillo district has grown 5.2% to 6,246 students in the same period.
"We've got the lower birthrates, and our neighborhoods are aging out, so it's not just a double whammy, it's a quadruple whammy," Martinez said. "We've got a lot of older families in older homes they bought when they had school-age children.
"Now, their children are grown and gone, but they still have that home."
Neighborhoods of older residents don't give younger couples the option of moving in, but Socorro offers new homes that are often less expensive than those in the older established neighborhoods in EPISD, she said.
Looking forward, the district expects to lose about 1,000 students a year.
"We don't know when it will stabilize," district spokesman Gustavo Reveles said. "We still think it will be about 1,000 a year for the foreseeable future."
---
Email El Paso Inc. reporter David Crowder at dcrowder@elpasoinc.com or call (915) 534-4422, ext. 122 and (915) 630-6622.