A multimillion-dollar project that includes rebuilding and widening Interstate 10 through Downtown El Paso is one step closer to becoming a reality.
Last week, the Texas Transportation Commission added the Reimagine I-10 Segment 2 freeway widening project to TxDOT's 2022 Unified Transportation Program, a 10-year plan that lays out the state agency's priorities.
"That's a big win for us. We haven't had that and it's really great," said David Jerome, president and CEO of the El Paso Chamber. "It means the state of Texas recognizes it as a project now. It will go through all the stages it needs to. It has some funding but now it'll really get funding. It's an official project now."
The Downtown project, or Segment 2, includes widening a 5.6-mile stretch of the aging interstate, from Executive to Copia.
"We can now work on the project formally now that it's in the plan," said Ted Houghton, chairman of the El Paso Mobility Coalition. "The statewide plan has now formally been endorsed by the transportation commission, and they'll look at available funds."
As that process moves along, some El Paso business and community leaders are ramping up efforts to raise funds and support for a vision to build a big park – over I-10.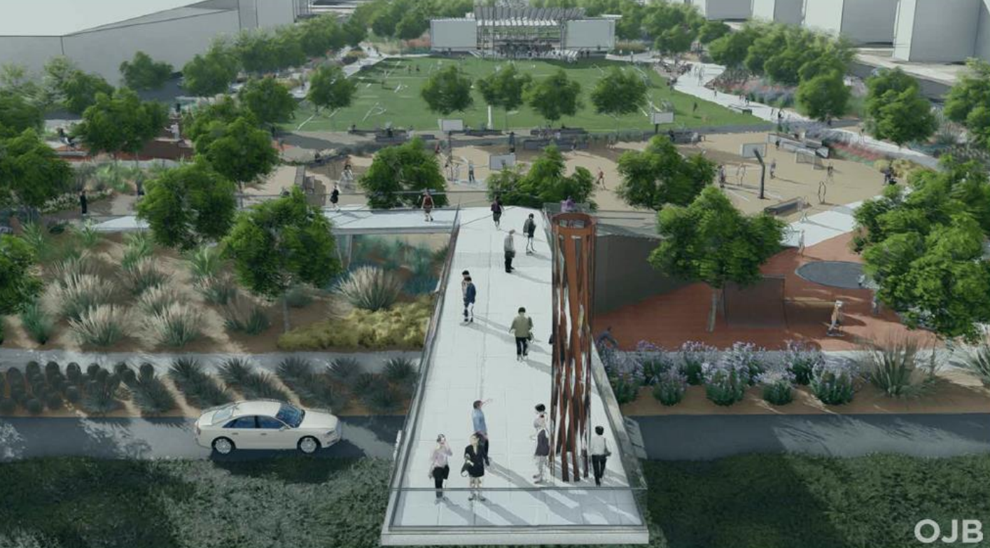 The Downtown transportation project could include a deck park, but that would be funded separately from Reimagine I-10 and has not been added to TxDOT's final plans.
The funding for both projects, the widening of the interstate and deck park, is still up in the air, but some organizations are already working on securing money for both.
To help seek funding for the deck park, the Paso del Norte Community Foundation set up the Downtown Deck Plaza Foundation.
Tracy Yellen, CEO of the Paso del Norte Community Foundation, said they are now looking for ways to fund design and engineering work, about $1.8 million, for the proposed deck park.
"This really is that once in a generation opportunity to bring this amenity to our region," Yellen said. "You have two things happening: the potential upgrades to I-10 by TxDOT between Executive and Copia, and what it means to the core of Downtown.
"If TxDOT does this work, we have this opportunity to leverage this investment in our community by adding this amenity."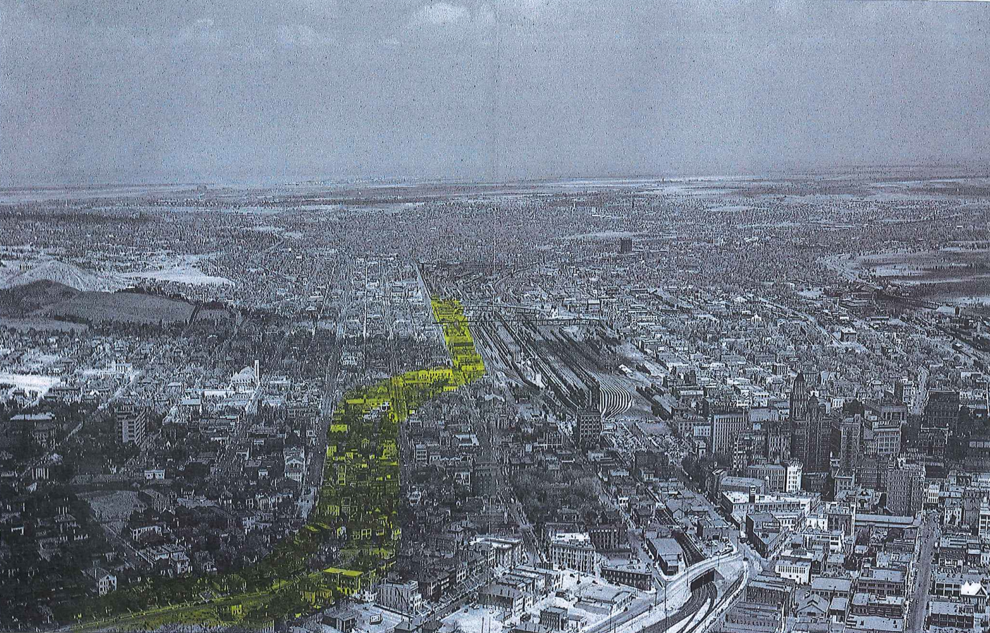 Advocates of the deck park have touted it as a way to reconnect Downtown with the surrounding neighborhoods, including Sunset Heights.
But some are worried about the proposed deck park's association with a project to widen the interstate, which would increase lanes and make more space for cars. The widening project could also require the acquisition of property by the state and demolition of buildings.
Proponents of widening I-10 have said the project is necessary to reduce bottleneck and idling times during peak traffic hours.
Sito Negron, president of the Sunset Heights Neighborhood Improvement Association, said the group has not taken a position on the proposed deck park, but is keeping an eye on the freeway widening project.
"The neighborhood association has concerns about the deck park because of its association with the highway widening frontage road proposal that would produce more air pollution, noise and vibration, heat island effect and truck traffic for thousands of people from the Bridge of the Americas through the Lincoln Park area and into Downtown," Negron said.
TxDOT has proposed a few designs for Segment 2 of Reimagine I-10 and final approval is not slated for earlier than 2024, according to a project overview brochure from TxDOT.
It's estimated to cost more than $700 million.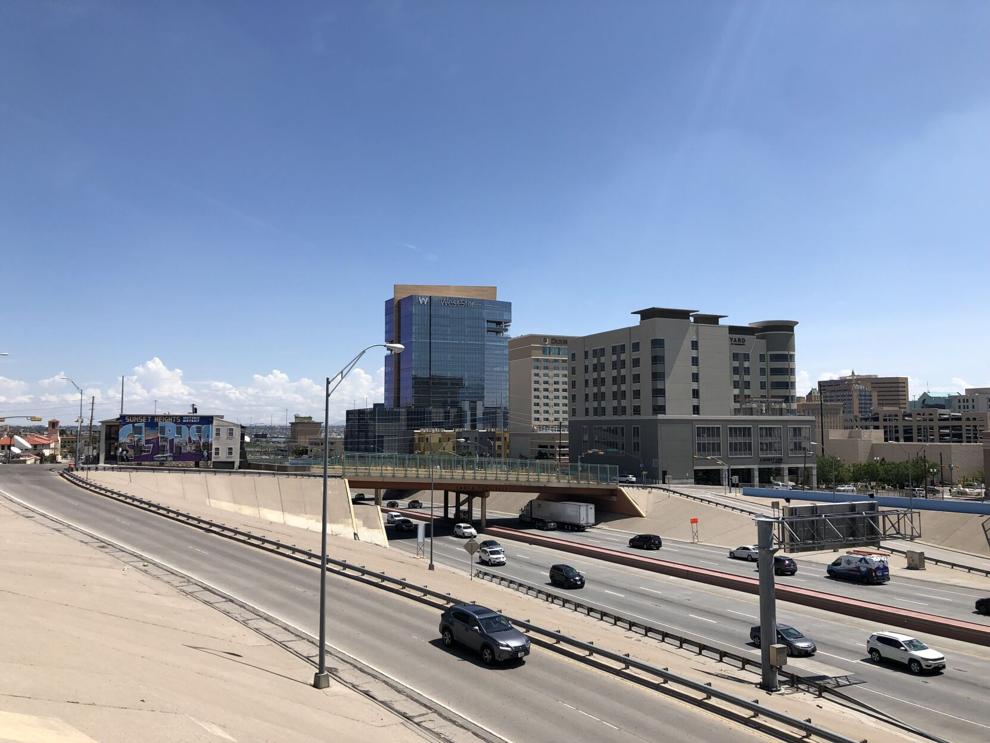 The project could include the demolition of the bridges that go over I-10 in Downtown, but it's undetermined how streets would be rebuilt if a deck park is built. Other proposed designs include frontage roads.
Also not finalized is what property could be acquired to make room for new lanes as I-10 is widened.
Since the deck park is not attached funding-wise to TxDOT's Reimagine I-10 project, supporters will need to find funding from other sources. Houghton said that could include a mix of private, federal and state dollars. He said it could also include funding from the federal infrastructure bill being debated by Congress.
The closest example of a deck park is Margaret T. Hance Park in Phoenix, first opened in 1992, which goes over a tunneled portion of I-10 called the Papago Freeway Tunnel.
In the '70s, voters in Phoenix had struck down a measure to build a raised highway through the city's downtown before the tunnel plan was finally approved.
"It held up completion of I-10 for 20-plus years," Houghton said "They dug in and said, 'No, we're not doing this.' Phoenix had Sen. (Barry) Goldwater. When you have political firepower then you can hold off the federal government."
While construction of I-10 in El Paso began in the late '50s, the Downtown portion of I-10 in El Paso first opened to motorists in 1969.
"We didn't have that firepower and leadership to say no we don't want it, and it was built," Houghton said. "It's a barrier to Sunset Heights, and ultimately to UTEP. That connectivity got broken."
There's only one other freeway deck park in Texas: The Klyde Warren Park, which goes over the Woodall Rodgers Freeway in Downtown Dallas.
The Southern Gateway, a $35 million, 5.2-acre deck park spanning Interstate 35, is now being built on Dallas' south side.
Yellen said OJB Landscape Architecture, a firm that worked on the Klyde Warren Park in Dallas, has worked with the community foundation on the vision for a possible deck park in El Paso. She said they don't have an estimate yet of how much it would cost.
"There's still so much work to do," Yellen said. "We need the right footprint and size. We need to have a community engagement process so the community can give feedback on amenities, on everything."
---