Commercial and multifamily properties that were hit with big property valuation increases from the El Paso Central Appraisal District earlier this year have come down sharply in the appeal process.
And there's more good news for El Paso taxpayers. Mindful of COVID 19's impact on jobs and people's ability to pay their expenses, City Council members and the city's administration intend to stand by their promise not to raise property taxes this year.
At budget hearings Tuesday, El Paso City Council got its first look at the CAD certified property valuations it will need to set a new tax rate for the coming year.
In May, El Paso Inc. reported that the Central Appraisal District's initial valuations on apartments and other multifamily properties were up 38% over 2019 and that commercial properties jumped 20.3%.
But in the process of owner appeals to CAD's staff and the Appraisal Review Board, commercial properties valued at $9.1 billion on Jan. 1 came down to $8 billion – a smaller 5.2% increase over last year's $7.6 billion.
Apartments and multifamily property values that were pushed from last year's $2.1 billion to $2.9 billion by the CAD on Jan. 1 came down in the appeal process to $2.4 billion as of July 25 – still a 13% increase over last year.
CAD's deputy chief appraiser, David Stone, attributed the drop in multifamily and commercial property values to the Appraisal Review Board, which heard owner appeals but was not to consider the impact of COVID-19 on landlords and their tenants.
"It's the same thing that always happens," Stone said.
Single-family home values, a big part of the city's tax base at $20.7 billion, were up 2.1% initially but wound up with less than half a percent increase after appeals.
The value of the average home in El Paso rose only about $1,000 this year to $135,000.
Overall, the value of El Paso's property tax base rose 4% this year, from $35.7 billion to 37.2 billion and is expected to generate $4.8 million more in taxes than last year.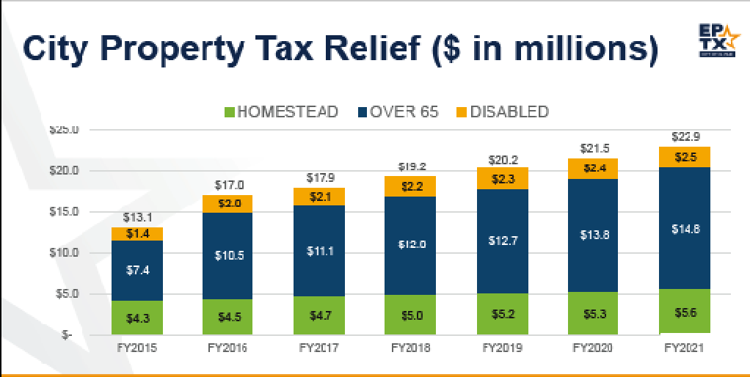 While council members intend to hold the line on taxes, that's not to say the tax revenues won't go up.
They will, but mostly because of new homes and businesses that were not taxed last year.
The city expects to keep the tax rate at 90.7 cents per $100 valuation and that it will generate $441 million in property taxes in support of the general fund budget.
City Council will conduct a remote public hearing on the budget on Aug. 11 and plans to approve it Aug. 18. The hearing will be aired on the city's website at ElPasoTexas.gov.
The city's heading into the new fiscal year with an anticipated revenue shortfall of $60 million, and the budget picture is not pretty.
"COVID-19 has obviously impacted the health, finances and economy, and our budget has addressed all these areas." City Manager Tommy Gonzalez told City Council members at a budget session Tuesday.
For that reason, he said, the city is cutting back to its basic responsibilities in the fiscal year beginning Sept. 1.
"The budget focuses on the basic core services – police, fire, streets and for the workforce, reinstating pay raises, no health – care increases and no additional furloughs or layoffs," he said.
Gonzalez is proposing an overall city budget of $977.3 million, which is $69,529 less than last year's budget – an unusual direction for any government.
More than 82,000 people have applied for unemployment in West Texas, and the extra $600 federal unemployment payments was set to expire Friday at midnight as the Senate adjourned for the weekend and this paper went to press.
One question that has not been discussed publicly is whether, given the economic calamity, a significant number of El Paso property owners will be unable to pay their taxes because they've been put out of work or have seen their businesses close because of the pandemic.
Asked about that possibility, the city's chief financial officer, Roberto Cortinas, said he fully expects people will pay their property taxes because the consequences of not paying them are dire.
But Bexar County Tax-Assessor Collector Albert Uresti told the San Antonio Express-News last week that he expects a shortfall in tax income precisely because "it's going to be much more difficult for people to pay their property taxes."
"I know the county managers are trying to make cuts in anticipation of a budget shortfall," Uresti said, adding that he's expecting revenues to be about 2% short of the Bexar County's $496 million in tax assessments.
He also said it could be worse next year.
---