It's been a long hot summer, one that will be seared into the record books. And while El Paso Water managed to meet demand on even the hottest days, the city's water utility is concerned about next year.
El Paso Water got by because there was plenty of water from the Rio Grande for El Paso County farmers and the city, but the prospects for next year aren't promising.
"I'm thinking it's not going to be a very good next year," said John Balliew, El Paso Water's president and CEO.
On his recommendation this past Wednesday, the Public Service Board, which oversees El Past Water, approved an emergency drought resolution. It allows the utility to move quickly on the installation of six new wells at a cost of about $9 million.
"When it comes to water production, my main concern has been a peak summer day with no water coming out of the Rio Grande," Balliew said. "That would be extremely, extremely difficult.
"This year, we did have water out of the Rio Grande. Not a lot, but we had water during the peak summertime that allowed us to get through – but we haven't completed our preparations.
"I've been saying for seven years now that we need to be prepared to be able to meet our peak demand if there's no water in the Rio Grande, and we get closer and closer to that every year."
Water demand in July reached 170 million gallons a day after years of peaking at around 160 million gallons.
The resolution approved Wednesday allows the utility to bypass some competitive bidding requirements, as allowed by state law, to speed the project along so those wells are up and running next spring.
Balliew's concern about next year arises from the fact that two irrigation districts, the city of El Paso and Mexico, have all but emptied Elephant Butte Lake, where water for farms and people in three states and two counties is stored 125 miles north of El Paso.
"Last year at this time, we had 447,878 acre feet of water stored, or 27% of the Butte's capacity," said Bert Cortez, the El Paso Division manager for the U.S. Bureau of Reclamation, the federal agency that oversees the conservation and distribution of Rio Grande water.
After this year's irrigation season, Elephant Butte is down to about 93,000 acre feet of water or 5% of the lake's capacity, Cortez said Thursday. The Butte hasn't been full since 1996.
An acre-foot of water equals 326,000 gallons – enough to cover a football field with one foot of water.
In a good year, a winter of heavy snowfall in Northern New Mexico and Southern Colorado can send enough water down the Rio Grande to meet the needs of farmers and communities in New Mexico, Mexico and El Paso County and leave excess water behind the dam.
But good years are rare these days, and this year, a La Niña pattern is developing in the equatorial waters of the Pacific Ocean, Cortez said. From thousands of miles away, a La Niña pattern can adversely affect snowfall this winter in New Mexico and Colorado.
"The significance of that is in a La Niña year, we get less snowfall in our basin – statistically speaking," Cortez said. "We're down to 5% of a full reservoir, and what they're saying will be coming in the next year is not very good."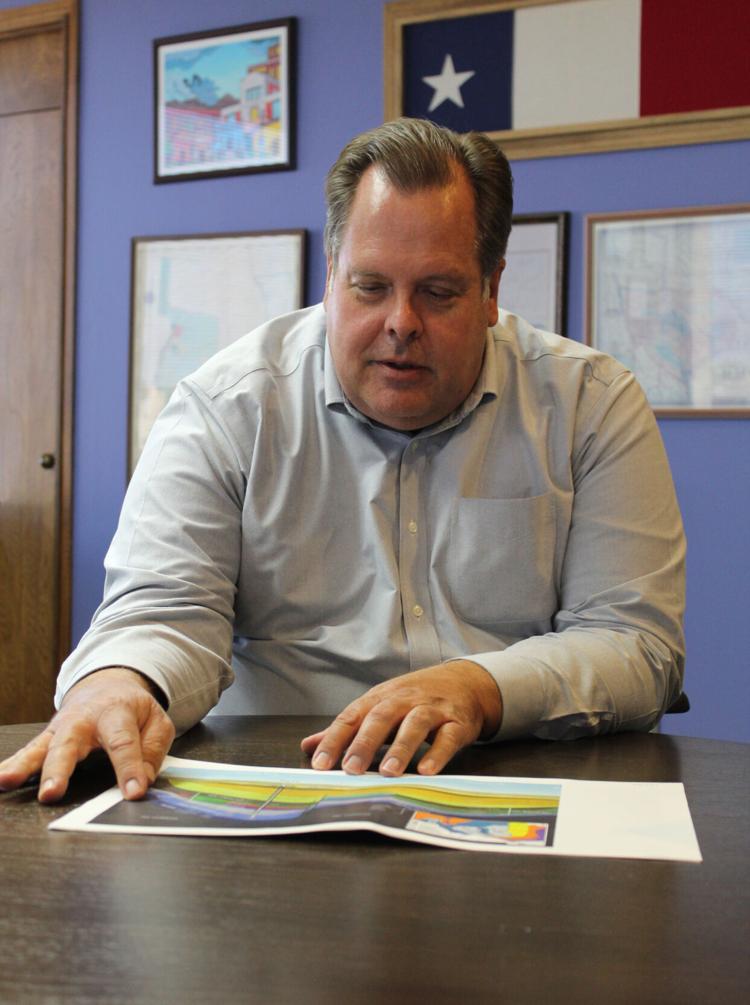 Balliew hopes that 7.5 million daily gallons of additional water that the new wells should produce will, for a while, meet the growing needs of the utility's customers with their 240,000 water connections in El Paso and other communities the utility serves.
"Hopefully, they will be ready by May 2021," Balliew said. "It's just kind of our insurance policy."
Now, with two water treatment plants and the Kay Bailey Hutchison Desalination Plant, El Paso Water can produce between 160,000 and 170,000 gallons of drinkable water a day.
This summer, when peak demand hit 170,000 gallons a day, the city had up to 100 million gallons a day of river water along with groundwater available to fill the gap.
"But that's in a normal year, and we haven't really had a normal year since before 2003," Balliew said.
---