Looking for some cool and hot soups for fall? The El Paso Community College Culinary Arts Program has the recipes for you.
Initially a part of the hospitality and travel department, the program became its own discipline in 1998 and has since produced talented students with exceptional skill and service. 
"Students come to us with a plan, interests, and ambitions; we keep them engaged and provide them the fundamentals to grow," says Chef Instructor Jesus Lugo. 
EPCC culinary students can earn associates degrees and certificates across distinct programs. The culinary program has a modern and professional kitchen where students hone their skills and create unique dishes and pastries from scratch. 
In addition to serving food, the program also serves the community.
"We are a dedicated supporter of the community and supply food-insecure students a weekly meal," Lugo says. "We make and deliver between 40 to 60 meals a week. Each is for a family of four."
Chef Lugo, a certified executive pastry chef with an international designation, says food is all-encompassing and gives students countless avenues to pursue.
"Some teach at high schools, oversee daily food preparation at big hotels and restaurants, or own food trucks," Lugo says. "One of our students, Ana Dominguez, was featured on the Netflix show 'Sugar Rush.' So, whether they pursue food writing, food blogging, or are back of the house in the kitchen, we know they can be successful."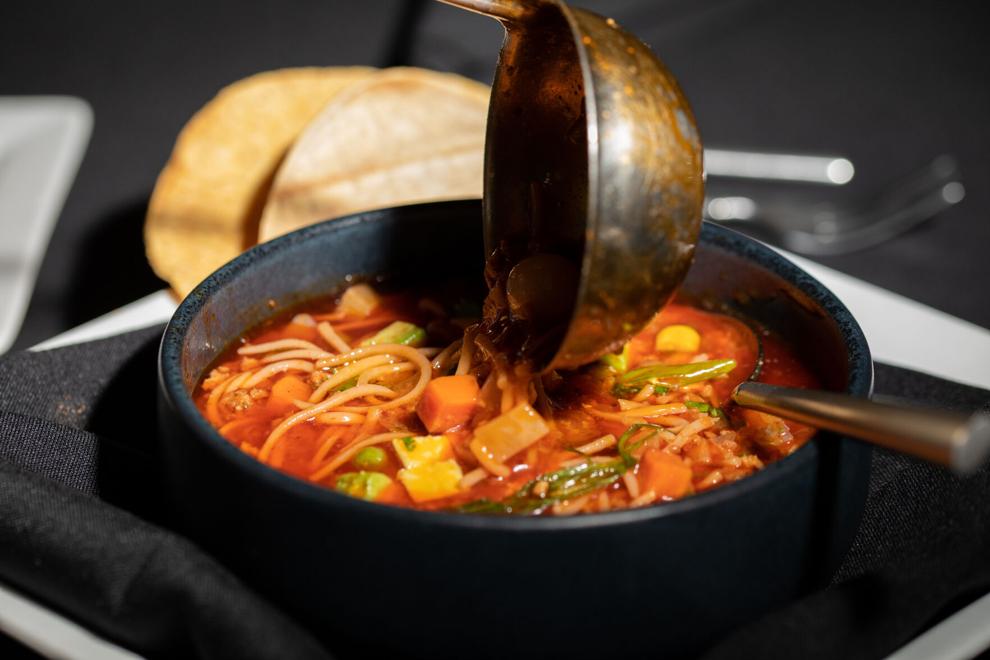 EPCC Chef Lugo's 3 Must-Try Fall Soups
CHORIZO FIDEO SOUP ESTILO JALISCO
2 oz. Mexican pork Chorizo
4 oz. Carrots, small diced
6 oz. Fire roasted diced tomatoes
4 oz. Medium onion, chopped
1 tsp. Minced garlic (about 1 large clove)
8 cups Chicken or vegetable broth, divided
4 oz. Russet potato, small diced
2 tbsp. Olive oil, divided
Add canned tomatoes, onions, garlic, cumin and 1 cup broth in a large blender. Blend until completely smooth. 
Heat a medium saucepan over medium high heat. Add 1 tablespoon of olive oil and add blended tomato sauce. Cook for 5 minutes, stirring occasionally. Remove from heat.
Heat a large pot over medium high heat. Add the remaining tablespoon of olive oil,  then add fideo pasta noodles. Stir fry for 3 to 4 minutes, until pasta has browned. 
In the same pot, add remaining oil and chorizo, cook until brown.
Add the warm blended tomato sauce, potato carrots, toasted fideo, and the remaining 7 cups of broth and salt. Stir together to combine, cover and cook for 20 minutes, until the noodles are cooked through.
Add Peas and warm through.
Taste and season with more salt if necessary.
Lime Crema - 1 cup Mexican crema and 1 tbsp. lime juice, Mix until smooth
---
COLD MANGO & CRAB SOUP with TEQUILA PERFUME
2 lbs. 12 oz. Mangos, whole
1 oz. or 2 tbsp. Tequila, Anejo
½ lb. Fresh Dungeness crabmeat 
¼ c. Fresh cilantro leaves, finely chopped
¼ c. Fresh Thai basil leaves, finely chopped
Peel, seed and dice mangos, reserve in the refrigerator at 41*F (4.4*C) or lower.
Place the mangos, sugar, chicken stock, cinnamon, cloves, ginger, and lemon juice into a heavy saucepan.
Cook over medium heat; skim any foam from the top.
Remove from heat, transfer to a blender and purée. Strain soup through a fine sieve into a large bowl, then return soup to pot and discard residue.
Cool the remaining sauce.
Using an 8-inch rimmed soup bowl, place 8 ounces of the soup into the bowl.
Pick through crabmeat by hand to remove all pieces of shell.
Combine crabmeat, chopped cilantro, Thai basil, remaining 1 tbsp of Tequila and lime juice, then toss lightly.
Divide crabmeat between soup dishes, piling high into the center, pour soup around it.
Top it with whipped cream.
---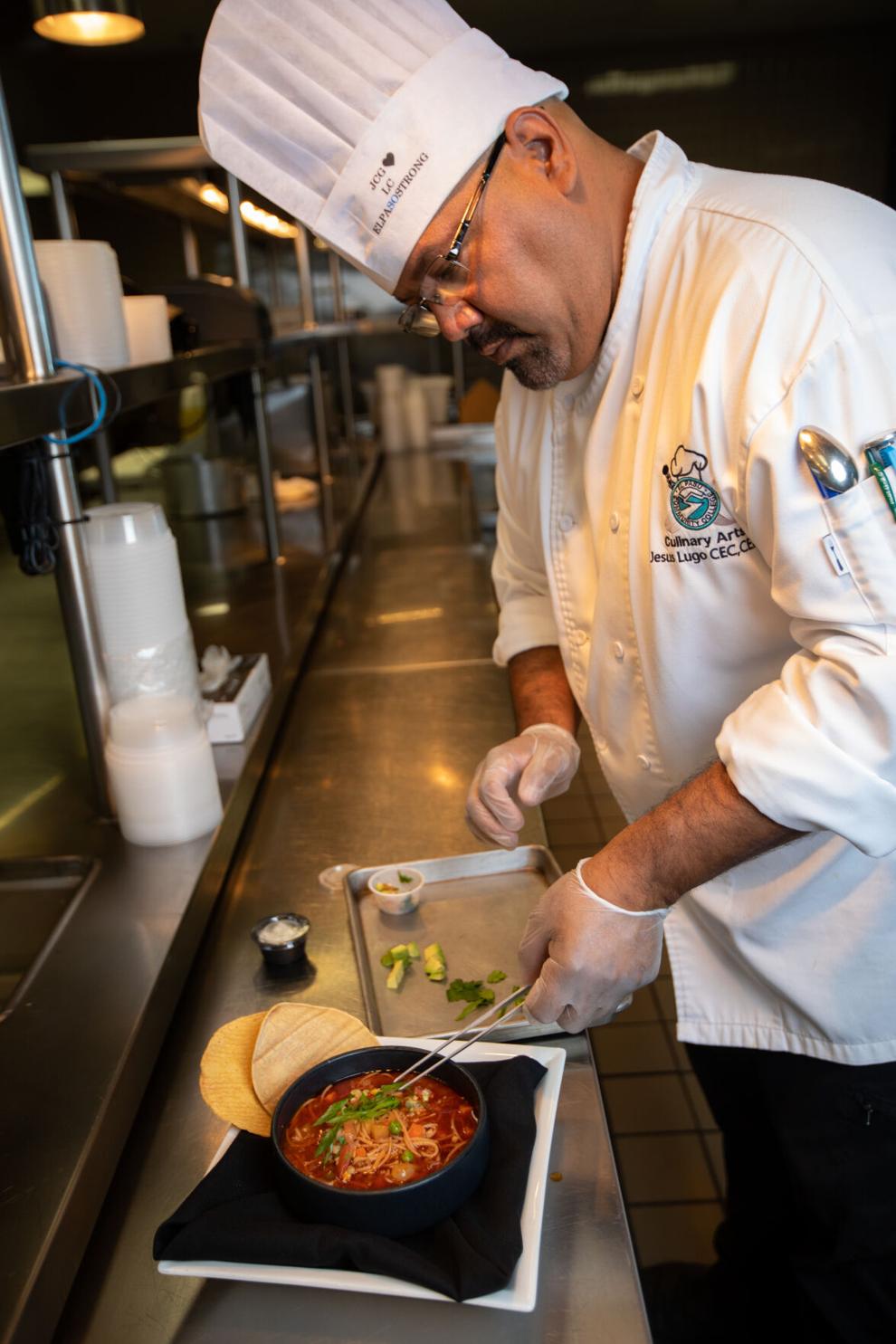 CLASSIC GARLIC POTATO SOUP 
8 oz. Cloves garlic, thinly sliced
6 oz. Russet Potato, small dice
10 oz. Celery, small dice
To taste: Fresh lime juice, salt to taste 
Heat olive oil in a large skillet over medium heat. Add the garlic, celery and potatoes and cook until translucent, about 2 minutes. 
Pour chicken broth over the mixture, add bay leaf; bring to a boil over high heat, then reduce heat to medium-low and simmer for 20 minutes. 
Season with chopped fresh oregano and lime to taste.
Optional: To serve, place 2 or 3 toasted bolillo slices in each bowl, then ladle in the soup.