One of the most anticipated highlights on El Paso's arts calendar has arrived: Tom Lea Month, four weeks of events celebrating the city's greatest artist.
His paintings captured the beauty of the borderland's landscapes and its people, but his work as a best-selling author also took the region's culture to readers around the world.
Through exhibits, tours, presentations and hands-on activities, Tom Lea Month has delighted locals and visitors since its inauguration in 2007 – 100 years after his birth in El Paso and six years after his death in the city he loved.
At the heart of this year's events is an in-depth look at a single painting, the largest mural Lea ever painted: "Pass of the North," a 52-foot-long mural on the R.E. Thomason Federal Building and Courthouse in Downtown.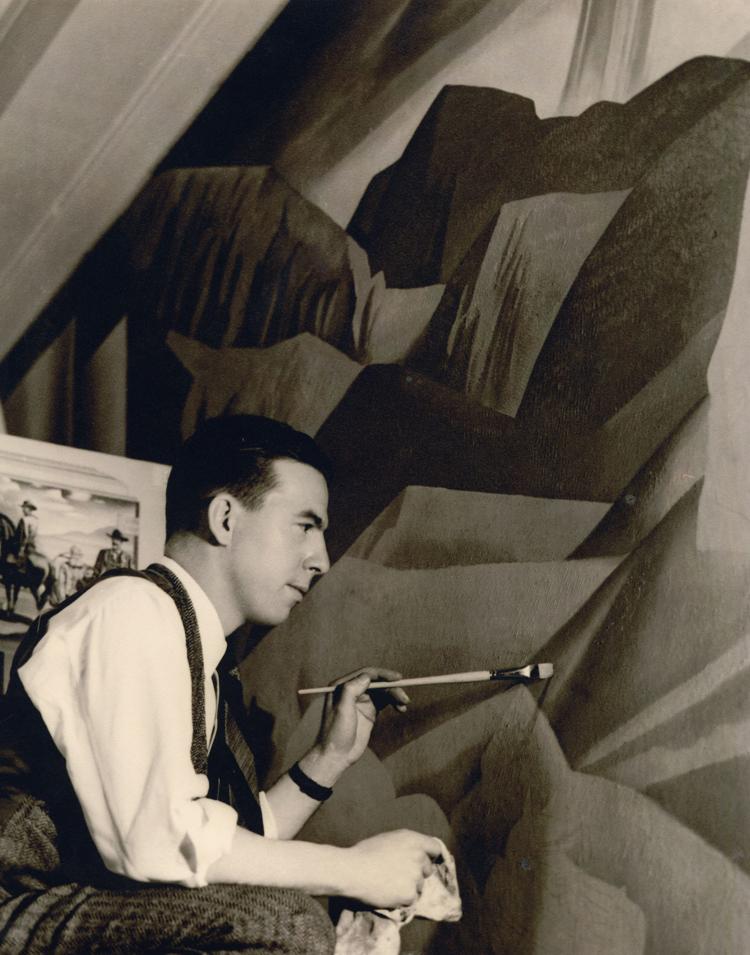 "In this one work of art, Tom Lea unifies the entire region," said Adair Margo, a good friend of the artist and founder of the Tom Lea Institute and Tom Lea Month. "Tom Lea was enlivening our history in this work, and we're part of that history, too."
In 1937, Lea's proposed design won a rigorous competition for the commissioned mural under the Works Progress Administration, which sought to employ millions of people to build infrastructure to combat the Great Depression. Lea was one of about 50 applicants nationwide, including noted New Mexico artist Peter Hurd.
Even though Lea painted the mural in just three months in 1938, he spent months researching period costumes, selecting his 13 models and then sketching and painting countless preliminary life studies, said Sarah Prezioso, program director and collection manager at the Tom Lea Institute.
Even the clothes carry stories, Prezioso said: the black Stetson on the Texas Ranger belonged to his father; the pioneer woman is wearing his grandmother's dress; and Lea drove to Hollywood to bring back the conquistador's boots, helmet and breastplate from a movie set wardrobe.
Prezioso calls the mural a historical document with 500 years presented in just 52 feet.
"Each character," Prezioso said, "is still visible in our community today."
She points to the cavalryman on horseback, which is still represented at Fort Bliss. Because of it, the El Paso Museum of History is hosting a lecture on the history of the cavalry on the base.
The charro, or Mexican cowboy, is a strong part of the region's cattle industry and riding culture, so events are scheduled at the El Paso Sheriff's Posse headquarters in Sunland Park and the New Mexico Farm and Ranch Heritage Museum in Las Cruces.
The Catholic church is represented by the Franciscan friar in the painting and the area's historic missions. So the program includes walking tours of the San Elizario Mission and activities celebrating the 350th anniversary of the Misión de Nuestra Señora de Guadalupe in Juárez.
The mural includes the inscription, "O, Pass of the North, now the old giants are gone, we little men live where heroes once walked the inviolate Earth."
"I hold two hopes for this work just completed," Lea is quoted as saying in a June 24, 1938, article in the El Paso Herald Post. "One, that it may bring to life in a few minds that vivid history of the Pass of the North. And the other, that the point of view I have taken as a creative artist may help to demonstrate that the function of a mural painting in a community is to deepen and to enrich a people's perception of its own tradition and the character of its own land."