We've seen him on cereal boxes all our lives and probably invited him to our breakfast table more often than we did our family.
Now Tony the Tiger – the athletic, fit and loveable Kellogg's Frosted Flakes mascot – is inviting us to celebrate New Year's Eve with him at the Sun Bowl Stadium. 
The popular cereal brand is the new title sponsor of the college bowl game in El Paso, now known as the Tony the Tiger Sun Bowl.
Tony won his first popularity contest in 1952, when his character was placed on packages for a cereal then called Kellogg's Sugar Frosted Flakes of Corn. At the time, he was drawn to walk on four legs and had a football-shaped head.
He was later redesigned to stand, walk, and run on two legs and his physique became leaner, and was made to be more active and in line with his "Mission Tiger" initiative. The initiative raises awareness and funds for at-risk middle school sports programs through a partnership with the nonprofit organization, doorschoose.org, which Tony has brought to El Paso as part of the sponsorship agreement.
El Paso Inc. played rapid fire with the cool cat ahead of the Dec. 31 bowl game. 
Here's what he had to say about his life (or nine?):
Q: What does it mean to "play like a tiger"?
It means you try hard, you know the value of teamwork, and most of all, have FUN!
Q: Your own physique changed over the years. How did you get fit and healthy?
Daily exercise and a balanced breakfast are two great ways I stay active and healthy! I love playing all sports like football, baseball, soccer and basketball. 
Q: Favorite Frosted Flakes cereal topping?
For me, it's not about the toppings. My favorite parts are the delicious flavors! Whether you love cinnamon, chocolate or honey nut, a bowl of Frosted Flakes always makes a G-R-REAT breakfast to fuel an active day! 
Q: Favorite "cat" pal?
Wildcats, bobcats, lions – (and tigers). There are so many sports teams named after cats that I just can't decide!  
Q: Favorite Kellogg's friend: Snap, Crackle or Pop?
Oh I'd never pick just one, we are all a part of the team! 
Q: How tall are you? 
Depends if you count my ears.
Q: How many times a day do you figure you say "gr-r-reat!"?
More times than I can count! 
Q: Are you ever just gr-r-rumpy?
I'm only g-r-rumpy when I see kids not getting a chance to play sports.
Q: Háblas español? (Do you speak Spanish)? (Zucaritas son grrriquisimas?)
¡Si! ¡Únete a mi misión y ayuda a salvar los deportes en las escuelas!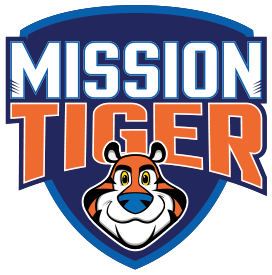 SAVING MIDDLE SCHOOL SPORTS
Middle school students across El Paso have half a million reasons to get out and play.
Kellogg's Frosted Flakes' Mission Tiger and the Dick's Sporting Goods Foundation on Dec. 12 gave a Sports Matter grant to every public middle school athletic department in El Paso — a total donation of $500,000 — to help give more middle school kids access to sports.
Mission Tiger launched in August, shortly after Kellogg's signed on as the official sponsor of El Paso's college bowl game. The Tony the Tiger Sun Bowl will have its inaugural game under its new name on Tuesday, Dec. 31.
Sun Bowl alumnus and football Hall of Famer LaDainian Tomlinson joined Tony and other dignitaries to deliver sporting equipment to aspiring young athletes at Wiggs Middle School.
"I want every kid to have the chance to play sports just like I did," said Tomlinson. "Sports open countless doors and teach kids valuable lessons about teamwork and leadership that will impact the rest of their lives.