Check out these events and enjoy one of the Sun City's oldest and largest events.
Price's Give 'Em Five Sun Bowl Cheer Camp
2:30-4:30 p.m. Monday, Dec. 30
El Paso Convention Center
1 Civic Center Plaza in Downtown
22nd Annual Tony the Tiger Sun Bowl Fan Fiesta 
Presented by El Paso LIVE 
4-8 p.m. Monday, Dec. 30
El Paso Convention Center
1 Civic Center Plaza in Downtown
Free admission. Food, drinks, musical performances by local bands, university pep rallies, and a battle of the university bands.
Sun Bowl Pregame Fan Party
Presented by Visit El Paso 
8:30 -11:30 a.m. Tuesday, Dec. 31
UTEP campus, corner of Glory Road & Sun Bowl Drive
Free admission.
86th Annual Tony the Tiger Sun Bowl Game
Tuesday, Dec. 31
Gates open at 9:30 a.m.; pregame festivities at 11:30 a.m.; kick-off at noon
UTEP Sun Bowl Stadium, 2701 Sun Bowl
How much: $22 End Zone (north end behind goal line) and Touchdown Club (upper corners); $32 Sun Seats (between 5-yard lines); $47 Stadium (between 30-yard line and end zone); $57 Preferred (between 45- and 30-yard lines); $62 Premium (mid-field between 45-yard lines)
*Military discounts available
Tickets: Sun Bowl Association Office, 4150 Pinnacle Ste.100; 915-533-4416; Sun Bowl Stadium as of 9:30 a.m. game day; or ticketmaster.com.
Sun Bowl Art Exhibit
Through Jan. 5
International Museum of Art, 1211 Montana
The Sun Bowl is the Southwest's longest-running art exhibit, showcasing artistic and athletic excellence of the nation's second-oldest bowl game.
Free admission
915-543-6747
SUN BOWL TRIVIA
The Tony the Tiger Sun Bowl marks the 86th edition of the nation's second-oldest bowl game, played right here in the Sun City of El Paso. It's the first year under that name as the game is sponsored by Kellogg's Frosted Flakes cereal.
The game was not originally intended to pit college teams on the gridiron, but instead matched the high school Border Conference Champion against the best available opponent.
Today, the Sun Bowl matches the Atlantic Coast Conference versus the Pac-12 Conference.
Here's some trivia, history and fun facts about the game and longstanding borderland tradition:
When and where was the first Sun Bowl game played?
Jan. 1, 1935, El Paso High School stadium, pitting a team of El Paso high school All-Stars against the Ranger (Texas) High School Bulldogs. It was a fundraiser by the El Paso Kiwanis Club.
The Sun Bowl is the second oldest bowl game in the nation along with what others?
The Sugar Bowl and the Orange Bowl.
What's the oldest bowl game in the nation?
The Rose Bowl was first played in 1902, and has been played continually since 1916. 
Before moving to the Sun Bowl Stadium, where else was the El Paso bowl game played?
The game moved to UTEP's Kidd Field in 1937, and was held there until 1963 when the Sun Bowl Stadium was completed.
When did it become a college game?
In 1936, when New Mexico State and Hardin-Simmons were invited to play.
Who was the first title sponsor of the game?
John Hancock Financial Services in 1986, becoming the John Hancock Sun Bowl until 1995.
What other sponsors/names has the game had?
Norwest Bank Sun Bowl, 1996-98; Wells Fargo Sun Bowl, 1999-2003; Helen of Troy, Vitalis Sun Bowl, 2004-2005, and Brut Sun Bowl, 2006-2009; Hyundai Motor America, Hyundai Sun Bowl, 2010-18.
Smokey the Bandit
Legendary actor Burt Reynolds, who died Sept. 6, 2018, at 82, once played at the Sun Bowl – and later called a game here.
Reynolds was a freshman end at Florida State University when he played at the Sun Bowl against Texas Western College (now UTEP) in 1955. 
Lee Corso, the longtime ESPN College Gameday analyst, was the Florida State quarterback in that game and Reynolds was his back up.
Texas Western won, 47-20. 
Check out El Paso Inc. sports columnist Steve Kaplowitz's story on pg. 53B for more on the Corso-Reynolds Sun Bowl connection.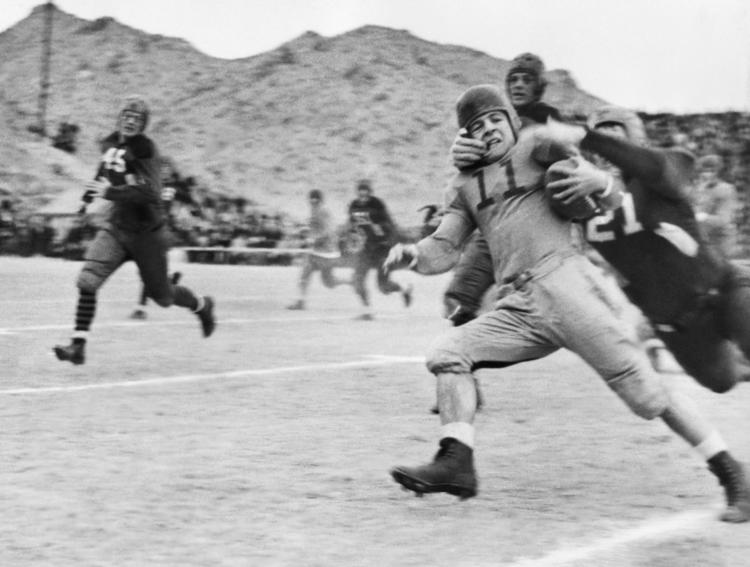 Before being famous  
Players like Tony Dorsett, Barry Sanders, Don Maynard, James Lofton, Carson Palmer, LaDainian Tomlinson, Jonathan Stewart, Thurman Thomas, Priest Holmes and DeMarco Murray battled on the Sun Bowl gridiron before becoming household NFL names. 
Coaches like Sammy Baugh, Tom Osborne, Barry Switzer, Grant Teaff, Don Nehlen, Bob Stoops, Nick Saban, and Frank Beamer have all brought their teams to play in the Sun Bowl.
Half-time performers have included Rhianna, Village People, Lonely Boys and Lee Brice. 
This year, P.O.D. will play at halftime. See pg. 11B for more.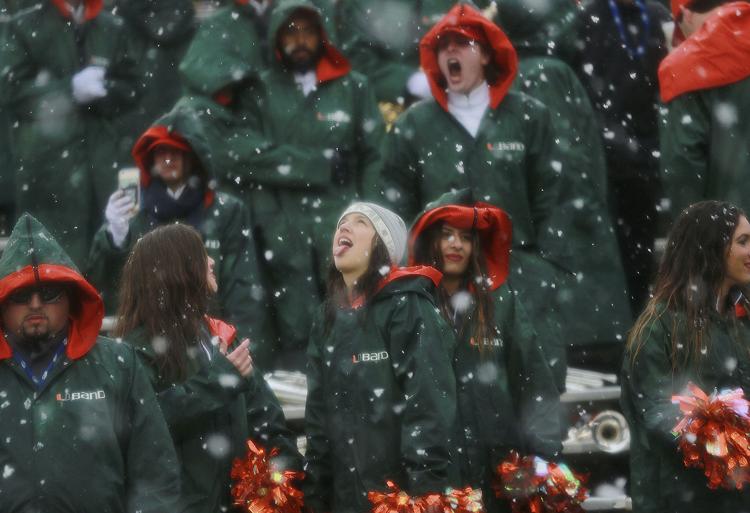 Let it snow
El Paso averages 297 sunny days a year – but we do see some signs of winter here. 
In 1982, a freak snowstorm left the field white at halftime during a Sun Bowl game and became known as the Snow Bowl. 
Snow also fell in 2010 during the sold-out game between Notre Dame and Miami, and again in 2015 when Miami played Washington State. 
When the El Paso sun created a rising wall of steam from the field in 1974, the game became known as the "Fog Bowl."
No snow is in the forecast for this year's game, but we make no promises that flurries won't fall.