A year has felt like a lifetime for hometown fans of Khalid, who last saw him perform in El Paso in September 2017.
Khalid has performed on world stages and appeared on every music and talk show imaginable since then, but his El Paso shows are what his area fans remember the most.
So it was no surprise that it took less than six hours this summer to sell out his two concerts at the Don Haskins Center on Sept. 14 and 15.
Now the concerts are just days away – and the excitement is palpable across the Sun City.
In anticipation of the 915 Hometown Show, we took a stroll down memory lane of his El Paso shows with some of his biggest fans.
---
La Parada
In November 2016, Khalid performed one of only a handful of pre-fame local shows at the longtime Downtown arts festival La Parada.
Mark Huitron counts himself as one of Khalid's earliest supporters, and saw a tweet posted by Khalid inviting people to the concert. Huitron said only a handful of folks were on hand to see the burgeoning star perform.
"In all honesty, I knew he was talented, but … I never really thought he'd blow up," Huitron said.
Now, having met Khalid and seen him perform multiple times around El Paso, he couldn't be happier to have been wrong.
---
Tricky Falls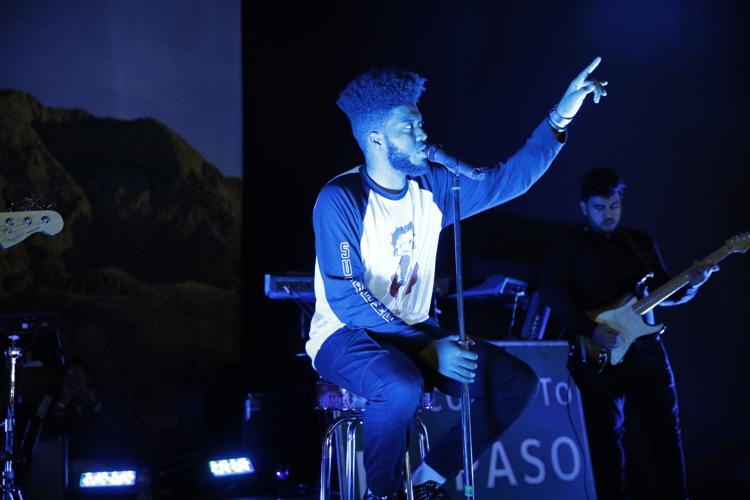 Just a few months later, fueled by the success of his first single, "Location," Khalid embarked on his first solo tour in January and February 2017.
The Location Tour stopped in for Khalid's first headlining hometown performance on Feb. 4, attracting a sell-out crowd of 1,500 people to Downtown's Tricky Falls.
"It felt surreal" seeing so many people turn up at Tricky Falls, Huitron said. "I felt like a proud dad witnessing his growth from La Parada to Tricky Falls. That's when I knew the kid was going to be a star, for sure."
---
Americas High School
In March, after the release of Khalid's debut album "American Teen," some of his biggest fans were treated to a special surprise performance on the field at the Americas High School football stadium. About 300 guests were invited by Spotify for a free concert at his alma mater for fans who had streamed his songs the most via its music app.
Anneliese Huenneke was among the lucky fans jamming for about 30-minutes with Khalid and his band as the sun set on East El Paso.
"It was an awesome concert, there were lots of giveaways like t-shirts and caps and stickers," the 16-year-old El Paso High School sophomore said. "He was really into the crowd and he was humble."
---
Neon Desert
Fellow Americas High alumnus, Lisa Amaya, 36, got her first glimpse of Khalid on a hot summer day at Neon Desert Music Festival during Memorial Day weekend in 2017.
"He drew a lot of people," Amaya said. "The crowd was pumped. It was easily over 100 degrees that day and it did not stop people from lining up to see him."
Huitron agreed – the temperature and the crowd was hot. But not as hot as the bright pink outfit Khalid wore on stage that day.
"The hot pink was dope," Huitron said. "That whole set was him, showing appreciation and realizing what he'd done to be where he was."
---
Sun City Music Festival
If Neon Desert kicked off the Summer of Khalid, the Sun City Music Festival was its end – and the last of the run of shows he put on for the 915 in 2017.
While Khalid wasn't listed as a performer during the Labor Day weekend festival, many fans anticipated he would make an appearance with Electronic Dance Music artist and festival headliner Marshmello.
The duo had recently released the song "Silence."
Following the festival, Twitter user @young_robby15 tweeted out: "@marshmellomusic @thegreatkhalid Y'all freaking killed it at SCMF!!! By far the greatest show put on that night."
---
Spotting Khalid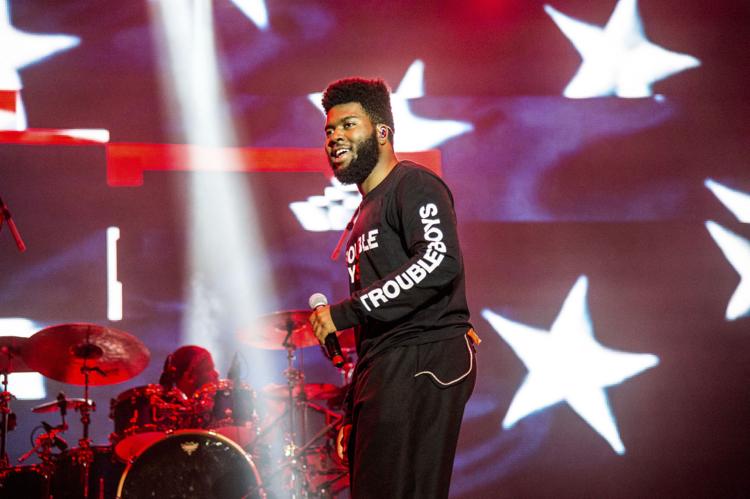 While Khalid hasn't performed in El Paso this year, he has popped up around town. He recently stopped in to help celebrate the one-year anniversary of Eastside hotspot Born TX Raised.
Huitron, a member of the street team that helped promote the anniversary party, was there and got to attend a dinner hosted by the bar's owners.
Khalid was also there.
"He shows a lot of love, a really nice guy, always smiling," Huitron said about meeting the pop star face-to-face.
Both Huenneke and Huitron were among the fans able to snag tickets for the upcoming concerts at the Don Haskins Center.
"I'm really looking forward to (the concert)," Huenneke said. "His impact on El Paso is just amazing. It's crazy to think someone with such a passion and drive got to fulfill their dreams."
"I think it just proves the point that if you really want something, hard work and determination will get you there," she said.
Huitron is again looking forward to seeing Khalid's energy and love.
"The crowd is going to be insane," Huitron said. "My friends always make fun of me for fan-girling so hard, but what he's done for El Paso and instilling pride in the city is so dope."