"Chicken wing, chicken wing…"
Whether or not you'll be singing the viral TikTok song on Super Bowl Sunday, you may be likely to join the thousands of people biting into one of the most popular game-day food of all time.
More than 1.4 billion wings are expected to be consumed on Super Bowl Sunday, according to the National Chicken Council.
This year, Super Bowl LV will be Sunday, Feb. 7 with the Kansas City Chiefs and the Tampa Bay Buccaneers facing off at Raymond James Stadium in Tampa, Florida, as millions of viewers lick their fingers at their neighborhood pub or from their favorite couch.
In the borderland, an array of local eateries and chain restaurants are offering their most unique sauces and are reminding wing lovers to order ahead to avoid long waits.
Check out our list of places to grab your wings for the game:
Track One     
1330 Robert E. Lee; 915-779-2170
@trackoneelpaso on Instagram 
Track One's wings reign among the top in El Paso Inc.'s Best of El Paso, with their double-dipped wings as the all-time favorite. The eatery also features nachos, burgers and sandwiches, etc.
The Shack Wings and Brews
1883 N. Zaragoza; 915-921-9464
@theshackzaragoza on Instagram
Also on the Best of El Paso list for its wings and appetizers, the local eatery's other picks include fried pickles, sandwiches and burgers.
El Paso Wing House
4028 N. Mesa; 915-500-5333
Choose from among 12 wing flavors such as mango habanero, BBQ and Tajin dry rub.
The El Paso Wing Factory
801 N. Piedras; 915-219-8147
@epwingfactory on Instagram
Aside from traditional sauces, the Wing Factory offers original flavors like peanut butter & jelly, raspberry habanero and whiskey maple BBQ.
Undisputed Craft House
1881 Saul Kleinfeld; 915-300-0000
@undisputedcrafthouse
on Instagram
The craft house features unique wing flavors in birria, Tajin, green chili, cherry jalapeno and blueberry, and also offers pizza pies, sandwiches, burgers and nachos. Plus, more than 100 different kinds of beers in stock. 
World of Wings   
4800 Dyer; 915-300-0093
@worldofwingsep on Instagram
Nashville hot, midnight vibes and hot 'n lemon pepper are among the more popular and unique flavors; with catfish and shrimp also on the menu.
The District Pub & Kitchen
601 N. Piedras, 915-564-0707
@thedistrict915 on Instagram
1160 Airway Blvd. Ste. DA 3-4,
915-301-0338
@thedistrict_2 on Instagram
Voted among the Best of El Paso for appetizers and best all around bar, The District is famous for its rolled tacos ahogados, but its wings are also rated tops by customers.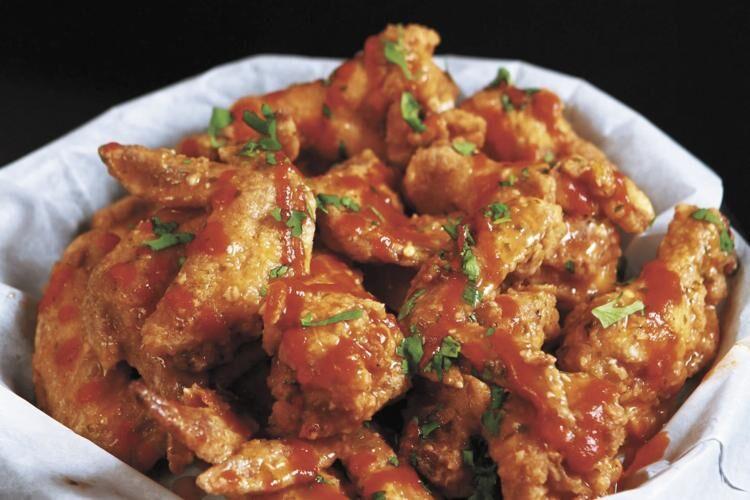 Wing Daddy's Sauce House
7500 N. Mesa; 1201 Airway, others
@wingdaddys on Instagram
Honored with first place for Best Wings in the 2020 Best of El Paso, the eatery offers 21 wing sauce flavors; sandwiches, burgers, ribs, tacos, nachos are also on the menu.
Wingstop
6351 S. Desert Blvd. No. 403, others
@wingstop on Instagram
Honored with third place for Best Wings in the Best of El Paso; sides such as seasoned fries and bourbon baked beans are available.
Buffalo Wild Wings
10497 Gateway Blvd. West
Fort Bliss Freedom Crossing
655 Sunland
@bwwings on Instagram
Aside from being among the Best of El Paso for wings, the eatery offers burgers, salads and nachos
Bravo Wings & Pinsas
1781 N. Zaragoza; 915-304-0315
bravowp.co/ways-to-order
@bravo.ep on Facebook
Bravo Wings offers wing flavors like apricot chipotle, sesame sriracha; plus, check out their pinsas – similar to a pizza with a lighter, airier dough made with various flours.