Going on the market this week: the almost six-acre estate on North Loop owned by Jay J. Armes, El Paso's most famous private investigator. Asking price: $3 million.
Armes, 88, and his wife Linda will continue to live in El Paso, but no longer need a 12,000-square-foot home with a large swimming pool and tennis courts.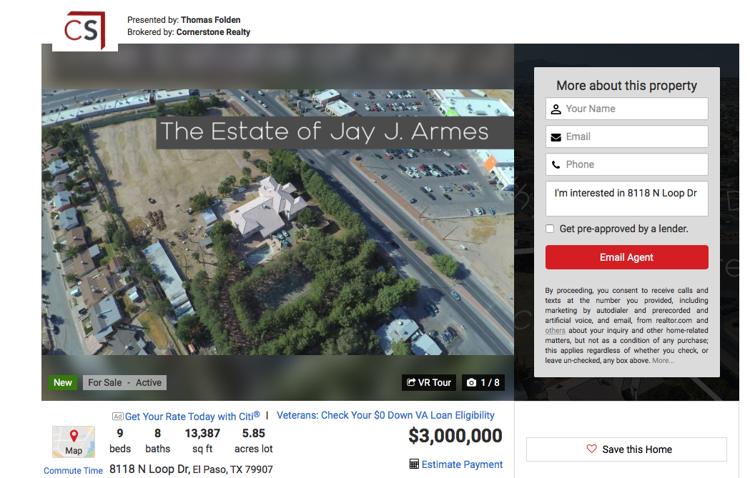 Their extensive personal property, including furnishings and such collected over three decades, will most likely be sold later this year. But the lions, tigers and helicopter that Armes once kept on the property are gone.
The property is zoned residential in a growing commercial corridor. It's co-listed by Realtors Eric Smith and Thomas Folden with Cornerstone Realty.
Dr. Ogechika Alozie, an infectious disease specialist who's sometimes called "El Paso's Dr. Fauci," is featured on the cover of the September issue of Texas Medicine, the magazine of the Texas Medical Association. 
Alozie is the chief medical officer at Del Sol Medical Center and serves on the state association's COVID-19 task force. He's quoted in an article about the impact of the virus on people of color.
As part of its work, the task force created a COVID-19 risk scale for common activities like grocery shopping. 
What's the most risky? Going to bars, Alozie said in an interview with NPR.
Former El Paso Times reporter Gary Scharrer has written a book titled "Connecting Texas," in association with the Associated General Contractors of Texas, all about building the state's highways.
It tells the back story of Transmountain Road, how J.D. Abrams got its start building the Chamizal, and why the Spur 601 project was critical for El Paso's future.
Former NFL quarterback Babe Laufenberg was in El Paso last weekend for the Miners' opening game against Stephen F. Austin. 
After the game, Babe tweeted: "Really think @UTEPFB is building something." UTEP was down early but came back to win, 24-14.
Babe, who played for Dallas, is now a color analyst for the Cowboys' radio broadcasts. His son, tight end Luke Laufenberg, was part of UTEP's 2019 recruiting class. He died last August after a recurrence of leukemia.
Two Miners are wearing Luke's No. 2 this year: running back Quardraiz Wadley and defensive back Tyson Wilson.
---