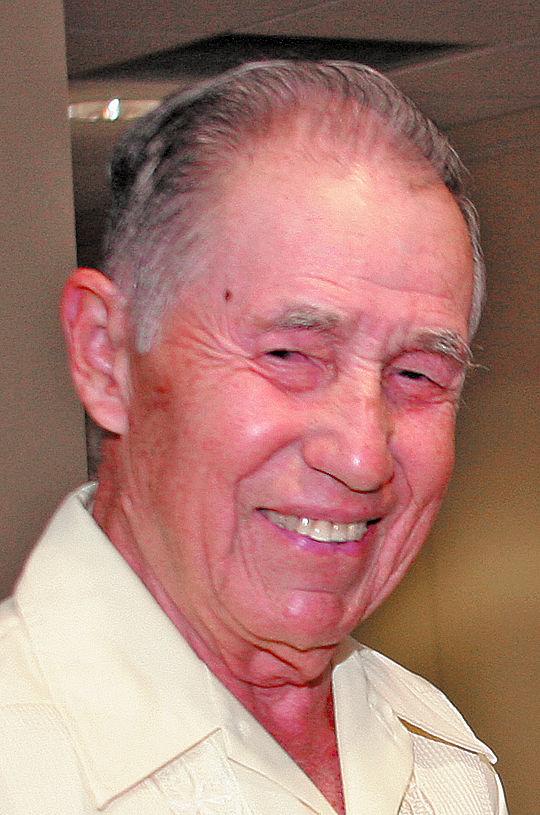 Okay, Bowie High School, don't get too excited, but I had a call last week from a Hollywood producer/director who says he's very excited about making a movie of the 1949 Bears who won the Texas State Baseball Championship.
This is no fly-by-night filmmaker, either. He's Eddie Barbini, who has won several Emmy Award nominations and is highly respected in the business.
He says he wants to come to El Paso for an interview and asked for my help in rounding up any surviving members of the team so he could interview them, too.
Unfortunately, there are only two living players of the 1949 Bowie team, Alfonso Lopez and Ruben Rodriguez, plus another who dropped out just before the season started, Bobby Nunez.
Still, I urged Barbini to come to El Paso anyway and even offered to help with the screenplay. He would be an instant hit.
THE BOWIE PLAYERS were Tony Lara at first base, Andy Morales at second base, Rocky Galarza at third base, Gus Sambrano at shortstop, Jose Corona in left field, Fernie Gomez in centerfield, Ernesto Guzman in right field and Ramon Camarillo at catcher. Carlos Macias was a vital utility player. The pitching corps consisted of Ruben Porras, Trini Guillen, Javier Holguin, Alfonso Lopez and Ruben Rodriguez.
The coach was the late Nemo Herrera, who had won two State Basketball Championships at Lanier High School in San Antonio, but luckily came to El Paso and coached both basketball and baseball at Bowie High.
I'M SURE YOU know all about the 1949 Bowie team, but to refresh your memory here's part of one of many articles I've written about the team during my career:
"The 1949 Bowie High School Bears' baseball team will live in the hearts of El Pasoans forever. Their winning the state championship wasn't just a victory over other teams but a victory over seemingly impossible odds.
"… When the Texas Interscholastic League announced it was going to start baseball playoffs, schools from throughout Texas scrambled to form teams. Most of those schools were in big cities with affluent districts. And here was Bowie High School, one of the smallest (and poorest) schools not only in El Paso, but throughout Texas.
"BUT BOWIE HIGH School had some things the other schools didn't have – one of the best high school coaches in the history of Texas and a group of young men whose heart, determination and talent could move mountains.
"They won the district championship then scratched their way to the finals, where they played their opponent in one of the most exciting, hair-raising and closest games ever played in a State tournament – and won."
Yes, a movie of the 1949 Bowie High School Bears is long overdue.
TRIVIA QUESTION: How many men who coached at Canutillo High School are in the El Paso Athletic Hall of Fame? Answer at end of column.
SPEAKING OF BASEBALL, the El Paso Chihuahuas announced they will celebrate the fifth anniversary of the release of the cult baseball movie "The Sandlot" on Saturday, June 2, when they take on the Sacramento River Cats, the San Francisco Giants affiliate. Gates open at 6 p.m. and first pitch is slated for 7:05 p.m. at Southwest University Park.
"The Sandlot" is a story about a group of neighborhood kids who come together to play baseball on a sandlot. Released in 1993, the movie became a cult classic.
MORE GOOD news about UTEP athletes: Michael Saruni has established himself as one of the greatest 800-meter runners in NCAA history and has been named to his fifth Bowerman Watch List by the U.S. Track and Field and Cross Country Coaches Association.
On top of that, The National Fastpitch Coaches Association announced UTEP softball great Courtney Clayton has been selected to the 2018 NFCA Division I All-Region South second team.
TRIVIA ANSWER: Five. They're Julius Lowenberg, Carlos Lowenberg, Robert "Chicky" Castaneda, Jack Quarles and Scott Brooks.
---
Veteran sports journalist, historian and author Ray Sanchez welcomes suggestions for his column. Contact him at 915-584-0626, by email at rayf358@yahoo.com or online at raysanchezbooks.com.