El Pasoans are sometimes El Paso's toughest critics, and sometimes it takes a person from the outside to remind us just how great something is here.
Last week, that reassurance came from a four star general who retired from the Air Force and as a member of the Joint Chiefs of Staff last year. Gen. David Goldfein was in El Paso Tuesday, and in a brief interview, had a lot to say about the University of Texas at El Paso, the region and its future.
He recently joined the UTEP faculty as a professor of practice in the College of Business and was in El Paso Tuesday for orientation. He is also helping to establish the Blackstone LaunchPad program at UTEP.
Goldfein retired from the Air Force in October and is now a senior advisor for Blackstone Group Inc., the New York-based private equity giant that manages about $650 billion in assets.
The firm's charitable foundation operates LaunchPad, a national network of more than 10,000 entrepreneurship mentors that hosts events in colleges and universities across the country to promote innovation and entrepreneurship. It was launched at UTEP in February as part of a $5 million expansion of the program.
Before Goldfein retired, The Washington Post described him this way: "Goldfein, who was once shot down over Serbia and rescued, leaves a legacy that includes overseeing the service during the air war against the Islamic State, carving a new Space Force from his service and speaking out on the issue of racial inequality."
I would have loved to talk to him about all of that, but we were given a 10 minute slot, which, thankfully, turned into 20 minutes. What follows is the conversation edited for length and clarity.
---
Q: How did you, the LaunchPad program and UTEP come together?
The first of January I joined Blackstone as a senior advisor. It was probably about two months into my work with them that I was reading the daily news release that Blackstone puts out and I saw an update on this project, LaunchPad, and it specifically highlighted a couple of UTEP students that went to the national competition and won.
I reached out to the Blackstone leadership and said there was a good marriage here. I'm a senior advisor for Blackstone and I'm a professor of practice in the UT System, so why don't we see if we can do something with this. This is the second campus I have visited as an ambassador to the program.
Q: What impact do you expect the LanchPad program to have at UTEP and in the El Paso community?
I'd take it even a step further to the impact it will have nationally. One of the things I'm learning during my orientation here is how unique UTEP is as a university and in so many ways. It's a one-of-a-kind university that's changing the face of education at a national level. And President Heather Wilson has the strategy and vision to take that forward.
LaunchPad will provide opportunities for students who perhaps know very little or nothing about entrepreneurship and expose them to a global network, educate them on how to take an idea and turn it into a small company and then be able to pitch that company to investors and launch it with the right amount of financing. It's a pretty powerful program.
Q: What is particularly notable about LaunchPad's expansion to UTEP?
It's a combination of student demographic and how El Paso and the region is growing – how West Texas is growing in the tech startup business. It's an incredible growth opportunity, and as a university that serves the Hispanic community unlike none other across the nation, that's where I think UTEP and Blackstone is a pretty powerful marriage. So, truly, only the sky's the limit in terms of where we can take this.
My big takeaway from my orientation today: I joined UTEP to spend time with students and get a chance to work with faculty and UTEP leaders. But what I'm finding is I'm excited about becoming a periodic member of the El Paso community and seeing where the city is going. Where President Wilson is taking the university, to me, has national level impact and that's very exciting.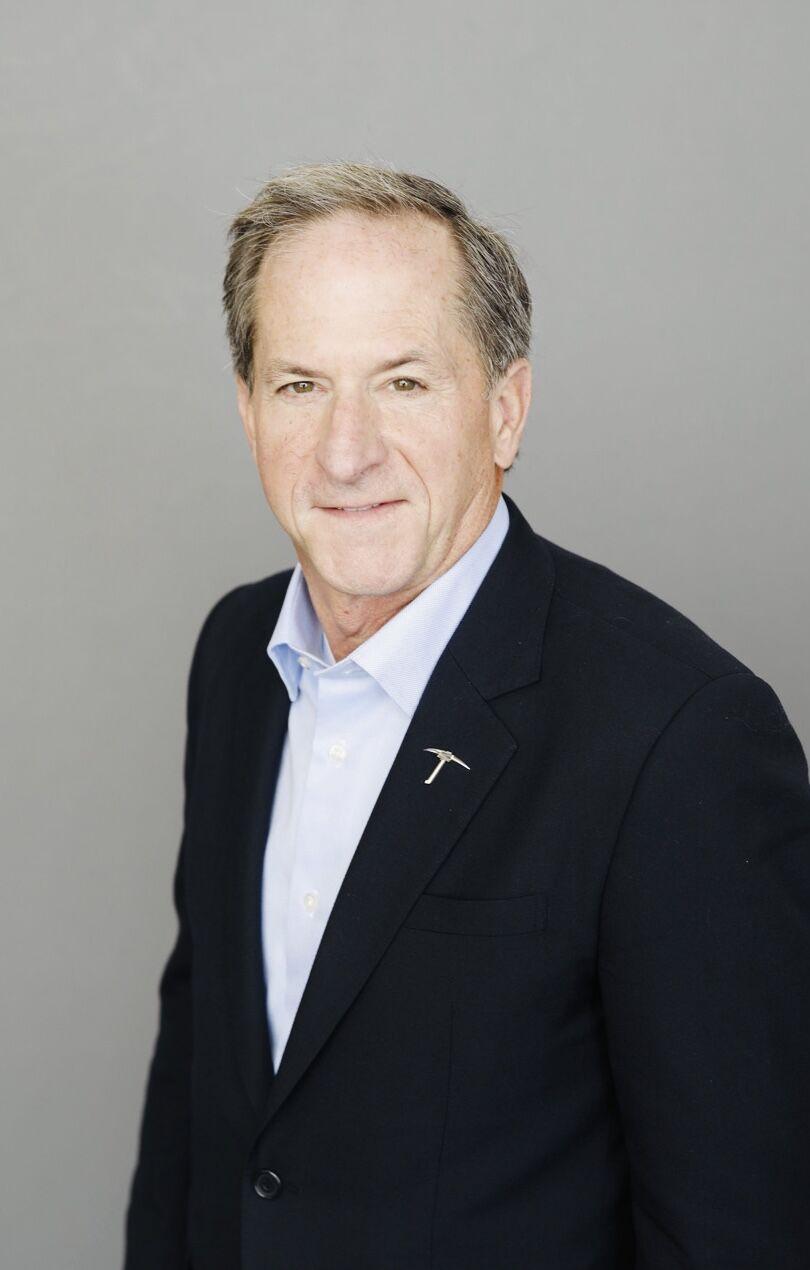 Q: Being here for one day, I'm guessing you don't have time to fit in a flight with Wilson in her Cessna 152.
We are not able to go fly, but we are both aviation enthusiasts as you might imagine. I'm part owner of an airplane and, of course, she's an owner of an airplane, and we both just love getting airborne.
But also there's an opportunity here. The nation is facing a pilot shortage. It's not unique to the military. The nation needs more pilots and the nation needs more pilots with diverse backgrounds.
Q: As chief of staff of the Air Force, you would have worked with Wilson, who was secretary of the Air Force. What did you think when you heard she had landed at UTEP as president?
She and I actually go farther back than that. We were both classmates at the U.S. Air Force Academy, and we took our oaths standing in the fieldhouse together in 1978. And then our careers took significantly different paths, hers leading to the National Security Council, Rhodes Scholar, congresswoman from New Mexico, president of the (South Dakota) School of Mines and Technology and then secretary of the Air Force where we reconnected.
She's a team builder. Very effective with industry. Very effective with Congress. At least from my perspective, it was a bit of a dream team that we had for her two years as secretary of the Air Force. We were able to accomplish a lot.
Q: How needed is diversity in the investment and entrepreneurship worlds and why is it important?
I always include diversity and inclusion because diversity can quickly become a numbers game. Inclusion brings the cultural element, which is, "Are we building businesses and industries that make all members of that team feel included? Are their background and culture not only valued but championed – from a small business startup up to the largest institution that we have like the U.S. military?" That's one of the areas that's so unique about UTEP.
Q: As a professor of practice, how often will you teach at UTEP?
We're talking about it right now. Since I'm a part owner of an airplane, I can easily get here from my home near San Antonio, and about once a month, join professors and spend time with students.
Q: What topics are you looking to teach?
Within the College of Business, I think we are going to initially focus on management and leadership. Let's take a good hard look at the curriculum, meet the professors, spend time on campus and find out where I can plug in to be truly value-added in a focused way.
Q: What advice do you have for entrepreneurs and business owners navigating these uncertain times?
I'm a firm believer that every challenge we are handed has an embedded opportunity, and it's our job as leaders to find that opportunity. COVID has brought challenges but it has brought significant opportunity. We're able to connect now virtually to a much broader audience more quickly, so there are opportunities to take a startup idea and get larger exposure much faster in the virtual world.
While you could look at the numbers on the percentage of startups that actually go on to be wildly successful versus the ones that don't, I wouldn't focus on that. The ideas that are embedded in the mind of a student, just the process of getting exposed to a national network, getting connected to a mentor through LaunchPad and maturing that idea up to a point where it can be pitched for investment, is going to make any student savvier in the business world. Maybe the first two don't land, and it's No. 3, 4 or 5 that lands.
Q: I know we don't have much time, but what is one thing you would say about what it takes to succeed as a leader.
What we desperately need are leaders of character. The foundation of success for anyone is character.
By the way, achieving a level of courageous character is a journey; it's not a destination. We're all on that journey and should be working on it forever. If we can get that piece right – how we act and the decisions we make when no one is watching – then the rest has great potential for success.
Q: Many military leaders jump into the defense industry when they retire from the military. What interested you about advising a major private equity firm?
I was really intrigued. The first thing I did was read Stephen Schwarzman's book, "What it Takes," and then I read "King of Capital" because it was important to me that this was a good cultural fit – me to them and them to me.
What I liked is Blackstone creates value by taking companies that they see are undervalued and turning them into profitable companies that can grow. And with growth comes more jobs for people; with growth comes more national wealth.
And if I learned one thing as a chief of staff of the Air Force, it is we have global commitments as a nation, and America should meet those global commitments. But we can't sustain those operations, whether military, diplomatic or otherwise, without a solid foundation and a growing economy. We ought not to entertain military operations outside of an economic framework.
So what I hope to do with Blackstone is help build national wealth – to help grow our economy, which I see as a national security imperative.
Q: Liberal-arts degrees are often the target of jokes and philosophy majors the punchline (unfairly, I'd add). Why did you get your bachelor's degree in philosophy?
I joke that the only reason I majored in philosophy was the Air Force Academy didn't offer a major in music and fine arts. I determined pretty early with my academic advisors that science and math were not my strengths, and I was more of a conceptual kind of guy.
I've had to fill that gap throughout my career. I've built my team with technically competent and capable individuals.
As I mentioned to the folks I work with at Blackstone, I'm not the guy who will walk in and look at a spreadsheet filled with numbers and be the first guy to decipher that. My job is to take their assessment and provide a global perspective – to try to put an operational and strategic framework on a potential decision or deal they are looking at to help them assess risk.